The Southwest Citizens Advisory Council on August 10 received an update on the city's ongoing Southern Gateway Corridor Study.
In March 2015, the City of Raleigh's Urban Design Center began developing phase II of this study, which includes a large portion of South Saunders and South Wilmington Streets, from the southern edge of downtown to Tryon Road.
Dhanya Sandeep AICP, of the Raleigh Urban Design Center, is the study's project manager. Sandeep spoke last week to the Southwest CAC regarding the issues and opportunities that the corridor study presents.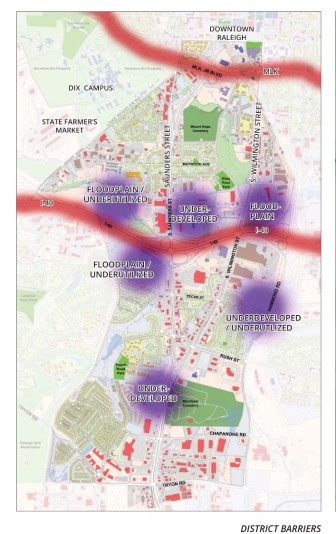 One of the main impediments to redevelopment along the corridor, Sandeep said, are District Barriers. These include underutilized or underdeveloped properties, along with the physical barriers presented by Martin Luther King Jr. Blvd and the I-40 interstate.
According to the Issues and Opportunities report issued this month for the Southern Gateway Corridor Study, "Much of the land use in the study area is commuter-oriented, stripstyle commercial development.
"There are also many underutilized or undeveloped parcels, resulting from years of little reinvestment and limited market demand. Physical barriers (rail, roadways, and floodplain), blight, and perceptions of crime depress market interest in the corridor."
Pros Outweigh Cons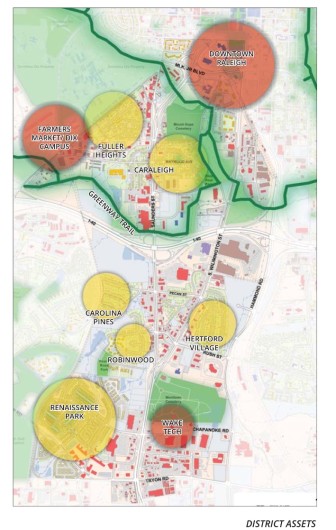 Fortunately, the gateway has a number of assets working in its favor.
Chief among them, Sandeep said, was the area's proximity to downtown, and the historic character of its neighborhoods.
According to the city's I & O report, "Demographic and employment characteristics are favorable. Population and households within the study area are projected to grow by 3% over the next five years (between 2015 and 2020).
"Current residents are also well educated — with 30% possessing a Bachelor's degree or higher compared to just 24% for the nation as a whole.
"The study area is also home to more than 800 businesses employing approximately 5,900 people. According to the US Census Bureau, the existing employment population represents a diverse range of occupations with approximately 45% professional or "white collar," 30% service and 25% 'blue collar.'"
Next Steps
Sandeep wrapped up the presentation with a discussion on four key ways in which the project would be moving forward from this point out. These include improving the transportation and transit options in the area, as well as improving connections by reducing the aforementioned barriers.
The city will also work to encourage "market-driven" development opportunities, and improve the image & character of the area through methods such as celebrating and reusing historic properties and beautifying public spaces and street edges.
A public hearing on the study will be held September 22, 2015 from 6-8 p.m. at the Wake Tech Public Safety Education Campus on Chapanoke Road.