Brought to you by Rufty-Peedin Design Build
Thursday, August 25, 2016
Are Raleigh renters getting good bang for their buck?
Eh, more or less.
According to an exhaustive list compiled by our friends over at RentCafe, which ranked 97 of the country's most populous cities by how much renters were paying by the square foot.
Raleigh ranked 36 on the list. Top 40th percentile for most affordable, if that's how percentile rankings work. Either way, the $1.07 per square foot isn't bad, it isn't great, it just is.
Certainly better Manhattan, at least, which at $5.05/square foot was, to no one's surprise, the most expensive city on the list. Here's how that plays out in the real world: $1,000/month in Raleigh gets you  That means $1,000/month here in Raleigh gets you a place that's about 950 square feet, while $1,000 in NYC gets you 182 square feet. I can't even imagine how small that is.
Funny enough, a Google search for "182 square-foot room" turned up exactly that: a man in Seattle (of course) apparently converted a tiny storage space of exactly 182 square-feet into a so-called "Pico Dwelling."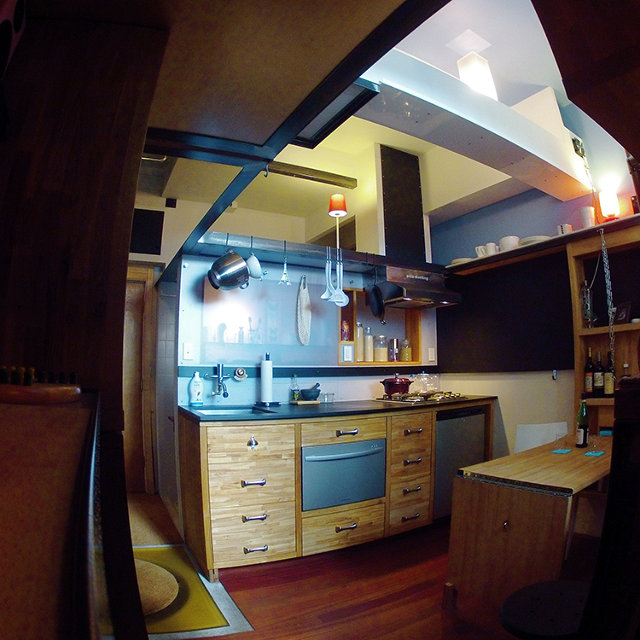 He spent eight years and $50,000+ building it, but by the time it was finished his 14-year old daughter didn't want to live there, so he also owns a condo. Not surprisingly, there was no mention of his (presumably ex-) wife in the article. How people this insane get their hands on that kind of money is beyond me, but to be fair, the place is pretty cool looking.
RentCafe pegged the cost per square foot in Seattle at $2.47. By our calculations, a "normal" 182 square-foot apartment there would run about $450, although a cursory search turns up no apartments in that price range out there in the Emerald City.
One of the coolest features in the analysis RentCafe did was this nifty sliding calculator, which shows you how much you'd get for varying prices in 24 different cities, Raleigh included.
Hopefully the graph is displaying above this text; long story short, WordPress did NOT want to let me save the embed code for it. Weird.
As we mentioned, Raleigh renters pay an average of $1.07/square foot. As today's post is more or less a sequel to an older post in the same vein as yesterday's "Major Work Wednesday," we decided we'd rehash a good bit of the original.
In June, we ran a piece "Raleigh's Apartments Among Nation's Largest," which, much like today's, was based on apartment data compiled by the good folks at RentCafe. We checked the averages against a set of Raleigh apartments. Now, we'll do the exact same thing with a very minor twist: $/square foot, instead of just comparative square footage.
Skyhouse Raleigh: Studio: This luxurious, 23-story, 320-unit building in the heart of downtown Raleigh was completed early last year, and offers amenities ranging from a 24-hour fitness studio to a rooftop pool. Skyhouse offers four unit types: 585 square-foot Studios that go for about $1,200/month, 680 SF One-Bedrooms that run around $1,400/month, 1,029 square-foot Two-Bedroom units that rent for $2,300/month and 1,400 square-foot three-bedroom units, which cost about $2,700 a month. That works out to roughly $2.05/square foot: 91 percent higher than the citywide average.
The Lincoln Apartments: Another newly built downtown Raleigh luxury-apartment building, the four-story Lincoln offers its residents everything from a Pet Spa to an outdoor fireplace. The Linc offers three unit types: 550 square-foot Studios that go for $995/month, 700 square-foot One-Bedrooms at $1,400/month and 1,340 square-foot Two-Bedrooms for $2,200/month. This works out to roughly $1.80/square foot, which is 68 percent higher than the average.
The Allister at North Hills: This luxurious Midtown complex offers its residents not one but *two* resort-style pools, replete with tanning decks and cabanas, along with what appear to be standard amenities for people who enjoy spending $1,500 to rent an apartment in Raleigh, such as a 24-hour fitness center, a cyber cafe and common-area Wi-Fi. The Allister offers four unit types: 619 square-foot Studios that rent around $945/month, 789 square-foot One-Bedrooms that go for $1,145/month, 1,231 square-foot Two Bedrooms renting for about $1,500/month and 1,594 square-foot three bedrooms whose price we could not track down without deception (i.e. calling and pretending to be a renter). This works out to roughly $1.44 per square foot, 34 percent higher than the average.
The Clairmont at Brier Creek: This recently built North Raleigh apartment complex  offers its residents everything from a billiard room to a movie theater, and, of course, a "resort-style pool" — this one comes with fountains — along with multiple cabanas.  The Clairmont offers three unit types, 797 square-foot One-Bedrooms for $950/month, 1,111 square-foot two-bedrooms for $1,170/month and 1,365 square-foot three bedrooms for an unlisted price. This puts the price per square foot at around $1.12, only about 5 percent above the area average.
Oh: we almost forgot the most important thing. Raleigh's apartments are cheaper than those in Charlotte, but more expensive than those in Durham. Oh well. Here's a spreadsheet with all the different cities RentCafe compiled data on if you want to take a deeper look.
For more on Raleigh apartments, see this piece we ran earlier this month Earlier this month, we presented a comprehensive report of all of Raleigh's rental units, which doesn't include their average sizes but does provide a nifty map of where they're all located.