Brought to you by Rufty-Peedin Design Builders
Thursday, December 15, 2016
Permit Party is a newish feature that combines our former "New Building Report" and "Renovation Roundup" columns into one. 
Sir Walter Raleigh is back, and he's bringing the heat.
Heated beverages that is: specifically, coffee and tea via Raleigh's newest "community based coffee barista bar, tea house and bottle shop."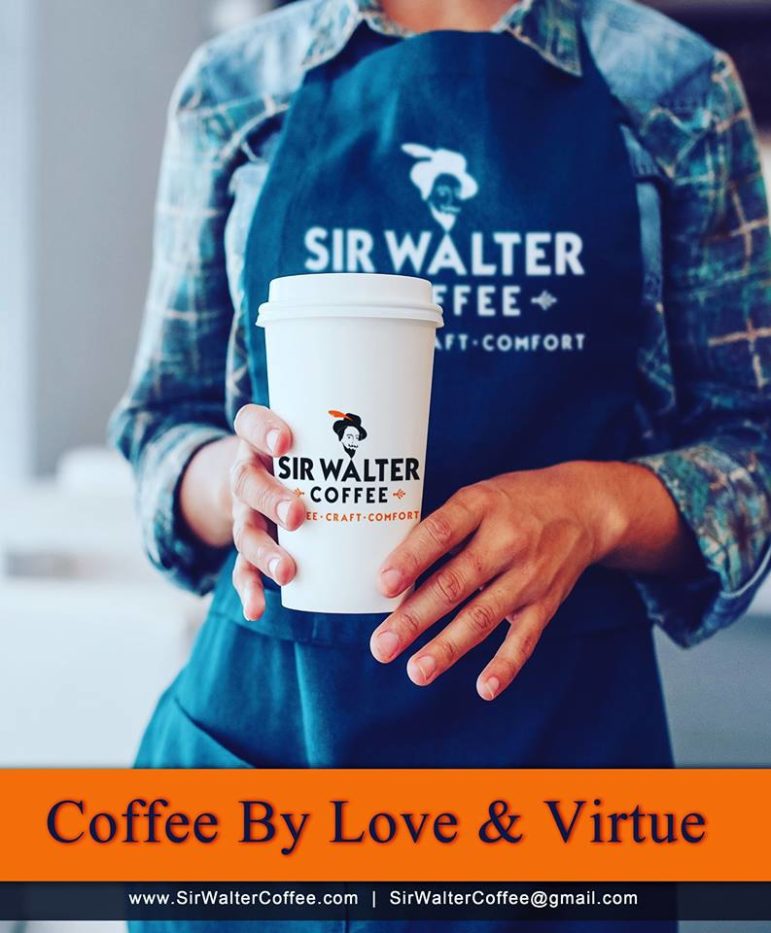 On December 5, an interior fit-out permit valued at $190,000 was issued to Gary H. Hoover for work at 145 E. Davie Street on the ground floor of The Edison, which will soon be home to Sir Walter Coffee. The tea house/coffee bar/bottle shop promises to deliver "coffee, craft comfort."
Even though I don't drink coffee or beer, I am kind of excited to see how this place turns out. Although if we're being historically accurate, I think it would have made more sense to name a cigar lounge or a hookah bar after Sir Walter, who, among many other accomplishments, is known for popularizing tobacco in England.
As it happens, one of the other downtown — if Glenwood South counts as downtown — Raleigh businesses to receive permits last week was the Carolina Vapor Lounge, located at 5 Glenwood Avenue. Well, we *think* it's the Vapor Lounge that's having some work done: the address on the permit was 5 Glenwood, but it's listed as "bottle shop" and the description has some language about "multiunit adjoining with communicating demising wall."
That adjoining business, the Eden nightclub at 3 Glenwood Avenue, *also* received a renovation permit last week, and the description there was "This Permit For Tenant Space Being Called A-2 With 43 Occupants This Tenant Space Is Combined With Adjacent Space."
Both jobs have Carolina Design & Construction listed as the contractor, so we're not entirely sure what's up, but if we do get some more information, we'll be sure to post it here.
Surprisingly enough, neither of those were the oddest renovation permit issued last week: that honor belongs to the Nicklepoint Brewing Company, located at 506 Pershing Drive. The proposed work description on the permit is "Picnic Tables in Parking Spaces," which sounds like a low-tier Indie Rock band, and the work description is "relocate six parking spaces."
How one relocates a parking space is beyond us, but it's apparently not very expensive: Base Construction, which is handling the work, has the cost listed at a measly $60 on the permit.
Less ambiguous was a permit issued to the Hillsborough Street Mart, a convenience store that will be located on the ground floor of the relatively new Hillsborough 1301 Apartments. The $26,000 worth of interior completion work will be handled by Unique Touch construction.
For those that prefer to do their grocery shopping at wholesale warehouse clubs instead of convenience stores, we have some good news: the Costco at 2838 Wake Forest Road will soon be adding a pizza oven! It's been a while since we visited a Costco, and we're pretty sure they already serve pizza (along with cheap, delicious hot dogs) so maybe this means they'll start serving *good* pizza? This $100,000 project is being handled by Miller Construction Services.
The only other permit that really caught our eye — it was a bit of a slow week — was one issued to Exodus Builders and Construction for some work over at Peace College on Blount Street. The $125,000 project is described as the conversion of a field house into a fitness center, which we're sure will be a welcome upgrade for the students at Peace. But…aren't field houses basically athletic centers anyway?