The Record's James Borden is starting up a new column in a new effort to make news about planning and development more accessible and maybe even interesting. See something going on in your neighborhood and want to get the scoop? Email us at editor@raleighpublicrecord.org and we'll figure out what's going on.
Citing rising costs and declining revenues, North Raleigh's Fat Daddy's restaurant on Glenwood closed its doors for good on Sunday, after near 30 years in existence. The property was sold for an undisclosed sum to local firm PHDevelopers.
While no plans for the site have been announced, it is currently listed for lease on the developer's web site at $4.50/square-foot. The property is described as being in the "heart of the Glenwood Ave retail corridor." It appears the plan may be to construct two new buildings on the property instead of reusing the existing space.
PHDevelopers owns and leases a variety of properties across the southeast, including medical offices shopping centers and multi-family developments.
Happening Now-ish
The Lynnwood Bluffs townhome community in Northeast Raleigh will soon welcome an additional five units to the development.  New owners will have to make the impossible choice between a 1,361 square-foot Cooper floor plan, and the spacious 1,378 square-foot Ashton layout. A Cooper in Lynnwood Bluffs, located near the intersection of Glenwood and Lynn, is currently listing for $189,000.
Although it'll be summer before the long-awaited community pool at Lynnwood Bluffs finally opens, their neighbors to the east will soon bear witness to the creation of a 12,032-square-foot outdoor pool at the new Life Time Fitness on Falls of Neuse near the 540 interchange. According to permits filed with the city, the plan calls for a "Pool, Spa & Slide" at a total cost of $900,000. The accompanying 110,651-square-foot gym will be built for about $24,000,000.
A number of area churches have not given up construction work for Lent and several renovations are scheduled to begin soon. They include $616,249 in repairs and alterations at Edenton Street United Methodist and nearly $900,000 of work at St. John's Baptist on Oberlin.
In an effort to stave off downstream flooding of Biblical proportions, repairs will soon begin at the Northshore Lake Dam in Northeast Raleigh. Work at the site, located off New Hope Church road, will take about a year to complete at a cost of $3.6 million. Money enough to have built three oversized Pool, Spa & Slide complexes, had the city not chosen to prioritize water quality over quality time in the water.
Coming Soon
Planning Commission last week heard case no. Z-33-2013, which would see the construction of an AutoZone at 4131 Western Boulevard, an area that at present is largely residential. Both at the community meeting held in December and at Tuesday's Planning Commission, adjacent property owner Jerome Goldberg spoke out against the development. On Tuesday, referring to the building's newly proposed maximum height of 39 feet, Goldberg called the development a "monstrosity."
The Commission voted 9-1 in favor of the rezoning. Due to a valid statutory protest petition that Goldberg said he would file, three fourths of the City Council will have to approve the case before it can move forward.
Commissioners also reviewed the controversial case Z-35-2013 concerning Meredith Heights, a proposed dormitory-style development on Hillsborough near Meredith College. The five-story structure would hold between 90 and 110 units housing 300-350 students and may include ground-floor retail. Neighbors have raised concerns over potential noise issues and which types of retail uses will be allowed.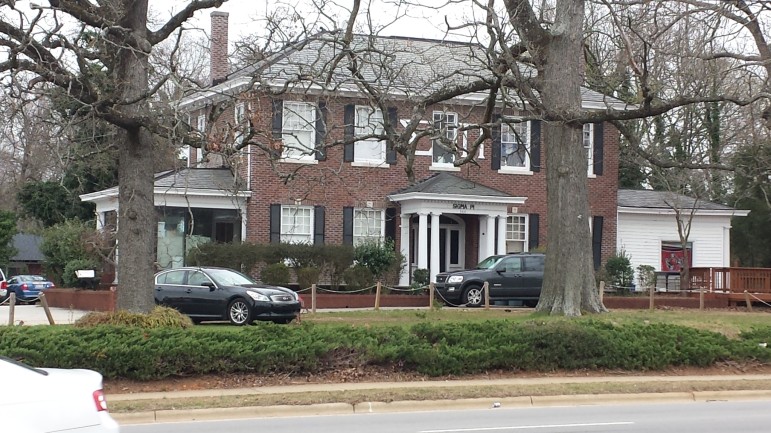 Although one adjacent property owner spoke out in favor of the proposal, an attorney hired by several area neighbors, Thomas Worth, spent significantly more time speaking against it. As part of a slideshow presentation, Worth compared the proposed development with an existing structure and called it "just this side of shocking."
The Planning Commission voted to delay action on the case and tabled it for two weeks.
Hours later, in its bi-monthly meeting at Jaycee Park, the Wade Citizens Advisory Council polled residents on the Meredith Heights project, which they voted against 92-1.
The final case heard by the Commission this week dealt with a proposed low-density residential development in Northeast Raleigh on Holden Road. No opposition was voiced and the only question raised dealt with a sewer stub, the connection between a municipal sewer line and a residential one.
The Commission unanimously approved rezoning to allow for the development.
Someday, Maybe
An ugly scar on the already pockmarked face of Capital Boulevard, the old Capital Plaza Hotel has sat vacant and seemingly abandoned since 2005. Although auctioned off in 2010 to the development firm CB Hotel, no permits for work of any sort have been filed since. Capital Plaza saw a number of incarnations over the years, including time spent as a Holiday Inn, a Doubletree, and, briefly, as the Hotel Europa. Despite its chic surroundings – two pawnshops within walking distance – the final concept lasted less than a year.
With the city spearheading a resurgence of Capital Boulevard, it's unlikely the old hotel will remain an eyesore for another decade. The land and building values for the property are assessed at a total of $4.7 million, with an annual tax bill of about $43,000. This is roughly four times the annual cost of renting a one-bedroom apartment in the area. Anyone currently residing at the Capital Plaza, however, is likely doing so free of charge. Save, of course, a charge of criminal trespass.