Brought to you by Rufty-Peedin Design Build
Friday, February 26, 2016
The largest renovation jobs from last week were both funded by the City of Raleigh for in service of the new Union Station on Martin Street in downtown's Warehouse District.
We recently reported on the partial and complete demolitions taking place on the site; Leo Suarez over at the Raleigh Connoisseur was able to snap a picture of the actual teardown. The contrast between what's there now and the entrance plaza pictured in the renderings is pretty stark.
The largest of the permits from last week was issued to Clancy and Theys for a $26.7 million "Change of Use" for a former warehouse at 510 West Martin Street. The 27,405 square-foot warehouse was first built in 1964, and acquired by the city of Raleigh in May 2015.
Clancy & Theys received an additional six permits at the site for the following jobs: A canopy installation, a baggage area, a mezzanine, a concourse plaza, a storage and elevator area and most exciting of all, a dumpster enclosure. These additional permits tacked another $2.7 million onto the job, bringing it to a total of $29,515,501.
In December, we wrote that Clancy and Theys did some demo work at the warehouse for $456,200. We even pointed out that it was a "demo to shell" job, which meant they tore down everything but the core/shell of the building, which is now being readapted into Union Station.
The second largest permit issued last week was also for a City-funded transportation project: a $9.5 million canopy installation at the Moore Square bus terminal to be done by American South General Contracting. OK; technically it's not going to be called the Moore Square Transit Mall anymore: in addition to being renovated, it's going to be renamed the GoRaleigh Transit Station. I hope Dana over at GoGoRaleigh is getting royalty fees.
Next up is another transformative project, also aimed at serving the public: the installation of the Food Bank of Central and Eastern NC at the former site of the Flea Market at 1924 Capital Boulevard.
I've written about the loss of this flea market before; and while I'm of course not going to criticize a food bank — even I have my limits — I do wish they'd found somewhere else to setup and that the flea market should remain.
That being said, there's always the State Fair Grounds & this place on New Bern I wrote about last January: Other renovations permitted last week include Thieves Market, which is not a place in which to purchase lockpicks and other tools of the trade, but rather, a large, indoor flea-market type situation that will be moving to 4111 New Bern Avenue.
I should've gone with a Cher joke. Something about how Thieves Market's strongest competitors would be Tramp's Trading Post over on Capital Boulevard and the local Gypsy Bazaar, which doesn't really have a fixed location. Oh well.
The $6.4 million "major alteration" taking place at the old Flea Market is being handled by McDonald-York Construction. They had previously done some interior demolition work back in November.
Next up is a building addition in an "alluvial soil flood hazard area," which sounds dangerous. It's for Garcia Moto, a motorcycle dealership, so I guess that's kind of fitting. I like to joke that I could never ride a motorcycle because I've already put my Mom through enough, but I gotta say, this 2016 BMW F 700 GS Garcia has listed on their website is pretty sweet-looking.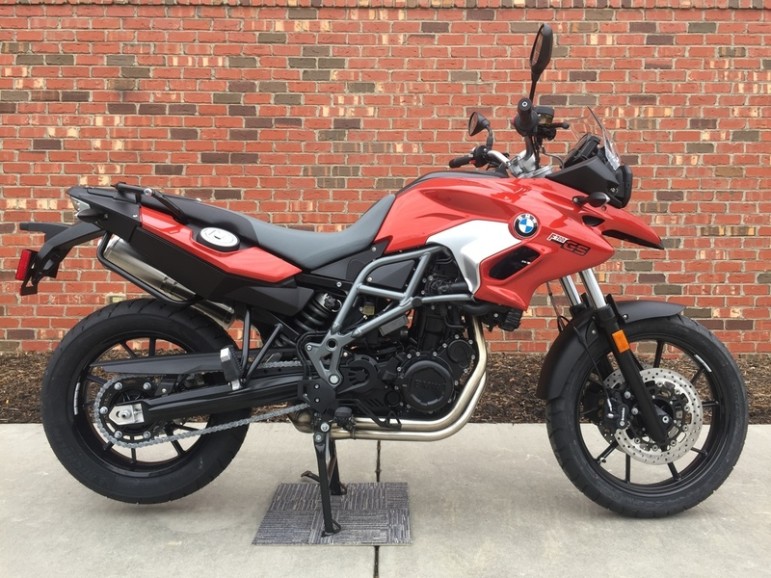 And finally this week we've got a $40,000 interior completion job at the Stanhope at 3001 Hillsborough Street for Pieology Pizzeria. Here's how the company describes itself: At Pieology, we've reinvented the traditional way of creating and serving pizza. Here, we believe you should have the freedom to enjoy a delicious pizza or salad that reflects your unique personality. 
No comment on what ordering a salad at a pizza place says about your "unique personality," but it's nothing good.
Pieology looks to be, essentially, a quick-service pizza joint where the pies are ready in three minutes. Pfft. Back to the Future II said we'd have pizzas that were ready in 30 seconds by now.
Essentially this place is like a Moe's for pizza. Hopefully though Pieology doesn't force its employees to loudly welcome everyone who walks in the door. But if they do want to copy something from Moe's, I'd recommend the Coca-Cola Freestyle machine.