Brought to you by Rufty-Peedin Design Build
Friday, July 22, 2016
The month? October. The year? 2015. The place? Raleigh, North Carolina.
The city was in the grips of an hysterical mania known simply as "DrunkTown." People were panicked; Fayetteville Street was turning into Bourbon Street! Adults over 30 living downtown were shocked to learn city centers tend to get a bit noisy on the nights and weekends! Full page ads were being taken out in newspapers decrying the dangers of 26-year-old bros leaning against lampposts!
In short, it was a great time to be alive, and the perfect moment to unveil the site plans for Hillsborough Street's newest private club/tavern: The Dram & Draught. It should come as no surprise that The Record was the first media outlet to share these plans with the greater public, right here in the pages of the Development Beat.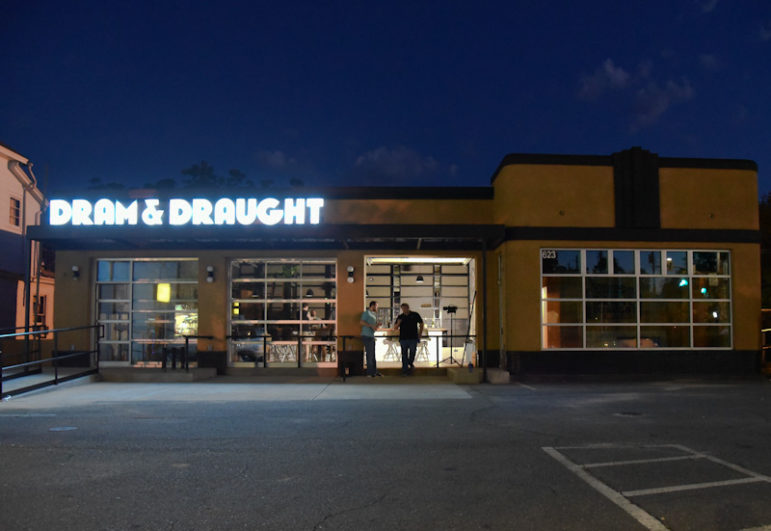 Here's a few excerpts from that original post to get you up to speed:
This new private tavern is being planned for a former auto body shop located at 623 Hillsborough Street, across from Char-Grill and near intersection with Glenwood Avenue.
As for the name of the new place, Dram is apparently a slang term for a small drink of whiskey, and Draught is the English spelling of draft, an adjective that describes beer served from a barrel or a tank as opposed to a bottle or a can. But if you didn't know that second part, you really have no business being here in DrunkTown.
A few short months later, permits were pulled for the renovations of that old auto body shop; as we noted in January 2016: The 1,473 square-foot space will be re-adapted to house the new 96-person occupancy bar. In addition to the $141,610 change of use permit, Bost Construction Company also received permits for a walk-in cooler, an outdoor patio/ramp and a patio canopy.
Last week, the final pieces required to open Dram & Draught, which describes itself as "a place for the vodka drinker, the light beer drinker, the cocktail enthusiast, the whiskey fanatic, and the wine sipper" finally fell into place, when an ABC Inspection of the site was conducted. Although a hard opening date has not yet been announced, we expect it to open sometime in the next few weeks.
In the meantime, Raleigh's whiskey fanatics et. all can sign up for membership on the tavern's website.
In other ABC Permit news, the new Cafe Lucarne at City Market also received an inspection last week. As reported in the News & Observer in June, Lucarne will be a "casual, counter-service restaurant that will serve breakfast, lunch and dinner."
It will be occupying the space at City Market once held by Beneleux Coffee, which relocated to Cameron Village. Although it will still be a few weeks before Lucarne opens its doors, the ABC Inspection ensures that once customers are able to start trickling in, they'll be able to enjoy this custom beer prepared by the folks over at the Trophy Brewing Company. From Lucarne's Facebook page: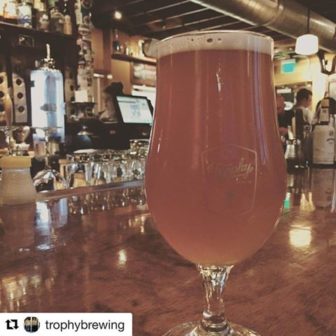 Big thanks to @trophybrewing for this amazing collaboration! Our house beer for Lucarne and our next project at City Market coming soon!
・・・
Like all good collaborations, this one started over a beer. A beer brought from @theversatileshepherd trip to Austria. The beer is crafted with local ingredients in a responsible manner. We wanted to honor that approach when we set out to brew this German Lager with our friends at Cafe Lucarne. We created this beer to celebrate the ingredients and the process in which they become our passion, great beer. Lager Royale will be available on draft at Trophy on Morgan for a limited run and then be available regularly at @cafelucarne at City Market. Big thanks to our friends @boultedbread for their advice on EINKORN!
Very cool!
The final ABC Inspection from last week was for a restaurant that's already open, but as best we can remember, doesn't currently serve alcohol. Royal India Cuisine at the Tarrymore Square shopping center at 3901 Capital Boulevard is already a fantastic place to go to feast on garlic naan, chicken vindaloo and a wide range of dishes prepared in the kitchen's clay oven; soon, it may also be a place where patrons foolishly try to counter the hot & spicy dishes with a cold, refreshing beer.
While booze isn't terribly effective at countering the ravages of spicy Indian cuisine, Raleigh residents will soon have a new, and much more effective respite: Amorino Gelato at The Edison on E. Davie Street. Amorino Gelato is an international purveyor of "authentic Italian gelato [made] from a meticulous selection natural ingredients."
Per the company's website, it appears the Raleigh location will be the company's ninth U.S. store: right now, the majority of its cafes are located in France. As renovation permits for its new space at The Edison were only issued last week, we imagine Amorino's delectable frozen delights won't be available to Raleigh residents before the summer's end, a true tragedy.
The $146,000 renovation of the 1,065 square-foot space will be handled by Sparkman Construction.
As with the ABC Permits from last week, one of the restaurant renovation projects we have on deck is for a space that's already open: Sushi O at 222 Glenwood. As wonderful as Wasabi is, I've never been a huge fan of sushi in general, but it looks like Sushi O is a pretty well-regarded spot, with a 3 1/2 star rating on Yelp! and a 4 1/2 star rating on Facebook.
We're not exactly sure what work is being done at Sushi O, as the permits note "there is no Fire Alarm, no Fire Sprinkler & no Mechanical Work being performed." Elsewhere, the work is described as "pony-bar equipment alterations." The $2,200 worth of work required for that will apparently be handled directly by the restaurant's owner.