Brought to you by Rufty-Peedin Design Build
Wednesday, September 7, 2016
We've got a few restaurant projects and a brand-new discothèque to look at this week, so let's get right into it.
On August 30, a pair of permits totaling nearly $2 million dollars were issued for North Carolina's first location of the chain restaurant Seasons 52, which will be housed at the Crabtree Valley Mall on Glenwood Avenue.
Seasons 52 is one of seven brands operated by Darden Restaurants. Five of these brands currently have Raleigh locations: Bahama Breeze, The Capital Grille, LongHorn Steakhouse, Olive Garden and The Yardhouse. Once Seasons 52 opens at Crabtree, the only Darden brand Raleigh *won't* have is Eddie V's Prime Seafood.

Darden provides the following, mildly eye-rolling description of Seasons 52 on its website:
Seasons 52 is a fresh grill and wine bar that offers a seasonal menu inspired by the fresh appeal of a farmers market and what's good now. We use ingredients at their peak and rustic cooking techniques, like brick-oven roasting and open fire grilling over oak and mesquite, which bring out the natural flavors of food.
Sorry, any description of a chain restaurant that includes the word "rustic" just rubs us the wrong way. Here's something much more positive about the place: according to Darden, "since 2007, Seasons 52 has donated more than 420,000 pounds of food to help those in need."
Impressive!
Most of the offerings we found on the menu for the chain's location in Tyson's Corner, Virginia were a little upscale for our palette, like a bunch of upscale seafood dishes, but it was the $16 "Autumn Vegetarian Tasting" which contains "wood-grilled kohlrabi steak, vegan paella, asparagus, fennel-roasted onion" that really put it over the top for us.
Fortunately, we were able to locate a few offerings, including slow-braised beef tacos and an Angus burger, which meant we wouldn't have to panic on the unlikely occasion we ever found ourselves invited to dinner at this place.
We reached out to Darden for an opening date, but by our estimation, it should be welcoming guests by first quarter 2017. Just a guess though.
On the other end of the foodie scale, Ba-Da Wings! is set to open a second Raleigh location, this one at the Creedmoor Crossing shopping center at 6300 Creedmoor Road. The restaurant currently has a space at the Mission Valley Shopping Center on Avent Ferry Road. The new space should be opening pretty shortly, as it was an ABC Permit, not a construction permit, that was issued for the reataurant last week.
As good as that salmon from Seasons 52 may have looked, we found Ba-Da's menu drastically more appealing.
First: they serve Jumbo Wings by the pound. Second, the flavors include five levels of heat, from the mild Buffalo ba-da to the "don't hurt yourself" Buffalo ba-da Bam, plus six different flavors of barbecue and three flavors of teriyaki. Third, they serve the "deep-fried French fry Wrap" which consists of french fries, cheddar-Monterey Jack cheese, ranch dressing and bacon rolled up in a tortilla and deep-fried. Minus the ranch, that sounds pretty delicious.
We could keep adding numbers to this list until we run out of menu items, but suffice to say: they even offer somewhat healthy options, including salads and a rice bowl, in case you're planning to bring a more figure-conscious friend who would balk at the idea of ordering two pounds of jumbo wings + a deep-fried French fry wrap.
That's about it for new restaurants this week; we were hoping that a third permit, titled SnickerDoodles, was for some kind of new dessert spot, but it turns out it's just an indoor play space coming to the Lynnwood Plaza office center on Lynn Road in north Raleigh.
It will occupy the suite previously used by "Walk the Beaded Path," which apparently offered "beads, gemstones and more…" We can't imagine how such a concept could have possibly failed.
The premise for SnickerDoodles is actually somewhat unique; here's how it was described in a recent article from WRAL:
SnickerDoodles, the creation of two local moms, is scheduled to open in Raleigh next month. The space will include a no-cost play area, along with items for sale to sustain the business — from coffee and snacks to a gently used children's toy and book store to a messy art studio where families can come in and, for $5 to $10, take part in an art project. 
Although not for a new joint, there was one restaurant renovation permitted last week: the Burger King at 4203 Wake Forest Road will be undergoing $110,000 in ceiling and canopy repairs, which will be handled by Prostruction, Inc.
Before we move on: while this falls a little outside the purview of what we normally cover here, it does appear as if the Bolt restaurant, located in the City-owned One Exchange Plaza building downtown, may be changing up its menu. Per the agenda for yesterday's Council meeting, here are some of the proposed changes.
Alter the lease to allow flexibility in the menu. The current lease specifies certain menu items; the tenant wishes to pursue a different restaurant concept with a new menu and new restaurant name.
Installation of improvements including new windows to the restaurant, improvement of the bar area, and addition of new equipment including ovens and furniture. Cost of improvements would be paid for by the tenant, subject to City approval and will remain with the premises at the conclusion of the lease.
Reduction in the amount of leased space to encompass just the restaurant, removing from the least terms the office and juice bar areas. For the purpose of the lease amendment, the small basement area currently utilized by the tenant would be treated as zero rent space. Tenant would still be responsible for the grease trap and other restaurant equipment located in the basement area."
Most of the non-restaurant renovations from last week were not very interesting, which brings us to our final project of the week: the El Dorado Discotheque.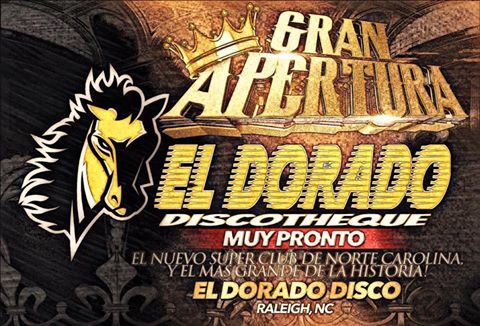 Discotheque is a word we don't get to use nearly enough as we'd like when writing about construction and development around Raleigh; like bibliotheca, it's a Spanish word much richer than its English counterpart.
The El Dorado Discotheque will be located at 600 Creekside Drive in north Raleigh. This ITB (at least geographically) nightclub will be located roughly halfway between Wake Forest Road and Atlantic Avenue, and not far from The Ritz nightclub. For those more inclined to shop for groceries than party at a discothèque: it's right near the big Costco off Wake Forest, near Trader Joe's.
El Dorado Music Hall, as it's called on the ABC Permits issued last week, has a pretty active Facebook page going already, full of Spanish Pepe the frog memes that we don't feel like manually translating.
They did post this neat photo of some neat photos of the space though, which we shamelessly stole and placed into this gallery below.