Friday, November 20, 2015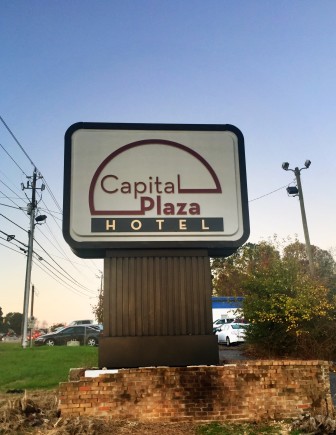 Way back in March of 2014, I ended my first ever Development Beat column with a small write-up on the Capital Plaza Hotel.
It went a little something like this:
An ugly scar on the already pockmarked face of Capital Boulevard, the old Capital Plaza Hotel has sat vacant and seemingly abandoned since 2005.
Although auctioned off in 2010 to the development firm CB Hotel, no permits for work of any sort have been filed since. Capital Plaza saw a number of incarnations over the years, including time spent as a Holiday Inn, a Doubletree, and, briefly, as the Hotel Europa. Despite its chic surroundings — two pawnshops within walking distance — the final concept lasted less than a year.
Good stuff. Three months later, we found out that the owner had listed the property with a broker, and was talking to the Triangle Business Journal about a variety of possibilities for the space, which at the time included a water park.
And now, 18 months later, we have yet another update to report. It appears that Tryon Capital out of Chapel Hill will be working with the owner, who lives in Northern Virginia and operates a DoubleTree in Fayetteville, to rehab the entire property. They will also be working with a private equity partner, American Assets LLC.
The property includes not only the main, dilapidated hotel, but also a smaller, 12-unit building that until recently was almost entirely covered in graffiti. It's located at 2815 Capital Boulevard just outside the beltline between Highwoods Boulevard and Brentwood Road.
In a meeting with the Brentwood Neighborhood Association last week, Peter Reichard from Tryon Capital told area residents that starting in 2016, they would begin stripping the building down to its cement walls and floors, and redeveloping it into a new hotel that would possibly operate under the Raddison brand.
Reichard acknowledged the property in its current state for the eyesore that it is, and said all the windows would be removed by early January. It's a good start, especially considering how many of them are broken.
Due to what Reichard referred to as a low cost of entry into the property (it was purchased at auction in 2011 for $1.8 million) they would only need to start off with a 49 percent occupancy rate at $100/night, whereas most hotels in the area average about 70 percent occupancy at $120.
The new hotel would have 197 rooms, a pool, a spa and a restaurant that will offer both on-site catering and a sit-down restaurant that would be open to the public.
Reichard said they had worked with Olive Architecture out of Raleigh on some plans for the hotel three years ago, and are currently waiting on city approvals for the required code and ADA modifications made to the original submittal. He hopes to have plans to present to the public in March.
The developers will also make use of the 12-unit structure on the property, by turning it into housing for hospitality students working at the hotel. Since the hotel will have a pool and a restaurant, this is basically the perfect example of that tiresome "live/work/play" cliché that every city likes to boast about being the ideal place for.
As far as commutes go, it can't be beat. Plus there's a Dunkin' Donuts/Baskin Robbins right on the other side of Highwoods Boulevard, and a McDonald's, Burger King & Taco Bell all within close walking distance.
Reichard said they were also Looking at the small auto dealership that adjoins the property, as they want to create a lush landscape and improve the property's image, with the hope it will make people say "Wow this is so new and different!" without it being ostentatious or over-the-top. No plans are currently in place to purchase the dealership's property, however.
Which is probably why this won't be a Trump-branded property. Too bad.
Reichard said they plan to talk with the city about transportation plans for getting people from the hotel into downtown Raleigh, and that they may ask the city to extend its Capital Boulevard improvement project up from 440 to Brentwood Road, just past the hotel.
They're also looking to install a back exit from the hotel property, and a possible speed lane that would allow people to easily access the property from Capital Boulevard, which already sees significant traffic in the area.
The plan for now is to have the hotel partially open sometime in 2016, although a more solid timetable will likely be available in March. We're excited to see something, anything happen to this property, and this sounds like it has a lot of potential.
Olive Architecture has done some nice hospitality design work in the past, and Tryon Capital operates other successful properties in the area, such as the Southern Seasons in Cameron Village, so hopefully they'll be able to make use of what should really be considered a prime location.
While downtown Raleigh has undergone a significant and well-publicized expansion over the past decade, Capital Boulevard is a good example of what happens when that kind of successful growth spreads outward.
All those businesses located in the flood plain in the middle of the boulevard between the city and 440 — some shuttered, some demolished, others negotiating their sale to the city — they'll all be gone inside of ten years, replaced with a park and a greenway system. It'll be interesting to see what kind of changes this will bring to the surrounding area, but this new hotel is probably a good indicator of what's to come.
One thing to note: I was at a Citizens Advisory Council meeting last night (Thursday, November 19) when this project came up. I talked to some people afterward and was able to get a copy of the minutes from the meeting where Reichard spoke. I've reached out to him to confirm the information in here, and should anything need to be corrected or updated, I'll do so.
Update: Mr. Reichard responded to our inquiry, and a few details have been updated, including the total number of rooms.
Thursday, November 19, 2015
Working off this week's unintended theme of apartment complexes, we've got another new one to report on today: the 200 East Apartments, to be located in Midtown Raleigh off Six Forks Road.
Before we get into that though; izzabet on Twitter (we don't know her, and she apparently lives in "Hag City, USA") commented on our Teardown Tuesday post that it was "so 'exciting' to see the last remains of affordable housing get demolished. Love it!"
Of course, I couldn't agree more. That being said, I was curious to see how many affordable apartments had been torn down in the past year.
Well, the analysis on that is going to take a little more time than I have right now, so I'll probably run it next Tuesday, but I was able to find out that a total of 11 separate apartment complexes have been demolished since last November.
It's a safe bet to say most of them were probably affordable places to live, but I wanted to look into it more. Plus I need some time to come up with a good way to work in a few Wyclef Jean references, seeing as how all these apartments have been Gone Since November.
One of the demolished was actually torn down to make way for the 200 East Apartments that we started today's post talking about. Built in the 1960s, the apartments were torn down in April following two rezoning cases; plans originally called for a 378-unit building with a parking deck but it was downsized to a four-story 182-unit complex sans deck.
The five permits issued for the complex, which included a clubhouse, totaled about $17.7 million. The developers, White Point Partners out of Charlotte, purchased the two lots on which the complex will be built in March for a total of $4.5 million. 200 East will be built by the Harold K Jordan Company.
Cline Design Associates out of Raleigh was the architect on the project, although I'm almost reticent to mention that because, honestly, I hate the way this place looks. It's not that there's anything wrong with it; there's decks and big windows, which is great, and it's more stylized than your average suburban apartment complex, it's just … the color is gross, and despite it's stylistic elements, it manages to look incredibly generic.
To my eye, it's basically indistinguishable from the glut of upscale (but not upsize, three or four stories is usually the max on a place like this) apartments getting built around the edges of downtown. Which isn't a compliment.
But what do I know. My favorite style of architecture is futurist, so the chances of ever seeing a design for an apartment complex that I actually like is pretty slim. Judge for yourself. Here's a rendering of the place:
Wednesday, November 18, 2015
Yesterday, we had the great pleasure of writing about the demolition of yet another one of Raleigh's dwindling number of affordable apartment complexes.
Unfortunately, we're stuck today writing about the recently issued permits for a brand-new affordable apartment complex. So it goes.
On November 9, a total of 11 permits valued were issued to Pedcor Construction for the Bluffs at Walnut Creek in Southeast Raleigh.
Although each one of those permits has a stated value of $19,303,427, we're going to go out on a limb and say we probably shouldn't multiply that figure by 11; the overall cost of the project is more likely to be about $19 million, not $212 million.
With a total of 198 units, that second figure would put the cost per unit at about $1 million. Doesn't really compute for an affordable housing project, one for which the developers, Pedcor Investments, received $21 million in multifamily revenue bonds from City Council last November.
Moving on. The development will be located on the west side of New Hope Road midway between Rock Quarry and Poole Roads. The 198 units will be spread evenly across 11 buildings. Each will be three stories, and average about 22,000 square feet.
This will be the Pedcor's first project in North Carolina and, according to an interview they did with The Record last year, will be similar in terms of layout and design to their Village Park apartment complex in Waukegan, IL.
Like Village Park, the Bluffs at Walnut Creek project, will have a trail running directly through the property. Pedcor is a bit of a one-stop-shop, as they are not only the developers and contractors for this project, but served as the designers as well. They did, however, work with Withers & Ravenel out of Cary on the site plans.
According to the News & Observer, in order to qualify for housing at the Bluffs, renters must earn between 50 and 60 percent of the area's median income, which caps out at about $45,500 for a family of four.
For a family making half the median income, a one-bedroom would run $600, and a three-bedroom $800/month.
And that's considered affordable? Yikes.
Tuesday, November 17, 2015
We're happy to announce that today will bring with it another edition of Teardown Tuesday, as we look at the demolition of the Hayes Barton Apartments in central Raleigh.
Located near the intersection of Wade Avenue and Capital Boulevard, the apartments at 1315 Filmore Street were first built in 1964 and contained a total of eight residential units. The building is valued at slightly more than $200,000, while the land is worth around $378,000.
The demolition will be handled by Dicky Jones Grading at a cost of $29,000.
The property has been in the hands of the current owners, G Henry Temple and Vicky Huband, since 1986. Future development of the site will likely be contingent on the outcome of a city council vote on the Unified Development Ordinance remapping, a case that was first presented to them for approval in June, after several years of work by city staff.
The property is currently zoned R-30, and under the UDO remapping it will be changed to RX-3, which will allow for higher-density residential development.
Several local realty sites have the property listed for sale at a coo through Jason Queen of Monarch Realty.
Here's the description:
One of the last ITB infill development lots left with alley access. Sale to include adjacent .25 acre property at 1307 Filmore St. Total of .85 acres both currently zoned SP R-30 with eight occupied rental units and a single family home. Perfect opportunity to invest in downtown Raleigh's ongoing revitalization.
Other information about the property includes the name of its neighborhood — Arlington Place — and the fact that it has on-site access to cable, water and electric utilities. Exciting stuff. We also came across what looks like a page from a site plan drawing for something called Filmore Lots, but we haven't been able to confirm anything regarding it yet.
Update: According to reader Brad, this supposed site plan drawing is just a printout from iMaps. Upon closer inspection, the style does appear to match up precisely with how the lot would be displayed on iMaps. Thanks Brad!
Monday, November 16, 2015
Welcome back to another week of the Development Beat, where we're going to kick things off with a quick look at plans for a new North Raleigh shopping destination: the Olive Park Retail Center.
The recently filed site plan, SR-20-15, provides a more detailed look into the development approved by City Council back in August, when it voted yes on Z-2-15.
Before its approval, the case had drawn some contention from local residents, although it should be noted that the local Citizens Advisory Council voted in favor of the development 17-0.
Read about its travels through the Planning Commission here and here. Planning Commissioners eventually voted 5-3 to recommend approval. Split votes such as that are somewhat uncommon.
Despite CAC approval, several nearby residents filed a valid statutory protest against the rezoning, citing increased traffic, noise and odors from new restaurants. I actually live right behind a Chinese buffet, and I love the way it smells. But maybe that's just me.
At the time of the rezoning, all we really knew was that it would be a grocery-anchored shopping center, but no drawings were provided as part of the rezoning case. They usually aren't.
Now that it's been approved, we have some rough site plans, and a slightly better idea of what the center will entail.
The Olive Park Retail Center will be located at the intersection of Falls of Neuse and Litchford Road just north of I-540. It appears that the shopping center will be spread across three existing properties, given that there are three property identification numbers listed on the site plans.
One oddity is that the address given for the development on the site plans is 9444 Falls of Neuse Road, even though it is not owned by the developer and its PIN is not one of the three on the sheet.
On the drawings, BB & T is still listed as the owner of 9444 Falls of Neuse, although it appears as if they are planning to develop it into something other than the single-family home which currently resides there.
As for Olive Park, it will encompass a total of 62,620 square feet of retail, spread across three or four separate shell buildings. Note — we use the term shell building to indicate that theses structures will likely be subdivided among a variety of tenants, the same as any other strip shopping center. The anchor will likely be a grocery store, although none is indicated on the plans.
To accommodate shoppers, 281 parking spaces will be provided. When the rezoning was presented to city council, it was stated that the traffic generated by a shopping center would be less than if an office building was to be put there instead, and that the developers had worked hard to minimize any environmental or traffic impacts.
The developer, NDB Commercial Real Estate, purchased the three separate properties making up this development on October 6, 2015 for a total of $4.59 million from a subsidiary of Raleigh-based Engineered Construction Company.
NDB currently owns the Alexander Place Crossing in Brier Creek, a 50,000 square-foot development currently anchored by a Best Buy. Phase II of the development is set to bring an additional 57,000 square feet.