Brought to you by Rufty-Peedin Design Build
Friday, March 4, 2016
It's that time of the week again: a look back on some of Raleigh's most recently issued renovation permits.
First up we've got the $950,000 renovation of Raleigh's Fire Station Number Five, first built in 1926 and located at 300 Oberlin Road. What's impressive about this is that bids for this project were due back to the city on January 27, and officially awarded the low bidder, Engineered Construction, on February 16. Permits were issued February 25.  They're certainly not wasting any time!
One thing that's nice about covering public projects in here is that the level of detail I'm able to dig up just on Google is much more than I can usually get on any private job.
For example, here's a more detailed description of the work involved in this renovation than anything I've ever written or will write here in the Development Beat, all because I was able to pull up the invitation to bid on my computer:
Complete renovation of approximately 4,700 square feet located within an existing fire station. Work will include demolition and renovation of interior spaces, including casework and finishes, interior and exterior door replacement, exterior paint, exterior wall tuck-point, patch and penetration repair, new fire sprinkler, new fire alarm system, update to electrical and telecom systems, new mechanical systems, domestic water and sanitary sewer replacement, lighting replacement, and new security camera systems.
That's intense! But the fun doesn't stop there; Riggs Harrod Builders was kind enough to leave the documents for this on their website, so I was able to take a peek at the spec book and even check out some of the fancy architectural drawings. Thanks guys!
Next up we've got a renovation of an historic downtown Raleigh building: 224 Fayetteville Street. CT Wilson Construction Company received  a total of $958,010 in permits on February 23 for interior and exterior renovations at the 96-year-old building.
As luck of the Irish would have it, boasting about being able to easily find information on public jobs online somehow triggered my being able to find information on this *private* renovation project as well! Sometimes, it is easy being green.
As it turns out, Foundry Commercial Real Estate is listing this building for lease on their website. According to them, 224 Fayetteville is "undergoing major renovations including multistory, glass storefront lobby and all new building systems."
Just this week I was talking about how much I like adaptive reuse projects, so it's pretty exciting to see one happening right in the heart of downtown.
Here's the bullet-point pitch from Foundry Commercial's website:
Four-story, registered historic office building

Undergoing major renovations including multistory, glass storefront lobby and all new building systems

+/-26,000 SF space for lease

Exceptional, creative office space opportunity

Single-tenant, HQ opportunity in Downtown Raleigh

Fayetteville Street frontage, Salisbury Street access
I was also able to pull up a brochure from Cushman & Wakefield | Thalimer, which from my estimation appears to be the previous listing agent for the property.
I say previous because the representative listed both on Foundry's website and Cushman's brochure Jordan Betz.
According to Betz' bio, "Prior to joining Foundry Commercial, formerly CNL Commercial Real Estate, Jordan was the lead Office Landlord Representation Specialist for Cushman & Wakefield | Thalhimer in Raleigh, NC, specializing in the leasing of institutional-grade assets."
The brochure goes into a little more detail about the history of the building and why you should probably lease some space there. As some of the bullet points were the same as those from Foundry's site, I'll only list the ones that aren't exact repeats:
Four-story, Historic Downtown Raleigh office building built in 1920 and renovated in 1985
Fayetteville District Location
Strong Ownership
Thriving Downtown Raleigh
Any guesses on what kind of company will move in there? My money's on a tech firm. Seems like a safe bet.
The building is owned by PMC Properties, a "multifaceted hospitality and real estate company based in Raleigh, NC." While the listing on Foundry's website certainly makes it clear the future use of this building will be office, PMC appears to specialize more in the hospitality industry. From its website:
"Founded in 1931, PMC has vast experience in the hospitality industry as an owner/operator of hotels and restaurant operations in the Southeast. The Company recently expanded into the luxury vacation rental sector in North Carolina and Georgia." 
While Fayetteville Street already has plenty of restaurants, this would be a pretty cool spot for a hotel. Oh well. I'm just glad a near-100 year old building is getting rehabbed instead of torn down.
Although it was one of the smaller permits issued last week, a $16,000 interior alteration job at the old Nehi Bottling Plant at 3210 Hillsborough Street, is another example of an adaptive reuse that ended up getting leased to a technology firm.
Raleigh developer James Goodnight, who's developed an excellent reputation for finding and restoring old developments around Raleigh, acquired the Nehi Bottling Plant in 2013. Three years before that, it had been designated an historic landmark.
From the historic landmark application:
A distinctive building was designed for Raleigh's Nehi Bottling plant. Located on the north side of Hillsborough Street just east from the corner of Henderson Street, it is a two-story brick building in the International style. The building was designed by William Henley Deitrick and completed by 1938. On the front facade, white-glazed terra cotta bricks laid in a stretcher bond create the smooth, unadorned wall surface favored by architects of the style, which is discussed in Section E below. Facing east at a slight angle to the busy street, the building's landscaping is minimal. This is consistent with the International style which saw its pristine buildings set upon the landscape as a piece of sculpture.
At the time the application was filled out the space was apparently being used as an engraving plant for Parker's Engraving, although a News & Observer article about Goodnight's remodeling of the building indicated that the building had sat empty for years before his 2013 purchase. It appears that Parker's closed in 1999 and left behind some environmentally hazardous conditions. Ouch.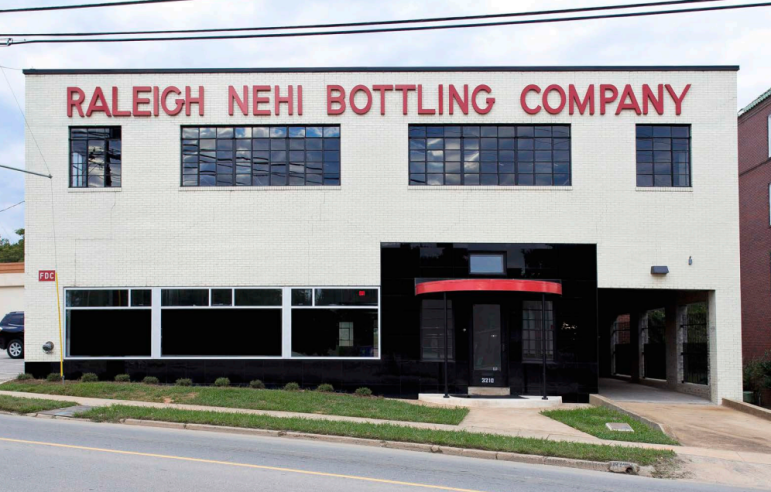 Ellington Contractors received permits to renovate the space in August of 2014, and according to the N&O article, the work was completed the following month.
The current tenant, KnowledgeTree, a 25-person analytics firm, signed a 5-year lease in June or July of 2015. Goodnight told the News & Observer that he could have rented the space sooner, but he was holding out for a single tenant, preferably a tech firm. Good things come to Goodnights who wait.
Ellington Contractors, which did the initial redevelopment project, is also handling this most recent renovation.
Finally this week: the North Ridge Shopping Center at 6196 Falls of Neuse Road will be adding a new Burger 21 franchise. In December of last year, Burger 21 corporate announced its plans for this new store.
For those who, like myself, had never heard of this chain before, here's a quick summary c/o of the press release:
Burger 21 is a chef-inspired brand with offerings including 21 unique burger creations ranging from hand-crafted, freshly ground Certified Angus Beef® to chicken, turkey, vegetarian, shrimp and tuna burgers, fresh salads, all-beef hot dogs, chicken tenders and an extensive shake bar including hand-crafted shakes, floats and sundaes.
Shake bar, you say? This sounds like another grand opening I'm gonna have to get myself invited to.