Brought to you by Rufty-Peedin Design Build
Wednesday, March 23, 2016
The largest renovation project from last week is actually more like a new building project, but it was listed under alterations, so here we are.
In November of last year, Brothers Cleaners at 5020 Atlantic Avenue suffered severe fire damage. According to WRAL: "While firefighters contained the fire to one building, workers said the fire started in the dry cleaning area and then spread to the rest of the building. About 90 firefighters responded to the blaze."
I imagine all those chemicals made the fire all the more difficult to deal with.
In January, demolition permits were issued for the teardown of the fire-damaged space.
The one-story, conventional brick and metal 11,300 square-foot structure that once housed Brothers Cleaners was originally built in 1998. On January 11, 2016, DH Griffin Wrecking Company received $50,000 in permits for the "demo of fire damaged building to slab."
On March 17, Gregory Development LLC received $1,086,005 in permits that read "building is being rebuilt after fire." Interestingly enough, Brothers Cleaners is currently open for business!
The next two biggest jobs were a roof replacement at the Sam's Club on South Saunders Street and a renovation and a roof replacement of an office building at 6601 Six Forks Road.  The $513,675 Sam's Club job will be handled by North American Roofing, while Baker Roofing will handle the $255,755 roofing portion of the office project.
Out in Brier Creek, at 8301 Brier Creek Parkway to be exact, permits were issued for the newest location of local sensation Rise Biscuits and Donuts. I still haven't been to one of these places; when Baker's Dozen in Cary is an option, why go anywhere else? The $154,000 fit-out for Rise will be handled by Vision Contractors.
The Skechers store at the Crabtree Valley Mall is getting a $226,137 face-lift, money that would perhaps be better spent designing sneakers that don't look like special diabetic shoes:
In downtown Raleigh, two permits were issued for The Nest at 414 Fayetteville Street. According to its Facebook page, "The Nest is a new co-working space in downtown Raleigh. This is place for startups, entrepreneurs and makers to collaborate and thrive." Its website says that it will be "hatching" in May of 2016. Clever. The two $179,000 permits for 3,447 square feet of space were issued to The Centre Construction Company.
The Sheraton at 421 South Salisbury received $30,000 in permits for "exterior wall repairs in six rooms." Elsewhere on the permits, the work was described as the installation of "brick ties for rooms." Brick ties are apparently a type of masonry reinforcement.
Finally this week, we've got a project whose name really caught my eye: Milk Bar. Permits were issued last week for the fit-out of a space at 410 Glenwood Avenue in The Creamery building for this "other/mixed use" project.
In an ideal world, a joint calling itself the Milk Bar would serve a variety of flavored milks and milkshakes. To be honest, I just like the idea of having a place where I could go in and say, "Give me a milk. Chocolate."
But this isn't an ideal world. It's not even Hill Valley circa-1955, so it should come as no surprise that the Milk Bar will be an actual bar serving spirituous liquors.
According to Reid Jones, whose firm Mikels Jones Properties manages The Creamery building, the Milk Bar will be run by Matt Kenner, who currently owns the nearby Noir Raleigh at 425 Glenwood and The Anchor Bar at 207 Fayetteville Street.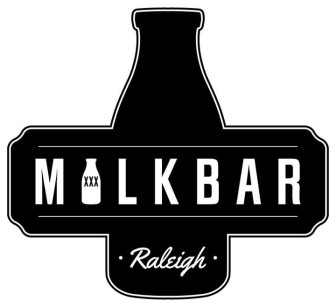 When asked where, specifically the Milk Bar will be located — The Creamery building takes up nearly an entire block on Glenwood South — Jones said it would be located near the tower entrance at the intersection of Glenwood and Tucker, to the left (if you are facing the building) of Sullivan's Steakhouse.
Although Jones declined to speculate on what kind of place Milk Bar would be, he said that Kenner had chosen the name in honor of the building's history.
The Creamery Building was once home to the Pine State Creamery.
"They made ice cream and milk in this building," Jones said.
Jones recalled that when he was younger, Pine State used to have home delivery for their milk.
As we only learned of Kenner's involvement late yesterday, we only sent him an email last night; if he has any more details to share we'll post them here.
I did find a very recently created Facebook page for the Milk Bar, although it doesn't offer much in the way of details, it was the source of that logo we used above.