Brought to you by Rufty-Peedin Design Build
Friday, April 1, 2016
Sorry — there's no April Fool's edition of the Development Beat coming today. That's not to say I haven't thought about it: there's several terrible ideas on the drawing board. Many involving the old Capital Plaza Hotel. But I've decided to spare you all.
Unfortunately, there weren't a whole lot of renovation permits issued last week, so we'll also be looking at a key expansion being planned for an office building in North Raleigh.
The largest renovation from last week deals with the relocation of the Tobacco Road Sports Cafe from 222 Glenwood Avenue to a space right around the corner at 505 West Jones. The site on West Jones was previously home to Natty Greene's, which closed August 1, 2015.
Two permits for the project were issued to Metrocon, $950,000 for a general renovation of 12,280 square feet of space and $807,000 for the addition of a 1,085 square-foot mezzanine.
Next up was something much less interesting: a $225,000 renovation to the "Cypress Building" located on Poplarwood Court off Capital Boulevard near the 440 interchange.
The conventional three-story, 43,152 office building was built in 1980 and is presently valued at $4.5 million. According to the permits, Proland Development will be renovating a total of 14,860 square feet in the building.
Other than that, there's not much. Some parking structure work at Rex Hospital, a few renovations at the new location of Quail Ridge Books at North Hills, which is now open and had previously occupied a spot off Wade Avenue next to the Whole Foods.
So let's delve into that fascinating North Raleigh office expansion we mentioned earlier. Disclaimer: it's actually a parking lot expansion. But according to the documentation, it's one that's desperately needed.
I can't imagine the frustration of working in an office building that lacks adequate parking, so I certainly empathize. I just didn't think the project deserved its own post. But tossing it in here seemed sufficient, especially since the write-up of this week's renovations came in at a paltry 250 words, give or take.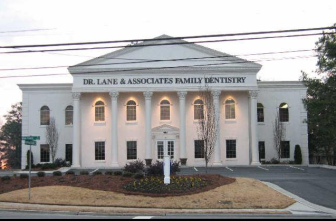 Filed March 23, rezoning case Z-8-16 deals with an office building on 1.27 acre site at 4106 Wake Forest Road, home to Lane & Associates Dentists.
This site is currently zoned CUD- 0&1-1 and is proposed to be rezoned to Office Mixed Use, Conditional Use (OX-3-CU). Crystal-clear, right?
According to the rezoning application, the applicant is seeking "the ability to move the existing access drive further south along New Hope Road."
This, they hope, will "enable drivers to more easily turn off New Hope Road and turn on to New Hope Road from the site and help alleviate overcrowded parking of the existing office."
The developer held a public meeting in the building to discuss the case on February 29, but no one showed up. I could describe most of my first dates the same way. I guess most women are put off by the idea of meeting a stranger at an empty, darkened office complex late at night.
The summary of issues included in the rezoning documents regarding the meeting was kind of funny:
"There were approximately O neighbors in attendance. The general issues discussed were: Summary of Issues: No issues were discussed because no one showed up for the meeting."
Ouch.
The upside of this is that the neighbors are unlikely to oppose the rezoning. It's hardly much of a change, after all. And if it alleviates parking issues, why not? Everyone needs to go to the dentist.