Brought to you by Rufty-Peedin Design Build
Thursday, April 7, 2016
Hola! Today's edition of the Development Beat will not be brought to you in Spanish, as I only know enough to barely get by as a tourist in Spanish-speaking countries.
But we will be covering a project dedicated to a segment of the population that wouldn't have to rely on Google to tell them that "La Esquina Latina" translates to "The Latin Corner."
Cool. Although the version of La Esquina we'll be looking at today hasn't been built yet, it looks like they've got an existing location at Chapanoke Road. It appears to be a sort of multipurpose center, where people can procure auto insurance, have documents notarized and pay bills and taxes.
I tried checking the website for more information, but it appears to be entirely in Spanish, except for the part where they mention they're not attorneys. It's probably some legal thing that it has to be in English.
Oddly enough, a several reviews on Yelp seem to indicate that this is some sort of restaurant. Being the intrepid reporter I am, I decided to go investigate. Easy enough right? Pull up, park, walk in and see if I can order an Aguas Frescas and a side of nachos.
Not so fast. The given address — 421 Chapanoke Road — is just off S. Wilmington Street in South Raleigh, and appears to be inside the Villa Latina Plaza, an entire shopping center that caters to a Spanish-speaking clientele.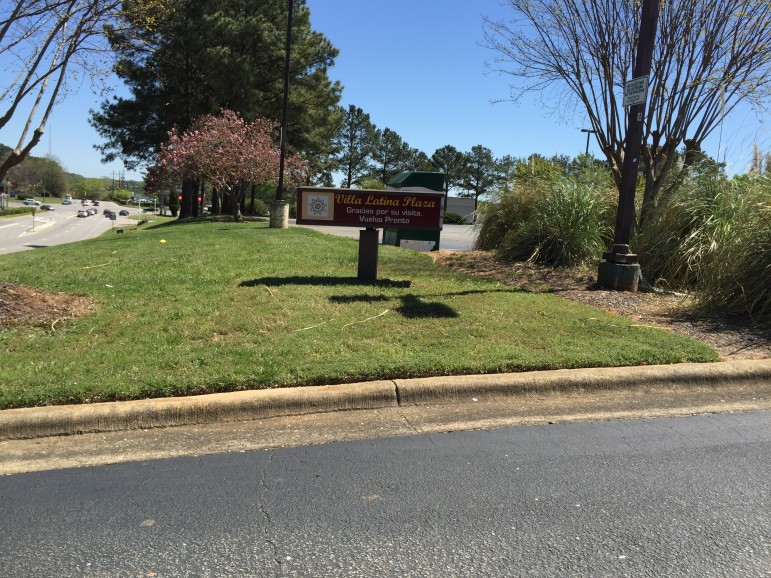 It's basically like every other grocery-anchored strip mall in Raleigh, except instead of a Food Lion it's an International Markets and all the stores — even a vape shop — have Spanish names.
There was even one store there that, had this shopping center existed in the world of The Simpsons, would have kept the exact same name: a thrift store named "El Cheapo."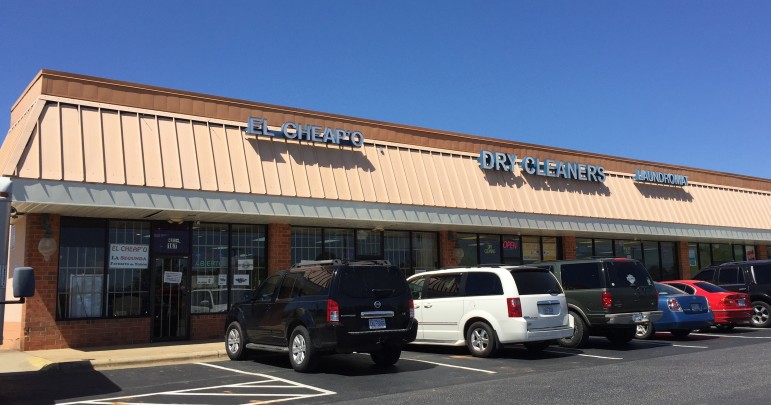 But no Esquina! I even tried calling, but it was an automated message in Spanish, and I was completely lost. Sorry readers, I guess the mystery of whether this place ever served food will just have to be one of those things we never figure out.
Site plans for the new Esquina Latina seem to reflect the business-services use I mentioned earlier, however, as the new structure type is listed as "office."
The 7,000 square-foot, single-story building will be built on a now-vacant lot at 1615 South Saunders Street, about a mile from the existing location at 421 Chapanoke Road.
La Esquina Latina Inc. purchased the Saunders property in December of 2014 for $135,000. It's now valued at just over $137,000.
An existing 981 square-foot concrete pad on the site will be torn out, and seven parking spaces will be installed. Again, if this was a restaurant, they'd have to have more than seven parking spots, right?
There will also be a 169 square-foot outdoor amenities area right in front of the store, although what this will entail is beyond me. On the site plans for the Hillsborough Apartments we looked at yesterday, we speculated that the amenity area was going to be for a pool. I doubt that's the case here. Although I'd think it would certainly be a draw; go for a quick swim while they do your taxes? Deal.
As this new building will not be located in a flood hazard, wetland or river buffer area, it's unlikely to create many ecological complications. As far as traffic, well like we said, there's only seven spaces. I don't imagine there's going to be a backup as cars flow in and out all day long, waiting for spaces to open up so they can rush inside and have something notarized.
The site plans were drawn up by Piver & Associates of Raleigh.