Brought to you by Rufty-Peedin Design Build
Tuesday, April 12, 2016
Another week, another total absence of nonresidential demolition permits issued in the City of Raleigh. Which means, once again, we'll be switching from Teardown to Terrific Tuesday. Which is tremendous, really.
Today we're going to take a look back at the old Yarborough House, built in 1852 and destroyed in a fire in 1928.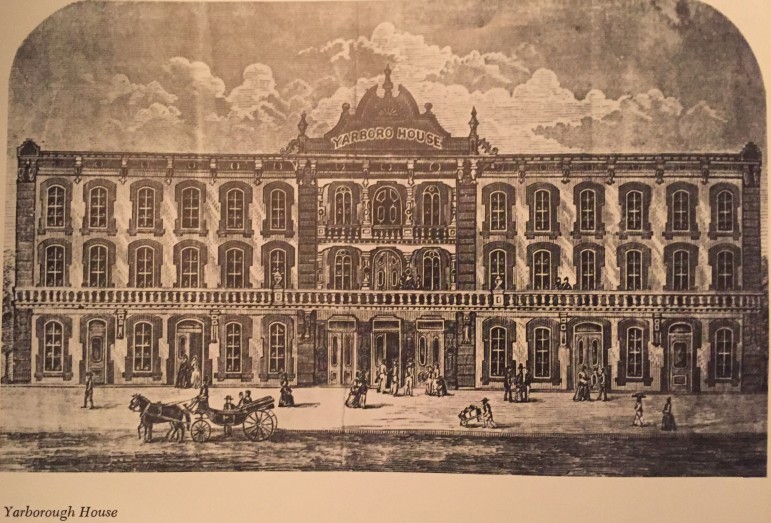 Located at 319 Fayetteville Street, the Yarborough House was established in the mid-nineteenth century as "Raleigh's finest hotel."
During the Civil War, the hotel became a sort of social gathering spot and a haven for Confederate war refugees. According to the Raleigh City Museum, "one of its most notable refugees was Mrs. Jefferson Davis who, along with her children, came to Raleigh in May 1862 after fleeing Richmond, Virginia, in advance of the Seven Days' Battles."
Following the Civil War, a number of North Carolina governors between the years of 1865 and 1889 actually called Yarborough House hotel home. Elizabeth Waugh attributes this to the fact that the original "Governor's Palace" was poorly built and, following its occupation by Sherman during the war, never used again.
The Yarborough House was a popular gathering place as well; apparently, there was an old turn of phrase that went "I met your father at a Yarborough House Ball." Certainly sounds better than "I met your step-father on Tinder."
According to Waugh, a menu from the 1890s for Yarborough House included everything from Oysters and Lobsters to Quail and Plum Pudding. Drinks included "Gin Fizz, Eggnog, Shandygaff, Alabazam, Brain Duster, Catawba Punch, Hannibal Hamlin, Old Nick Rye and Sitting Bull Fizz."
That is quite a list. In the interest of science, we'll do a quick rundown on what, exactly those drinks are. So Gin Fizz is just gin, club soda and lemon juice. Eggnog is eggnog, come on. Shandygaff though…. it's apparently a mixture of beer and ginger beer. Weird. Alabazam is 1996 fantasy film starring Shaquille O'Neill.
Sorry. It's actually a mixture of brandy, lemon juice, Curacao, syrup, bitters and soda water. A Brain Duster tosses together whiskey, absinthe, vermouth and bitters. Absinthe! No wonder they called it a brain duster.
The only thing I could find on Catawba Punch was a bunch of nonalcoholic punch recipes. Boring. Thankfully reader Richard B. informed us that a Catawba Punch was "a punch made from Catawba wine, popular in the 19th century." A Hannibal Hamlin consists of rum, cognac, lemon juice, orange juice and honey. Hopefully those last three are enough to cancel out cognac, which is just awful.
Came up empty-handed with Old Nick Rye, but reader Richard came to the rescue again, telling us that "Old Nick's Rye was made by the Old Nick Williams distillery in Lewisville, NC, in Forsyth County." A Sitting Bull Fizz consists of lemon juice, sugar, rum and whiskey. Interesting.
On its 52nd birthday in 1904, the Yarborough House had new wings added on and was completely remodeled.
By the 1920s however, the new Sir Walter hotel began to overtake the Yarborough House in reputation and popularity. That's not to say there wasn't great consternation when it burned down on July 3, 1928; according to Waugh, there were so many grieving bystanders that the firefighters "were hampered in their work of trying to save the structure."
Their efforts were unsuccessful. The building was unsalvageable and eventually torn down.
The website "Pulloverandletmeout.com," features an article on haunted Raleigh sites, and discusses the Yarborough House thusly:
Our guide recounts tales of an unfortunate construction worker who fell to his death, an otherworldly hotel guest seated at the bar and a viscous entity that terrified the wife of the hotel owner.
Spooky!
In 1940, the Hudson-Belk Department Store opened at the former site of the Yarborough House.
The Raleigh City Museum actually put together a nice little video of the former department store, complete with old photos care of the News & Observer. My favorite fun fact from the video? The building boasted that it had one of the first escalators to come to Raleigh.

Although it did not succumb to the ravages of fire as did its predecessor, the ravages of time eventually got to Hudson Belk, which saw itself transformed in 2005 into the Hudson Condos. This was around the same time that Council began planning to turn Fayetteville Mall back into Fayetteville Street by opening it up to vehicular traffic.
As a matter of fact, the developer of the Hudson Condos, Vaughn King, apparently had some difficulty securing tenants due to the uncertainty of what would be happening with Fayetteville Street.
As it stands now, the Hudson Condos are not too dissimilar from the original Yarborough House: high-end downtown living. Although the current governor doesn't stay there anymore — we can't imagine his neighbors would appreciate the constant protests in the hallways, elevators and stairwells — it's certainly one of the more exclusive downtown residences.