Brought to you by Rufty-Peedin Design Build
Monday, April 25, 2016
In the 1950s, the State of North Carolina almost made the mistake of paving over the paradise that is Moore Square Park and putting up a parking lot.
More than 50 years later, the City of Raleigh began making its own plans for redeveloping Moore Square: not into an impervious concrete lot, but rather, a better version of itself.
This oft-delayed process, which roughly began with a design content for a master plan in 2009, was pushed back once again last week when City Councilors voted to hold off on beginning negotiations with a Construction Manager at Risk for the project.
Real quick: a CM at Risk is essentially a general contractor for a project that guarantees to complete the work at a predetermined price point. They are "at risk" for any overages.
In February of this year, the City sought proposals for these CMs and whittled down the six submissions into a list of the top three. Last week at Council, staff hoped to get approval to begin negotiations with its top choice: a partnership between Whiting Turner and Holt Brothers Construction companies.
Slow your roll, Councilors told them. We need to see a little more information on these proposals — all of which staff said would have been acceptable — and what made Whiting Turner/Holt Brothers so special.
The issue will be given further consideration at this week's Growth & Natural Resources Committee, but in the meantime we've got an exclusive look at the top three proposals, and some possible insight into why Whiting Turner/Holt Brothers (WT/HB from now on) came out on top.
Actually, I thought I had that figured out almost right away: at more than 100 megabytes, the size of the WT/HB proposal PDF was nearly five times that of the other two combined. These other two companies had turned in book reports to WT/HB's doctoral thesis, I scoffed, smugly satisfied with my ill-informed assumption.
As it turns out, the WT/HB proposal was only 70 pages long: Barnhill Contracting's was 52 pages and Brasfield & Gorie's was 77. So much for that theory.
Before we get into the proposals, I would like to put in this one disclaimer, since I'm not including the full text of them here: the amount of work all of these companies put into their responses is incredible.
These were the top three selections for a very good reason. I'm not even remotely qualified to grade these proposals on any real merit-based system, so it's my hope that should any of the people involved read this, they take it for what it is. I would never want to denigrate the hard work of such large groups of talented people, and upon re-reading this, I realized it could easily be taken that way.
Now let's take a look at them:
Barnhill Contracting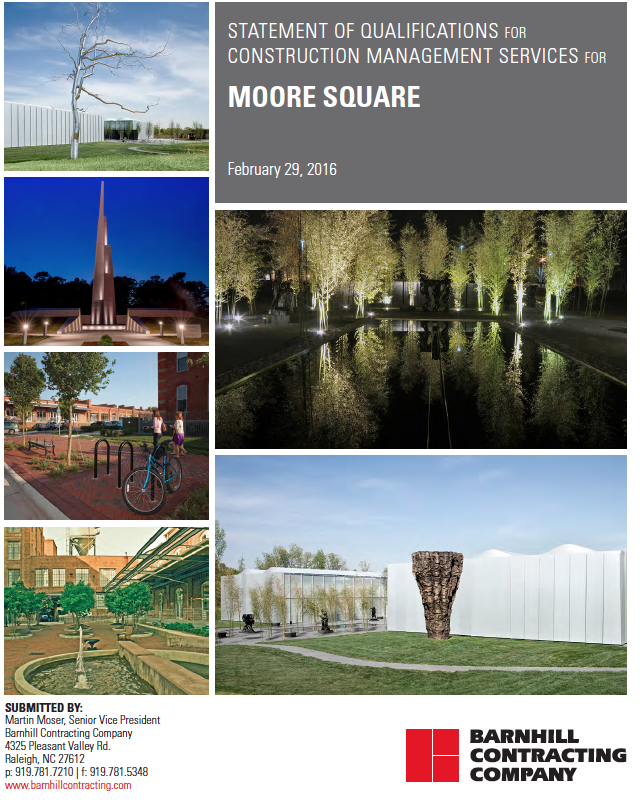 Cover Design: Some nice imagery, but the condensed size of the PDF meant the quality of said imagery is on the lower end of the scale. 6/10.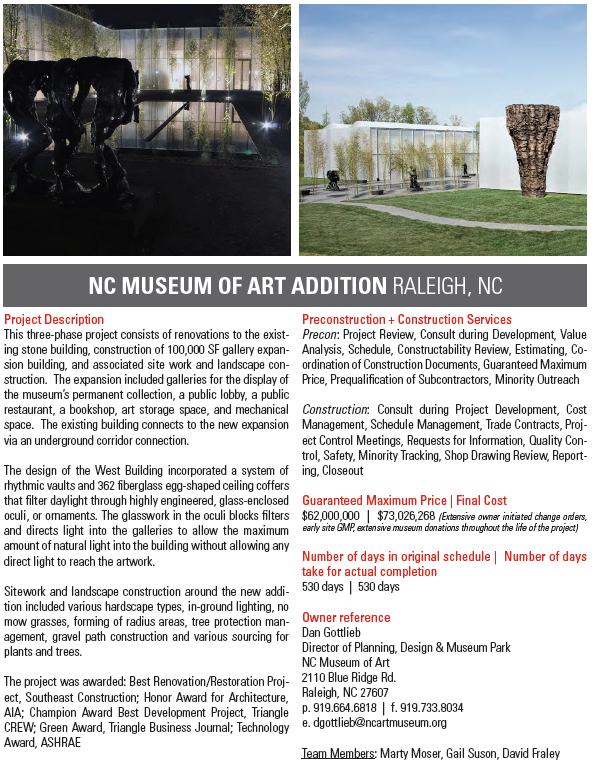 Past Experience: Barnhill has worked on a variety of prominent, well-executed projects, including an addition at the NC Museum of Art, Lichtin Plaza outside the Duke Center for the Performing Arts and the Raleigh Convention Center Plaza. Many of the projects came in over the guaranteed maximum price; however, the CM at Risk is not responsible if the price goes up as a result of owner-initiated change orders. The Museum of Art project, for example was budgeted at $62 million and came in at $73 million due to "extensive" change orders. 9/10. (One point subtracted for the low image quality. Bigger file size is better!)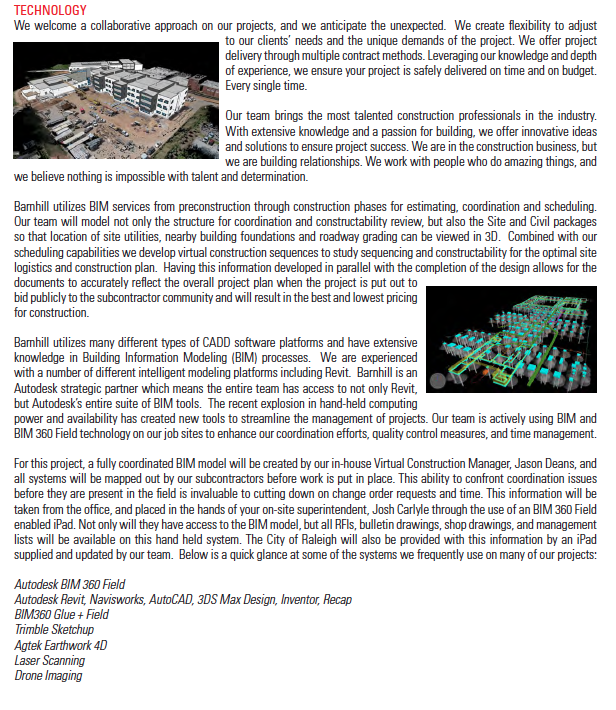 Project Approach: Barnhill notes it will go to great lengths to ensure high-level quality and cost control on the project; desirable qualities both. More interestingly, they detail plans to use iPads in order to provide live, on-site updates to project plans and data. They also describe a 16-step approach to recruiting small, disabled, minority & women owned businesses. Although the acronym "SDMWOB" is used extensively, there are a few other ah, definitions out there on sites like Urban Dictionary that I can't recommend looking up. 8/10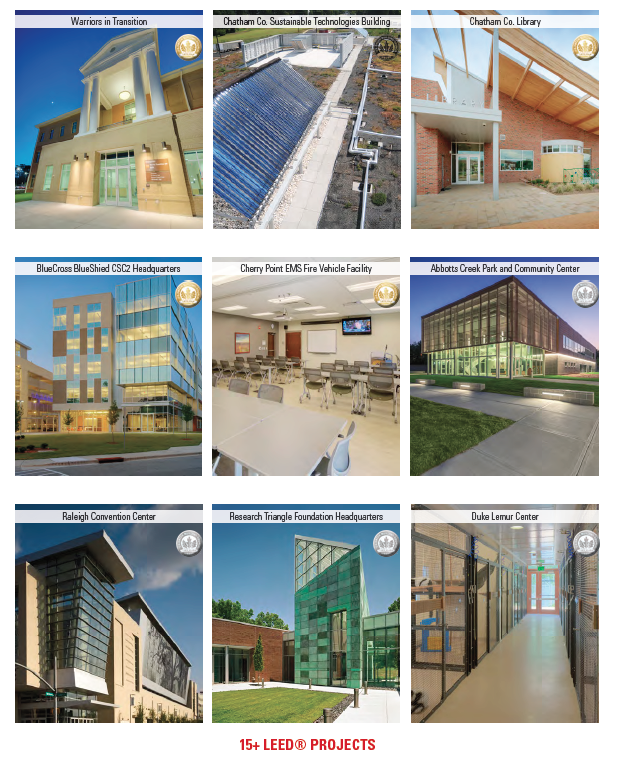 Summary: There's a reason staff said everyone on their top-three list was qualified to work on the Moore Square redevelopment. Aside from the low-resolution images, nothing stood out in Barnhill's proposal as a red flag or a negative. In addition to the past projects of theirs we mentioned above, Barnhill has also done more than 15 LEED-certified projects, and their top-level staffers have extensive industry experience. I guess sometimes that's just not enough! Overall score: 8/10. 
Brasfield & Gorrie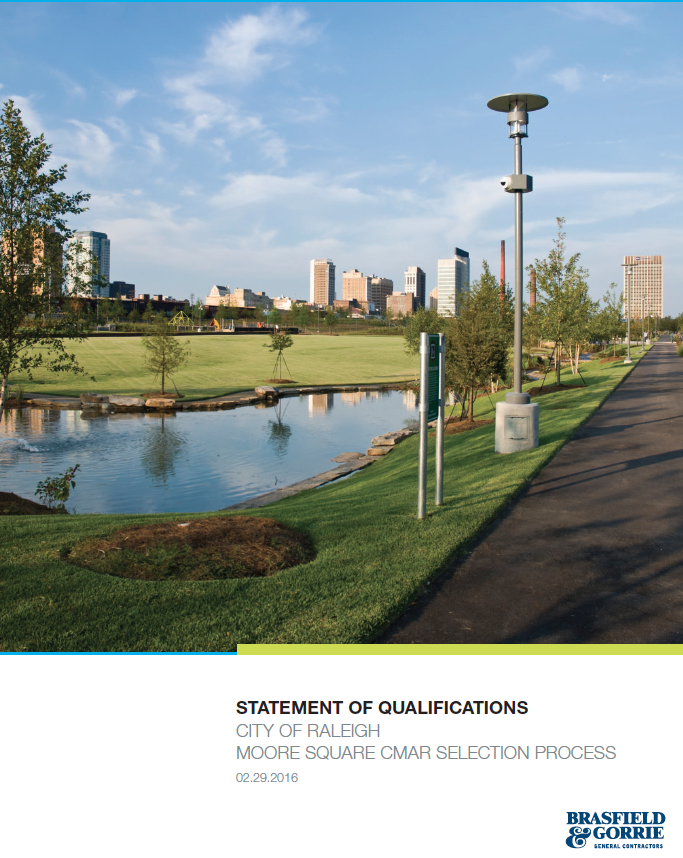 Cover Design: Simple, clean, elegant. Great photograph. 10/10.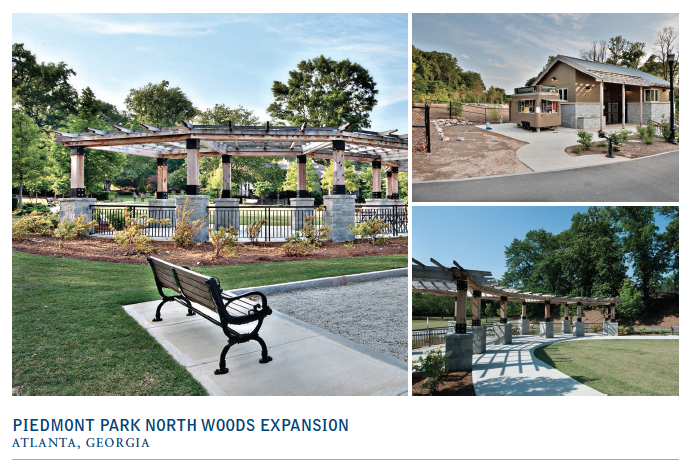 Past Experience:  While B&G does list a few local projects in this section, including the MetLife at Weston Lakefront in Cary and Raleigh's Central Operations Center, more than half of those featured are out-of-state. Thankfully my ratings mean nothing, or else they'd probably think it unfair I'm subtracting points over something so petty. It's not as if there was anything wrong with the Piedmont Park North Woods Expansion, it's just that it took place in Georgia. It should be noted that they've done more than 50 park projects, more of which should have been featured. 7/10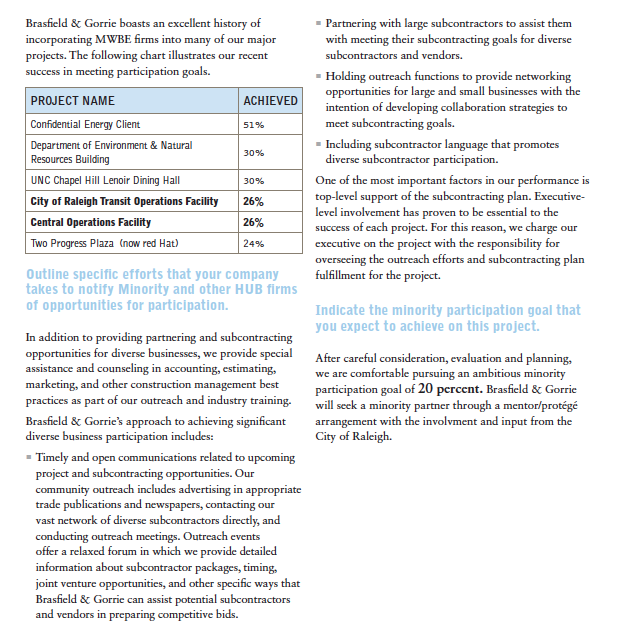 Project Approach: As with Barnhill, B&G notes it will go to great lengths to ensure high-level quality and cost control on the project. Not surprising, as these sections are kind of generic. B&G talk about on-site tech solutions as well, but they didn't sound as interesting as the one described by Barnhill. Oh well. While B&G didn't have as lengthy an action plan on SDMWOB recruitment, their past experience speaks for itself: a project with a private energy client had 51 percent participation rates. Typically the goal is around 20 percent, which is what B&G would aim for with Moore Square.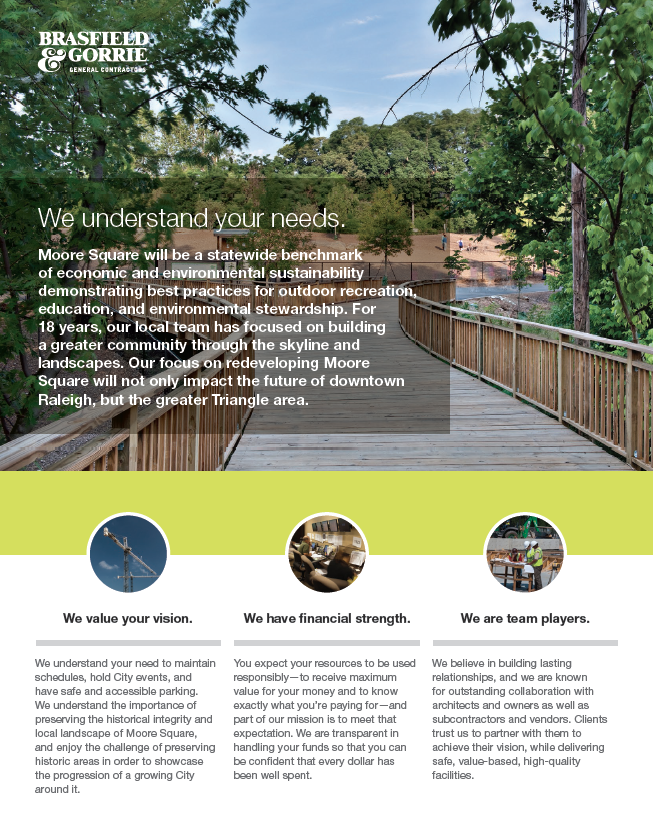 Summary: The excellence of the cover design is reflected throughout this proposal. If the graphic designers responsible for the layout and design choices for these three submittals were in a separate competition of their own, it is likely whoever's behind Brasfield & Gorrie's would win. Although this is the longest proposal at 77 pages, it lacks a few minor but interesting details included in the others, such as a cost breakdown for past projects or a detailed tree conservation approach. Still, it looked great. 8/10
Whiting Turner/Holt Brothers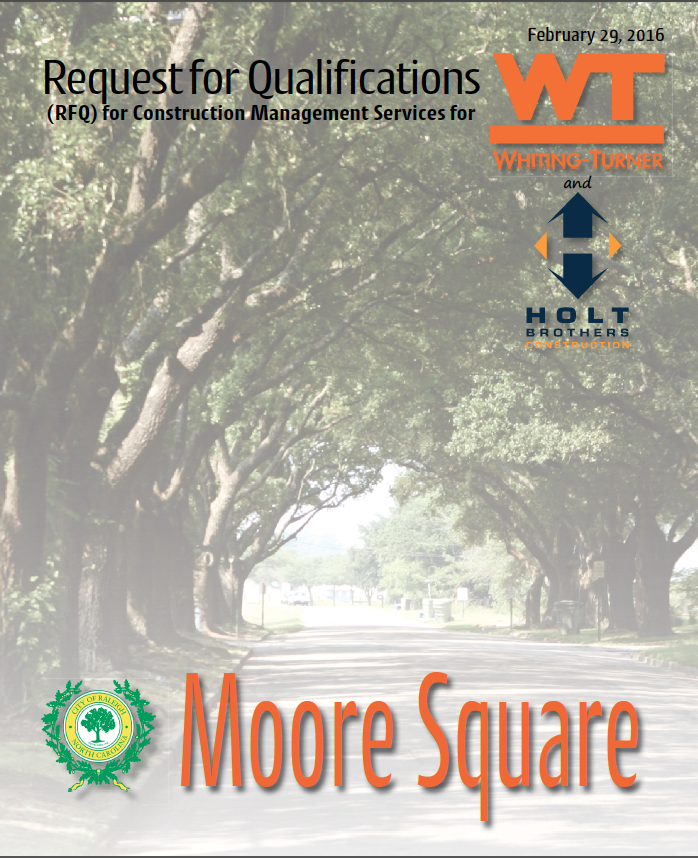 Cover Design: The watermarked background image is decent, and the inclusion of the City of Raleigh's logo along with those of W-T and HB is a nice touch, but overall it's a bit uninspired. 6/10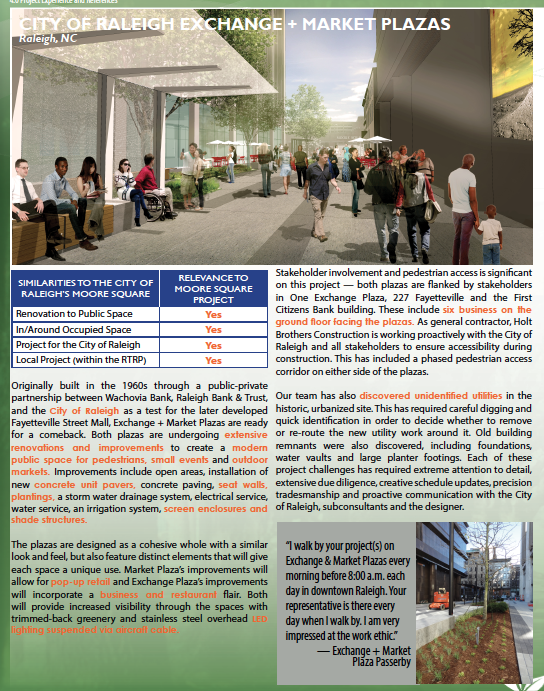 Past Experience: Considering this proposal is a collaborative effort between two prominent construction firms, it should be no surprise they were able to shine in this section. All of their featured projects took place in North Carolina, and several are local, including work at the Marbles Kids Museum and the City's Market and Exchange Plazas. Any points I might subtract for including ongoing projects in this section is made up for by the inclusion of an endorsement from an "Exchange + Market Plaza Passerby" who was impressed that the contractors showed up to work on time each day. If that's not an endorsement to hang your hat on, I don't know what is. More seriously, where WT/HB really went the extra mile with this was incorporating little checklists on all their old projects detailing how they were relevant to the Moore Square redevelopment. Very clever. 10/10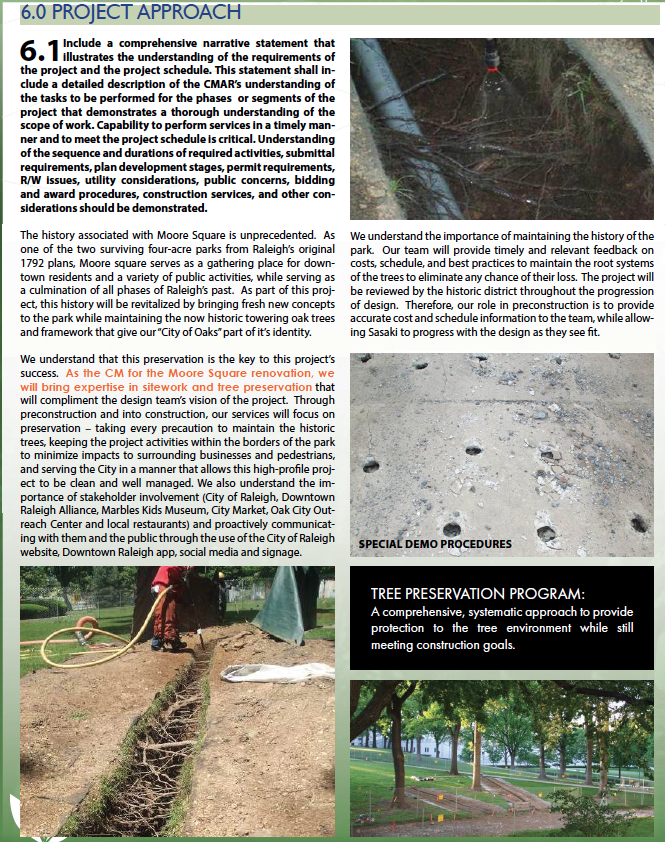 Project Approach: It appears that the larger and more seasoned Whiting-Turner will be taking the lead on this project. It should be noted that WT/HB are currently partnered up on the Justice Center project in Durham as well, so Moore Square wouldn't be their first time working together. By incorporating the history of the park and a detailed tree preservation plan this section is made more interesting than it otherwise would be. They too will use iPads in the field. 10/10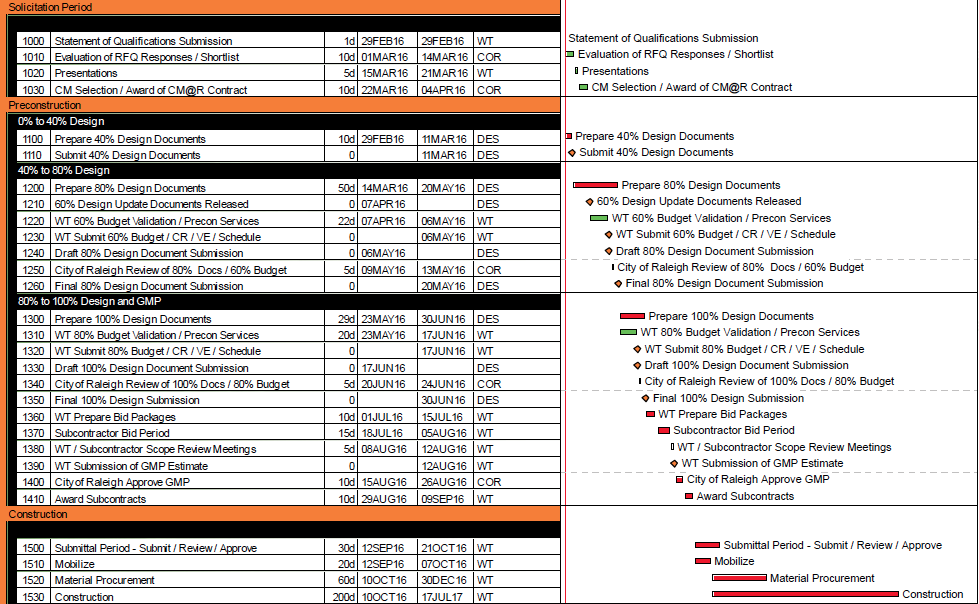 Summary: Of all the proposals, this one does the best job of crafting a narrative about the Moore Square redevelopment that argued why they were the most qualified to work on it. The incorporation of tree preservation firm Sasaki as a crucial member of the team was a nice touch as well, and something specifically mentioned by staff as a reason for selecting WT/HB. I will offer this one critique: Chris Cowles, the Contract Consulting Arborist, should probably get a new headshot taken. Just saying. 9/10