Brought to you by Rufty-Peedin Design Build
Monday, May 9, 2016
On May 6, seven permits were issued for a brand-new Cardinal Self Storage facility on Corporation Parkway out in Brier Creek.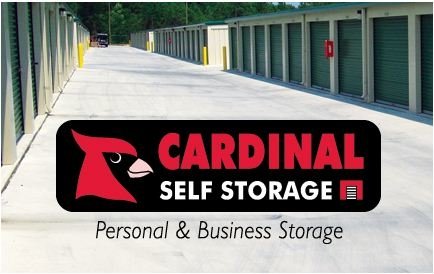 Although these were technically the only nonresidential new building permits issued last week, we lucked out with a handful of site work permits for a new shopping center, which means I won't have to squeeze 600+ words out of a write-up on a Brier Creek storage facility.
Not that there's anything wrong with storage facilities, but unless they're getting built by our friends over at Rufty-Peedin Design Build, like the beautiful, brand-new Capital Boulevard Storage in far North Raleigh past the 540 beltline, they're generally not worth writing about.
Before we dig into the Olive Park Shopping Center, let's run down the new Cardinal facility real quick.
This new location will feature seven one-story buildings of varying square footages ranging from 3,200 to 11,200. The $302,000 project will be handled by Fortress Construction. As much as I love Rufty-Peedin, I have to say, Fortress Construction is a much cooler name for a company.
Now that we've got that out of the way: six retaining wall permits were issued last week to the S.T. Wooten Company for work on the new Olive Park Shopping Center. The center, which will be anchored by Raleigh's first Sprouts grocery store, will be located just a half-mile south from the Harris Teeter-anchored Falls Pointe Shopping Center in North Raleigh.
If you think that sounds like overkill, you're not alone. When this project went through the rezoning process last year as Z-2-15, it was met by significant neighborhood opposition and even had a valid statutory protest petition filed against it, back before the General Assembly took away people's ability to annoy developers with them.
Last year, Gailya Paliga, wife of the man who filed the protest petition, told The Record that "There is absolutely no need for more retail on our corner."
When the public hearing was held on the case last August, we reported that neighbors complained the development would back up to their neighborhood, causing issues with noise and odor. They also stated that their road was already being used for cut-thru traffic, and that this would increase due to the proposed development.
"How would you like a grocery store in your backyard? That's going to happen to me," neighborhood resident Charlie Smith said at the time.
The developers, father-and-son team D&N Development (Daniel & Nick Brown), worked extensively to address these concerns and added a number of conditions to the rezoning, which included stormwater management, evergreen buffering between the development and the neighborhoods and a masonry wall that would shield the neighborhoods from the site of the loading dock for the delivery trucks.
Olive Park, named for Dan Brown's daughter Olive, will according to site plans filed last November encompass a total of 62,620 square feet of retail, spread across three or four separate shell buildings.
In addition to the Sprouts grocery store, the Triangle Business Journal has reported that the center will also include a Bad Daddy's, a City Barbecue, a Chronic Tacos, a Papa Murphy's Pizza, a SuperCuts, a Lee Spa Nails and a Sleepy's Mattress. Of course there's a mattress store.
For those unfamiliar with Sprouts, it's a chain grocer that officially calls itself Sprouts Farmers Market and specializes in healthy food. Which is a good way of making sure riffraff like myself steer far away from this place.
As only the sitework permits have been filed at this point, it's likely to be a while before any of these stores open to the general public. When the site plans were filed last year, the developers said they anticipated opening some of the stores in November 2016 and the Sprouts in early 2017.
This is a much better approach than the one taken by the developers of the new Harris Teeter-anchored The Pointe at Creedmoor shopping center, which, to my understanding, made Harris Teeter wait to open until the other stores were ready.