Brought to you by Rufty-Peedin Design Build
Tuesday, May 10, 2016
Demolition permits for the former home of downtown clothier Showers of Blessings Wearing were first issued nearly two years ago in May of 2014.
Yet, there it sits. First built in 1954, the squat, stucco-exterior building has remained untouched for the last two years. As the building is owned by a church, one might consider the building's lasting endurance something of a miracle.
Of course, this consideration should be tempered by the fact that this is not exactly a building worth saving. In 2013, in fact, the North Carolina Department of Cultural Resources deemed it ineligible for listing in the National Registry of Historic Places.
They actually published a pretty great takedown of the place, which I'll just republish in full here.
"Constructed around 1956, the primary resource at 320 S. West Street is a one-story, two bay building. The brick structural system is covered in stucco and the building is capped by a low-pitched, front-gable roof sheathed in asphalt shingles. The primary entrance-a two-paneled, wood door- is off-centered on the south elevation.
Other fenestrations include a three-light ribbon window on the primary elevation. Two one-story, rectangular additions extend off the rear (north) elevation of this building. Like the original core of the building, this brick addition is covered in stucco and covered by a metal, gable roof. Metal vents pierce the roof line.
A secondary entrance is off-centered on the south elevation of this addition. It is a metal door with an exterior storm door. This resource is in fair to poor condition and has undergone several modifications during the last-half of the twentieth century. It does not exhibit high artistic value as the work of a master, nor is it an outstanding example of a particular architectural style.
Modifications over time have somewhat diminished its historic integrity. It is recommended not eligible for individual listing on the NRHP under Criteria A- C and has not been evaluated under Criterion D."
I know the phrase "I couldn't have put it better myself" is typically used ironically, but in this case, well, it applies literally. There's nothing more I can say about the history or physical appearance of the building they didn't cover much better than I could hope to.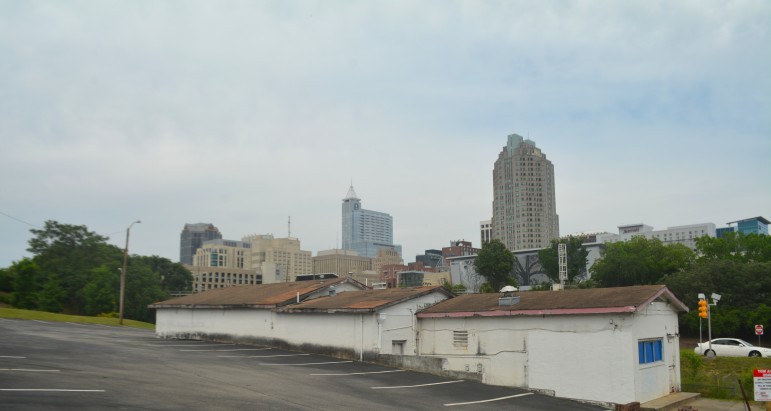 So let's see if we can dig a little bit into the building's future. An old flier from York Properties lists for sale a 2.46 acre parcel of land that includes 320 W South along with 328 and 410 W South. The asking price was $5.25 million. The property is now listed as being off the market, and county records indicate it has been owned by the Victory Tabernacle Church since 2001.
The church has owned the property at 328 W South since 1997, when it purchased it for $200,000. Further details are not available on the 2001 purchase.
Here's how York described the property:
"Two owners, three parcels, make up this unique 2.46 acre offering. The parcels are currently owner-occupied and are used as a church and an automotive service center. 320 W. South Street contains a 2,100 square foot block and wood structure on approximately 0.71 acres and is used as church parking.
328 W. South Street contains a 5,400 square foot block and steel structure on approximately 0.61 acres occupied by a church while 410 W. South Street contains a 10,720 square foot masonry and steel structure on approximately 1.14 acres and is occupied by an automotive service center.
The total site includes approximately 520' of road frontage on W. Lenoir Street, 170' of frontage on S. Dawson Street and 490' on W. South Street. The site is catty-corner from the Red Hat Amphitheater and adjacent to four lots owned by the City of Raleigh."
I reached out to York Properties and Victory Tabernacle to see if I could find out what might be coming next. In Wake County records, the building is described as "church storage," and since the flier indicated that the property at 320 W South was used for parking, it's possible the church is just clearing the way for more surface parking.
Since we don't have anything solid, here's a theory: Victory Tabernacle had trouble selling the property, and one of the problems was this old building. Tear it down, and maybe it's a little easier to market the overall parcel.
James Perkins will handle the demolition for a mere $3,500.
Just one more thing: the permits described the building as a "restaurant," yet I could find no record of this property being utilized as such. Any long-time residents with long memories remember grabbing a bite to eat here?