Brought to you by Rufty-Peedin Design Build 
Wednesday, May 11, 2016
Gary Bryant's enthusiasm is infectious.
Bryant, a seasoned restaurateur, is the proud proprietor of the future H-Street Kitchen, a full-service American-style restaurant set to open this July in the former home of the Hillsborough Street Bookstore. And he couldn't be more excited.
"We are being very careful not to trivialize what we have here, which is a beautiful building, an amazing space on an amazing street that has an amazing history," Bryant explained during a walk-through of the space, originally home to the Varsity Theater.
"We don't need to create history — we need to be a part of it."
Bryant knows a thing or two about being a part of history: when NC State won the national basketball championship in 1983, he was the team's manager.
While H-Street's ties to Bryant's alma matter are inevitable, he said he wants to make the restaurant a space where the entire community feels welcome.
"We don't want people to feel like they can't come here because they're not State alumni or students: we want people to come here because they love the food and they love the environment."
Bryant said the food offered at H-Street would be a "really diverse American kitchen menu, sourced with integrity and prepared with pride." Chapel Hill chef Adam Rose will be serving as the restaurant's culinary director.
"My goal when we started doing this was just to be able to bring something of quality back to the street," said Bryant, who noted that for a 15-year stretch, there wasn't much of a reason for anyone beyond State students to spend time on Hillsborough.
"With so many companies relocating downtown, we're seeing different segments pop up that can survive on their own, where it's not Glenwood South vs. Fayetteville Street," Bryant said.
"Hillsborough Street, in my opinion, is the last segment to participate in that."
One issue with Hillsborough Street Bryant was quick to point out was a perceived lack of parking. In addition to offering valet parking, he said, they will work to ensure everyone knows that the NC State lots are free for public use after 5 p.m. and on the weekends, a fact he said most people aren't aware of.
A recent survey of NC State students found that the two things they most wanted to see on Hillsborough Street were a full-service restaurant and a full-service bar, both of which will be offered at H-Street.
"We've got an 18-tap system; 16 taps of primarily local beers as well as two tap wines," Bryant said. Tap wines from a keg are a relatively new phenomenon, popular in California, that Bryant says are a better way of offering a quality product at a proper price than the traditional method of buying and serving bottled wine.
The food will be priced in the $8-$18 range.
"It's not going to be pretentious: it's a place you want to come with family and friends, hang out, share food: all our meats are prepped in house, we won't have a walk-in freezer," Bryant said.
"It's all fresh, quality-driven food: we'll be using local bakeries for our bread and local for everything else that makes sense as well."
2420 Hillsborough: Exposed
When the 505-seat Varsity Theater first opened in 1941, the owners plastered over the building's brick walls and wood ceilings, a covering that remained in place until Rufty-Peedin Design Build began tearing it down last October.
"Everything you see where the brick is, where those wood ceilings are," Bryant said, pointing around the space, "It was all plaster, it's never been exposed in 75 years."
In fact, Bryant said, the ceiling had been lowered twice: first when a McDonald's took over the space in the 1980s, and again later when it became a book store.
When he was approached a little more than a year ago by developer Michael Sandman from SKS Properties, which owns 2402 Hillsborough as well as several other buildings on the block, Bryant said the goal was to do something "really cool" with the space.
It turned out Mr. Sandman had brought him quite a treat.
Along with project architect Ted Van Dyk of New City Design, Bryant said, he was able to dig up an old set of architectural plans for the original Varsity Theater.
"They were on the website for a library in Hendersonville, where the architect, Erle Stillwell, is from," Bryant said.
"So basically Ted and I said, we need to get up there and see if that's a wood ceiling."
The plaster demolition was a dusty, messy, seven-week process that eventually exposed the well-preserved brick and wood of the original structure. Unfortunately, not every part of the building was in such good condition.
When Rufty-Peedin began working on the marquee, Bryant had assumed it was connected to the building's steel framing. Instead, they discovered the bolting was "dead in the mortar, and had never been connected" to the building's frame.
This setup, Bryant said, was extremely unsafe.
"I'm surprised it never fell down!"
"We're actually 60-90 days behind schedule because of the marquee," Bryant added, noting that its lack of structural integrity was not the only problem it presented.
"The city had to help us figure out what we can and can't do with the sign; it's nonconforming, and that was granted in 1984 or so when McDonald's was here. We've got maybe four or five years left on the nonconforming status, then we have to go back to get it approved."
Although Bryant eventually hopes to restore the marquee to its original design and appearance, he said he was told by the City they weren't allowed to do so at present.
One of his initial goals for the entire space, in fact, had been to maintain the original architecture of the Varsity Theater.
"However," Bryant said, "By the time we got here, nothing in here resembled the theater, the only thing here, really, was the marquee."
Although McDonald's had installed skylights in the 1980s to help add more natural light to the space, Bryant said they had decided to take this concept a few steps further.
"We basically made the decision that, we've got to open this space up, there's not a lot of light in here, there was really no connection with the exterior of the building, so we're going to be putting in an all-glass front."
Bryant said there will also be an all-glass vestibule in the front, and a glass-enclosed private dining room upstairs that will have double-glass doors opening to an outdoor patio.
As neither McDonald's nor Hillsborough Street Textbooks elected to put in the extensive work required to completely level the floor, which had been sloped, as most theaters are, toward the screen, Bryant said it's now completely evened out, although he does plan to place a large 13-15 foot screen not far from where the original would have hung.
It will be used primarily, he said, to broadcast NC State basketball games.
The upstairs, formerly home to the theater's projection room, was accessible only by climbing on top of a desk and shimmying into the room.
"It was built like a vault," Bryant said of the room.
"It was all concrete: back in the day, film was very flammable, so they had to build it like a fire room."
A staircase has since been installed and the concrete walls removed. Two outdoor patios are being built out on either side of the mezzanine up there; they previously served as nothing more than roofs. If H-Street's future patrons are anything like this reporter, there will definitely be a certain thrill in dining next to a theater marquee, an undoubtably unique experience.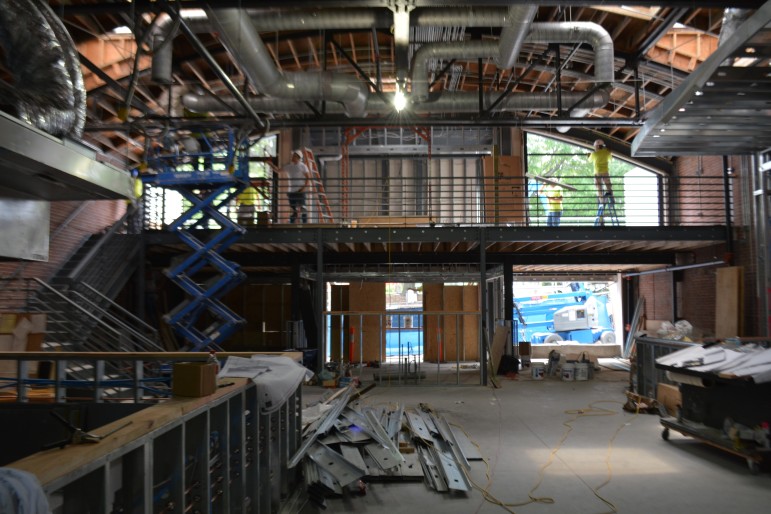 Past, Present and Future
Aside from his role on the 1983 NCAA-championship winning NC State Men's Basketball team, Bryant is perhaps best known for founding the successful Bear Rock Cafe restaurant chain, which he later sold to a private equity firm. When the changes this brought to the company turned out to be different from what he'd hoped, Bryant said he decided to take a few years off.
He quickly grew bored. He began working for Greg Hatem's Empire Eats restaurant, playing a crucial role in developing a number of the Empire Eats properties, including Sitti on South Wilmington Street.
After his time with Empire Eats, Bryant has served largely as a consultant for other aspiring restaurateurs, although the opening of H-Street will bring about a significant new development in his career.
H-Street is but one of many restaurants Bryant plans to open underneath the umbrella of the Triangle & Two Hospitality Group, of which he is a co-founder.
Triangle & Two is also a type of defense used in basketball where three team members play zone defense and the other two play man-to-man.
After H-Street, Bryant plans to open something new in the former McDaid's space next door, although he hasn't settled on a concept yet.
"We've got three or four things we're working on," he said.
"We're thinking it's going to be a concept that's a little more youthful, a little more focused on having a product that's not really represented well on this street."
"We didn't start the company to do one restaurant," Bryant said.
"A little further down the road, we've got some development projects we're in discussions about that we'll hopefully find a way to participate in, but right now we're pretty busy with these two concepts."
"I'm really happy where we are."
Note: Bryant was kind enough to provide a video tour of the space, which we broadcast live on Periscope. As Periscope deletes videos after 24 hours, we uploaded a copy to YouTube. Enjoy!