Brought to you by Rufty-Peedin Design Build
Thursday, May 26, 2016
It appears that years of endlessly running around through office hallways, dodging land mines, fireballs and demon monkeys has taken a toll on the Raleigh headquarters of Imangi, the developers of the wildly successful Temple Run mobile game series.
On May 20, permits valued at $179,925 were issued to Vision Contracting to renovate 7,989 square feet worth of space at Imangi's offices at 4601 Six Forks Road. Officially known as The Landmark at North Hills, this class-A, 170,440 square-foot office space is a pretty stylish and unique-looking structure.
Well-suited, then, for the company that essentially pioneered one of the most popular types of mobile games: the endless runner. Even if you're one of those PC/console snobs who won't play mobile games (get over yourself), places like Dave & Buster's provide the opportunity to play the original Temple Run in a large-screen, arcade format. Although it's really, really hard.
The mobile versions are a lot simpler: the main character, Guy Dangerous (no relation to Carlos Danger) is trying to escape from a temple full of demon monkeys. It's likely that the original game and its sequel's one billion+ downloads are largely due to such a relatable premise.
As the genre's name implies, there is no "end" to Temple Run, you keep running, collecting coins and gems and dodging enemies and obstacles, until you die. Frustrating but fun. One cool fact before moving on: the game was "produced, designed and programmed by husband and wife team Keith Shepherd and Natalia Luckyanova." Now, we've all heard of power couples; would these two qualify as a "Power-Up" couple? Sorry.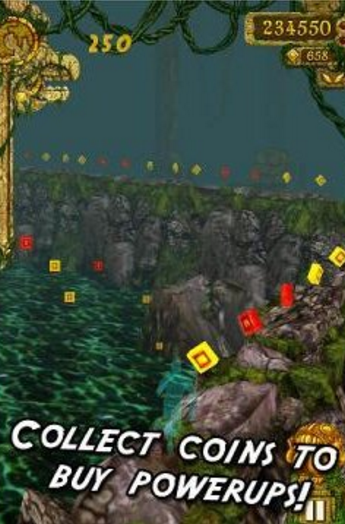 Also receiving permits on May 20 was a renovation project for the offices of Southern Dermatology at 4201 Lake Boone Trail, where they treat everything from warts and hair loss to adult acne, psoriasis and skin cancer.
Highwoods Realty partners will be handling the $133,000 improvement of the 4,350 square-foot space.
The next renovation project we'll look at from last week is also a health care provider, albeit one with a much better name than "Southern Dermatology."
Let's Get Thin, a medical clinic specializing in weight loss, will be undergoing $50,000 worth of renovations care of the Core Building Group. Since they've got a catchy name, and because we don't have a lot of projects to look at today, let's hear Let's Get Thin's pitch:
Proven Results To Change Your Body and Health Forever
Beginning in 1981, Dr. Girouard's "Let's Get Thin MD™" Weight Loss & Wellness Clinics have treated over 170,000 patients and have grown to become America's largest medical weight loss clinic.
Building on this vast experience, our Clinics offer the best in healthy, sustainable weight loss and maintenance programs, including Nutritional Plans, Appetite Suppressants, HCG Injections, specialty protein products and unique supplements, all designed to help you lose and maintain your weight.
Dr. Girouard, who, according his bio, goes by "The Real Dr. G." (awesome) charges between $160-$235 for a first visit, and $105-$175 for each monthly follow-up. So a little more expensive than Planet Fitness, but, I imagine they get better results.
If a place like Let's Get Thin isn't your bag, then you might find the next two projects a little more enticing: improvements to a Dominos and a Burger King. I've mentioned in the past my love for BK's Chicken Fries; since then, I've had the good fortune of trying out their newest product, "Chicken Rings." They're exactly like the Chicken Fries, except, you know, ring-shaped. They're fantastic.
The Burger King at 3955 New Bern Avenue won't be undergoing any serious alteration work; Dun Rite Inc. is merely installing seven metal awnings at a cost of $27,099.
The Dominos job isn't much bigger: $20,000 worth of interior alterations to an existing 200 square foot space. This job will be handled by Westroc Construction.
The final renovation project from last week worth mentioning is also a restaurant job, but I didn't think it was fair to lump in a place as renowned and historic as Clyde Cooper's BBQ in with Burger King and Dominos.
Originally housed in an historic structure that some speculated dated back to 1884, Clyde Cooper's has been a Raleigh staple since opening in 1938. In 2014, the restaurant had to move out of its Davie Street location to a spot around the corner at 327 S. Wilmington Street.
Gurkin Construction, which handled the initial fit-out of the restaurant's new space, is the contractor of record for this $34,000 renovation as well.