Brought to you by Rufty-Peedin Design Build
Thursday, June 9, 2016
A classic 1960s office building designed by renowned Raleigh architectural firm Holloway-Reeves could soon more than double in size, according to recently filed site plans.
1600 Hillsborough, today home to technology firm Carolinas IT, was once known simply as "Lot No. 4 in Block 9 according to map of Cameron Park made by W.C. Riddick and recorded in the office for Wake County in Book of Maps 1911, page 9." The early 20th century was a much more verbose era.
Cameron Park is considered one of the original ITB "streetcar suburbs" of Raleigh and was developed by the now defunct Parker-Hunter Realty company. Note: their old masonry office building still stands today, at 128 South Salisbury. The logo is engraved in the top of the building and visible in this photo:
Thanks to the wonders of the internet, we were able to find an old brochure Parker-Hunter put out promoting Cameron Park back in 1914. Here's the brochure's introduction, which comes care of a site run by the Cameron Park Neighborhood Association. Note: link goes directly to brochure.
Although the brochure does not specifically mention 1600 Hillsborough, it does provide a photo of its impressive neighbor to the West, 1620 Hillsborough, which is now an office building that hosts the law firm of Harris Sarratt & Hodges.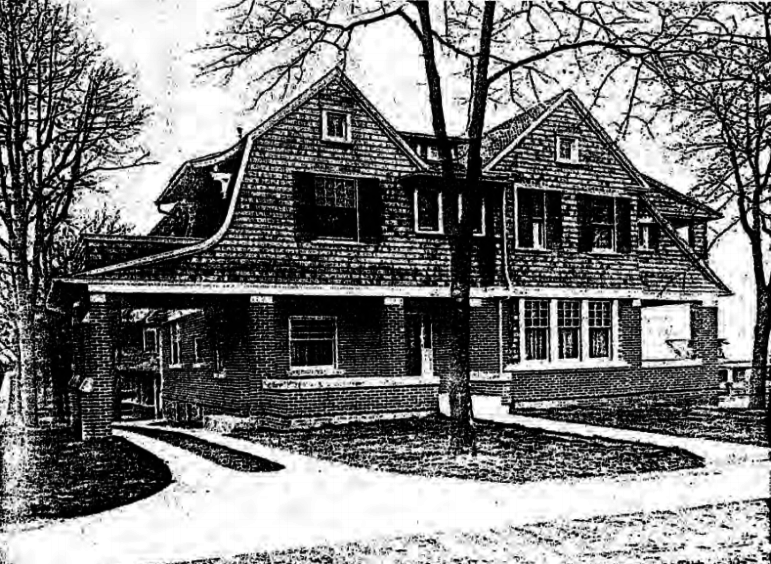 As with 1600 Hillsborough, 1620 was acquired in the early 1960s by a subsidiary of longtime Raleigh real estate firm the Williams Realty Company and developed into an office building.
The 6,500 square-foot structure at 1600 Hillsborough was built in 1962 and officially purchased by the subsidiary, Crossland, in 1963. As it was purchased by Crossland from Mr. & Mrs. Williams, it's safe to assume they commissioned the building's development before selling it to Mr. Williams' company.
The two-story, traditional office building has a surprisingly prestigious design pedigree, as its plans were drawn up by none other than the prolific Raleigh architectural firm of Holloway-Reeves, which, alongside a number of other projects, was a designer for both the N.C. Museum of Art and the N.C. State House Legislative Building.
Something else about Holloway-Reeves: former Councilman Thomas Crowder, who passed away in 2014, worked full-time there as a draftsman at the age of 17 to help support his family while taking night classes at Broughton High School.
The building at 1620 Hillsborough was sold by Williams Realty to one Charles L. Hinton III in 1981. Hinton owned it until 2009, when it was sold to a subsidiary of Carolinas IT. The 2009 listing was asking $1 million for the property; real estate information site Loopnet estimates the final sale price as somewhere between $1-$1.3 million. Hinton, for a time, also owned the 1620 Hillsborough building.
Here's the description from the 2009 listing, which was put up by Robin Roseberry Anders.
Attractive two-story office building fronting Hillsborough Street, directly across from the new YMCA. Leased through Sept. 2009. Property has 21 parking spaces, building signage, and a two-story lobby. Great for owner-occupant opportunity. FOR SALE $1,000,000.
At the end of May, Carolinas IT, along with their design consultant HagerSmith Design filed site plans with the City that would add a second-story expansion over the back parking lot.
The 4,000 square-foot addition will bring the building's total square footage to 10,500, an increase of 61 percent.
According to the site plans, the expansion "will require an additional 10 parking spaces, total parking required is 24 spaces with the 10 percent parking reduction; the existing site has 17 on-site spaces, the remaining parking is accommodated off-site."
Thirteen of those spaces are located around back, where the expansion will be placed. Note: we had initially reported that Carolinas IT was not the building's only tenant, that the YMCA had an office there too.
This was based on "Tenant information" published by Loopnet which appeared up to date but that we have subsequently learned was incorrect: the YMCA moved out years ago.
None other than the CEO of Carolinas IT himself, Mark Cavaliero, reached out to let us know they were the only tenant at 1600 Hillsborough. Cavaliero said the expansion is due to the "growth of our Managed and Cloud Services business, which requires more space for team members."
That's fantastic news, and we love to see local businesses succeed to the point they've outgrown their original space. It's nice that Carolinas IT won't have to give up its prime Hillsborough Street location in order to accommodate this expansion.
Although the addition won't be fronting Hillsborough Street, the fact that it sits on the corner with Forest Street means it will likely be visible to most passers-by, so we hope, and imagine, that it will match the unique 1960s design of the original building.
P.S. – One of our regular readers, Lee, has sometimes mentioned difficulty with viewing photos on mobile. Lee, considering how many pictures I used in this post, I hope they loaded OK. It seemed alright for me when I tested it, but that usually doesn't mean anything.