Brought to you by Rufty-Peedin Design Build
Monday, June 13, 2016
Here's the problem with GPS: if the route is complicated enough, you can visit a place, walk around, and drive off without ever having any idea of where, exactly, you were.
Such was the case with the new Reserve at Brookhaven development, which I made my way out to Sunday afternoon via 540-west and a series of back roads. When it came time to write this up, I had to go into Google Maps just to see where, approximately, this place was located.
As it turns out, the Reserve is right off Millbrook in Northwest Raleigh, not far from the intersection of Glenwood and Creedmoor. I should've realized that.
As no new commercial building or sitework permits were issued last week, we decided to take a quick look at the Reserve, which on June 7 received two retaining-wall permits for the ongoing work there.
While much of the 15.49 acre land on which 40 high-end single-family homes will soon be developed still remains vacant, a few of the homes appear to be nearing completion. The model home — based off the Manteo design, one of five that will be offered at Brookhaven — will be open for tours starting Thursday, June 23 at 5:30 p.m.
The Reserve at Brookhaven's developer, M/I Homes, is asking that people RSVP for this prestigious event no later than June 15. OK, so I've never bought a home before, but is it standard to have to RSVP for an open house? I thought you could just kind of, you know, show up? My parents used to do this when I was younger, which was a cool way of seeing how other people lived.
But back to Brookhaven. The Manteo is actually the "midrange" offering at Brookhaven, priced at a paltry $682,530. The top-of-the-line Kentwells, meanwhile, are priced at $714,272. While the Kentwell is only about 50 square feet larger, and features mostly differences in layout — the master bedroom is on the second floor instead of the first, for example — the biggest bonus appears to be an "upper level screened sleeping porch."
If this sleeping porch is as great as it sounds, it sounds like the perfect place to sleep on spring and summer nights and during a rainstorm, or for kids to have sleepovers and for adults to pretend like they're camping without the hassle. In short: the Kentwell is absolutely worth the extra $30+ grand.
M/I Homes describes Brookhaven as a "quiet community of only 40 homesites is nestled among towering pine trees," which is certainly true, although the current empty, openness of the site detracts somewhat from the surrounding vegetation.
While future residents will have five basic layouts to choose from — Wingate, Clarkton, Manteo, Stanwick and Cantwell — they will, of course, have the option to customize a number of the finer details.
I've known a few people who've purchased custom-order homes like this; they've turned out great, but for me, I feel like I'd eventually come to regret and resent every single decision I made about the place. Although if I was living in a house with an upper level screened sleeping porch, I probably wouldn't be sweating whether I should've gone with the granite vs. the Formica countertops in the $75,000 kitchen.
Here's how M/I describes the future cribs at Brookhaven:
"These gorgeous new homes in Raleigh will feature our stunning collection of executive homes. The spacious 3200 — 4100+sf designs showcase 2-3 story homes with 2-3 car garages. In-law suites, dual staircases, two-story great rooms, breathtaking gourmet kitchens and double screen porches are just a few of the elegant finishes you will find in the Reserve at Brookhaven."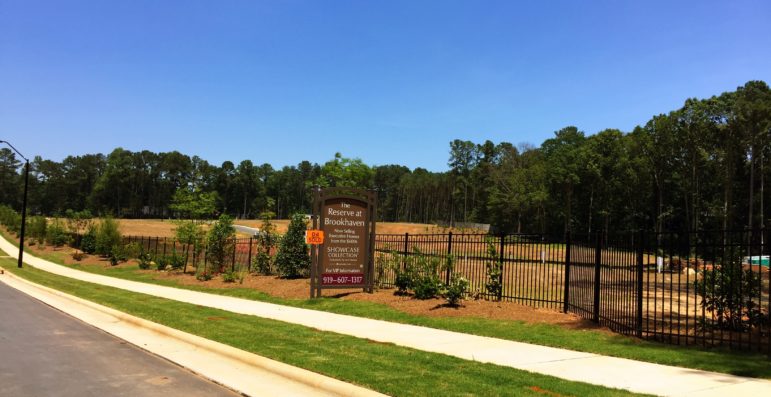 I've heard of double-paned glass, but never a double screen porch before, so I tried looking it up, without much success. Since it doesn't really matter, let's just assume that it's a screen porched with reinforced screens, or something. Keeps out even the biggest insects; a smart move considering how dark and full of terror the nights in Northwest Raleigh often are.
While the M/I Homes website boasts about the variety of amenities in the surrounding area, which includes everything from the Crabtree Valley Mall to several very-close grocery stores, we imagine it's the new Harris Teeter shopping center on Creedmoor that will draw in the most Brookhaven residents. Something tells me they'll be avoiding the Wal-Mart at 6600 Glenwood, though.