Brought to you by Rufty Peedin Design-Build
Friday, June 17, 2016
Fayetteville Street's latest restaurant, a burger joint by the name of Bare Bones, will be opening very soon in the former home of Zinda's at the PNC Plaza.
On June 10, Bare Bones underwent its ABC Inspection, generally one of the very last hoops a restaurant must jump through before opening its doors to the public. Although we were unable to nail down an opening date for Bare Bones, the last two restaurants we reported as having ABC Inspections often opened within two weeks.
Bare Bones will reportedly specialize in comfort food; in addition to burgers, this new restaurant from Eschelon Experiences will offer pork, ribs and brisket from Chef Taion McElveen. McElveen recently helped US Foods celebrate their public debut on the New York Stock Exchange with a live public cooking demonstration on Wall Street.
According to Food & Beverage Magazine, Taion served "his signature Braised Al Pastor Style Pork Belly with a side of jicama chow chow and smoky stone-ground grits, topped with guajillo chile sauce." The magazine noted that "the kick of the pork belly, rubbed with ancho chiles, achiote paste and cumin, was tastefully balanced with the sweet flavor of pineapple — while the grits, prepared with ham stock, heavy cream and liquid smoke, provided a soulful undertone."
Well that certainly bodes well for Bare Bones. Although the restaurant was announced back in April, we never reported on it here because no actual construction permits were issued, likely due to the fact that the space was previously used as a restaurant. In addition to its ABC Permit inspection last week, Bare Bones did receive one very minor construction permit: new power outlets were added for televisions.
The only other two restaurant projects from last week were decidedly less interesting: The Starbucks at New Bern Commons at 4421 New Bern Avenue is set to undergo an $80,000 renovation care of Allied Building Co. and the Domino's at The Festival at Six Forks — 7415 Six Forks Road — will be getting a $20,000 tune-up care of Westroc Inc.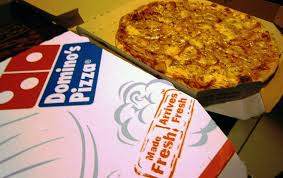 Interesting thing about Domino's: they were part of a new promotion from cellphone carrier T-Mobile called "T-Mobile Tuesdays" (wow, using alliteration with a day of the week, how original guys) where they offered their customers freebies: including a free medium pizza from Dominos.
Although the free pizza offer (along with offers for a free small Frosty from Wendy's, a Vudu movie rental and a coupon for MLB.com) was set to repeat next week, overwhelming demand this past Tuesday for the pizza led to Domino's pulling out. The free pizza offer will be replaced with a $15 coupon from Lyft. Meh.
It was a pretty slow week as far as renovations went, and most of the other projects were totally square, so we'll try and run through them as quickly as we can.
First up: three cellphone towers at the Sutton Square Shopping Center at 6325 Falls of Neuse will be having what appears to be either $50,000 a piece or $50,000 total worth of work done on them by Neocom Solution.
Next, we've got two projects at Downtown Raleigh's hottest office building, Charter Square at 555 Fayetteville Street. Industrious Office, which first moved into the building late last year, will renovating and expanding space inside suites 200 & 300. The $426,000 worth of work will be handled by the Core Building Company.
Distil Networks, a technology firm that relocated to Raleigh in 2014 — its owners grew up in Cary, but opened the business in Virginia — will be spending $284,356 to move into the 6,530 square foot space in suite 700 at Charter Square. Inner-Tech, which has done a number of fit-outs at Charter Square, will be handling the work.
Note: I should point out there's almost zero possibility Distil is literally spending the $284,356 themselves; these kind of renovations generally come standard when signing a lease agreement. The owners of Charter Square are listed as the owners on the permits, which presumably means they're the ones who will be cutting a check to Inner-Tech.
Finally, and appropriately enough, given how unbearably hot it's been this past week, we've got permits for a brand-new saltwater pool at the brand-new Meridian at Sutton Square Apartments in North Raleigh near the intersection of Falls of Neuse and Spring Forest.
Set to open in July, the apartments will offer its tenants a range of amenities beyond the new pool, including outdoor grilling pavilions, two-story 24-hour fitness center, a 24-hour business center with video conferencing, an activities room with billiards, and a self-serve barista bar.
The $99,930 pool job will be handled by Aquarian Pools of Columbia. Columbia, South Carolina, not the South American Country, which is spelled with an O instead of a U.