Brought to you by Rufty-Peedin Design Build
Wednesday, June 29, 2016
Size matters.
That's why it was such a relief to find that Raleigh made the cut for yet another one of those Top-Ten Cities lists: this time, for the country's biggest apartments.
Raleigh ranked sixth with an average apartment size of 777 square-feet, tragically trailing, among others, Atlanta (827 SF), Jersey City (806 SF) and… Charlotte (786 SF). So the next time someone from the Queen City tells claims theirs is bigger, well, they might actually be telling the truth.
On the other end of the scale, the nation's smallest apartments are found in Tucson, Arizona, where the apartments average 633 square-feet each. Arizona is also home to two of the other smallest apartment cities: Glendale & Mesa.
These rankings, compiled by our friends over at RentCafe, were based upon an "internal classification system" that took into account: "The 3 major property types: studio, one- and two- bedroom units. The final position in the ranking of a particular city was determined by the aggregate rank of that city with respect to the average apartment size. The aggregate rank was calculated by tallying the rankings obtained for that city for the 3 individual property types."
Here's a link to the full analysis they did.
Make sense? It should probably be noted that the entire survey included only the top 100 most populous cities in the country. Which is fair; it's probably hard to get accurate room rental sizes in a town with a population of 250 people.
RentCafe also ran a modified analysis of their initial list, taking out all of the low-population cities from the top ten. In that list, Raleigh came in third.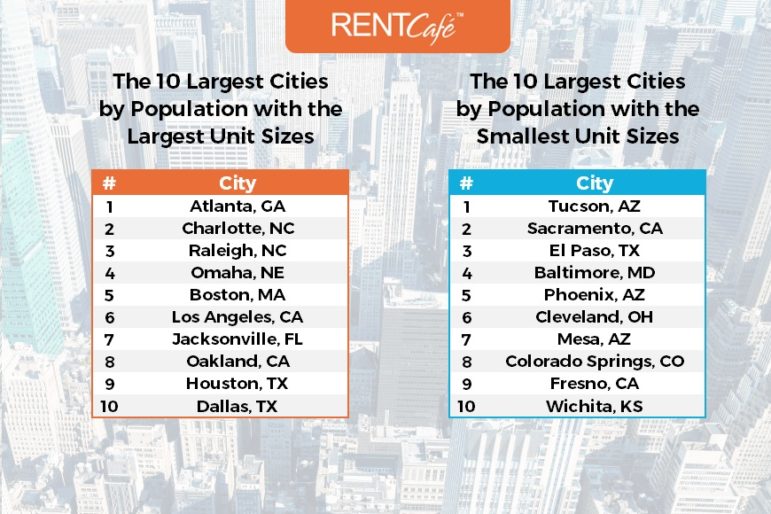 We also ran our own analysis using cities whose populations where within 100,000 of Raleigh's 450,000 estimate. In *that* list, Raleigh was number two, bested only by Atlanta, which had a 2015 population estimate of 463,000.
One interesting decision made by RentCafe was to include "Manhattan" instead of New York City.
A quick primer: New York City is made up of five boroughs, of which Manhattan is only one. If you've ever watched Law & Order, you'd know that each borough is also its own separate county, which is why Jack McCoy sometimes fought with the Brooklyn or Long Island DA. Anyway: the population of Manhattan in 2015 was about 1.6 million, while the population of New York City in 2015 was about 8.5 million.
All of this means that Los Angeles, with a 2015 population of about 3.9 million, was the most populous city on RentCafe's list. Of the ten most populous cities on the list, Los Angeles also has the largest average apartment size of 765 square feet, although L.A. came in 11th overall.
But no one likes Los Angeles, so let's shift back to Raleigh. The average size of a studio apartment in North Carolina's Capital City is 507 square feet, a one-bedroom 786 SF and a two-bedroom 1,125 SF. We decided to take a look at a random sampling of some of Raleigh's newer apartment complexes to see how they measured up.
Skyhouse Raleigh: Studio: This luxurious, 23-story, 320-unit building in the heart of downtown Raleigh was completed early last year, and offers amenities ranging from a 24-hour fitness studio to a rooftop pool. Skyhouse offers four unit types: 585 square-foot Studios that go for about $1,200/month, 680 SF One-Bedrooms that run around $1,400/month, 1,029 square-foot Two-Bedroom units that rent for $2,300/month and 1,400 square-foot three-bedroom units, which cost about $2,700 a month.
The Lincoln Apartments: Another newly built downtown Raleigh luxury-apartment building, the four-story Lincoln offers its residents everything from a Pet Spa to an outdoor fireplace. The Linc offers three unit types: 550 square-foot Studios that go for $995/month, 700 square-foot One-Bedrooms at $1,400/month and 1,340 square-foot Two-Bedrooms for $2,200/month.
Creekside at Crabtree: The almost-finished Creekside at Crabtree complex, located directly behind the Crabtree Mall, is the area's newest luxury multifamily development. When finished, Creekside will offer its residents amenities like a resort-style pool, complimentary Wi-Fi in common areas and, of course, direct access to the Crabtree Valley Mall. It'd be cool if they had 24-hour access, but we're not quite there as a society yet. While prices aren't available yet, it looks like they will be offering four unit types: 545 square-foot Studios, 670-833 Square Foot One-Bedrooms and 1,061-1597 square-foot Two Bedrooms, and 1,597-2,257 square-foot Three-Bedrooms.
The Allister at North Hills: This luxurious Midtown complex offers its residents not one but *two* resort-style pools, replete with tanning decks and cabanas, along with what appear to be standard amenities for people who enjoy spending $1,500 to rent an apartment in Raleigh, such as a 24-hour fitness center, a cyber cafe and common-area Wi-Fi. The Allister offers four unit types: 619 square-foot Studios that rent around $945/month, 789 square-foot One-Bedrooms that go for $1,145/month, 1,231 square-foot Two Bedrooms renting for about $1,500/month and 1,594 square-foot three bedrooms whose price we could not track down without deception (i.e. calling and pretending to be a renter).
The Clairmont at Brier Creek: This recently built North Raleigh apartment complex offers its residents everything from a billiard room to a movie theater, and, of course, a "resort-style pool" — this one comes with fountains — along with multiple cabanas.  The Clairmont offers three unit types, 797 square-foot One-Bedrooms for $950/month, 1,111 square-foot two-bedrooms for $1,170/month and 1,365 square-foot three bedrooms for an unlisted price.
Although RentCafe had also turned up data that pointed to an 8 percent decline in the size of new apartment units built in 2016 compared to those built in 1006, it doesn't appear as if Raleigh's newest apartments are any smaller than the ones that have been here for years.
For more on Raleigh apartments, see this piece we ran earlier this month Earlier this month, we presented a comprehensive report of all of Raleigh's rental units, which doesn't include their average sizes but does provide a nifty map of where they're all located.