Brought to you by Rufty-Peedin Design Build
Monday, July 25, 2016
Ask yourself a question: what's one thing Downtown Raleigh simply has too many of?
Nope: we're not talking about Trolley Pubs. Although if that was your answer, we recommend you check out the ITB Insider media empire, which has provided extensive coverage of these pubs over the years.
Instead, the answer we were looking for was "surface parking lots."
We're not alone: since 2014, popular Raleigh Twitter account @NewRaleigh has campaigned against the overabundance of these underutilized surface lots.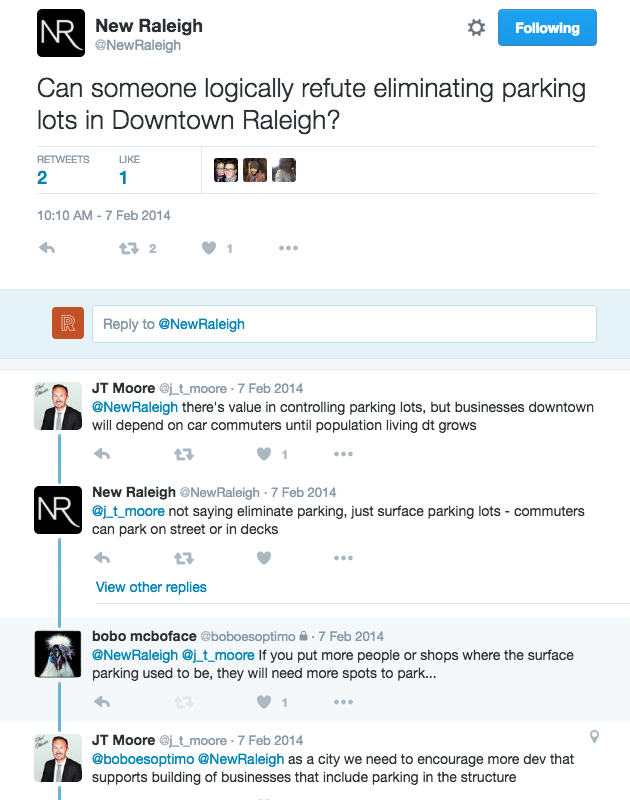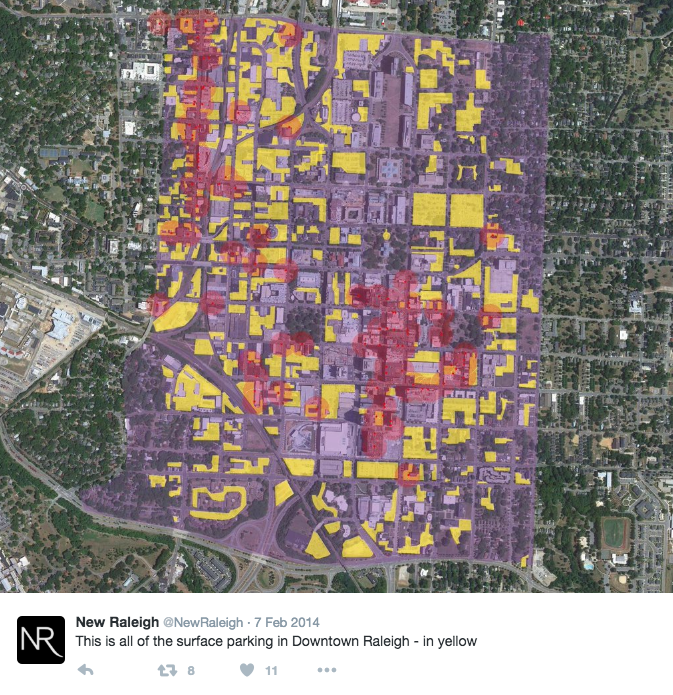 Fortunately, there's at least one high-profile surface lot that could soon be turned into something worthy of its prime downtown location: Lot 18 on East Edenton Street, between the NC Museum of History and the new(ish) headquarters of the NC State Bar Association.
Before we go any further, we want to thank Reader Jake for bringing this site to our attention. When we ran our first Misc. Monday column two weeks ago, we started with the vague premise of "finding out what's next for a vacant, abandoned or otherwise undeveloped site." We asked for reader suggestions for future columns, and Jake came through with several great ideas, today's subject included.
As Jake theorized in his comment, Lot 18 is part of the State's massive Project Phoenix, which seeks to sell off, redevelop or revitalize a wide range of state-owned properties. Recently, we wrote about the plans for the site of the Old Rex Hospital along Wade Avenue, which will be sold off for private development as part of Project Phoenix.
The plans for Lot 18 are less concrete. In an update on Project Phoenix from the News & Observer in December 2015, development of the lot was named as a high-priority project. From the article:
The big parking lot next to the N.C. Museum of History: The McCrory administration is launching a review of what could be built on the lot, which occupies an entire city block between Wilmington and Blount streets.
[John] LaPenta [Deputy Secretary of Government Operations for the Department of Administration] said the state could seek a public-private partnership, and a hotel is one of the possibilities. "It's an unbelievable piece of property in an ideal location," he said.
In a presentation to Legislative Oversight Committee on Capital Improvements two months later, another possibility was mentioned: Lot 18 could be the site of a planned expansion of the North Carolina Museum of History.
The utilization of Lot 18 is actually one of three options currently being considered for the museum's expansion, which also include expanding toward Jones Street and adding a fourth story and relocating from downtown Raleigh out to a site near the Art Museum on Blue Ridge Road.
The State Legislature in 2014 approved a study to look at the best options for expanding the museum, which, thanks to a permanent 20,000 square-foot exhibition on the history of the state of North Carolina that opened in 2011, cannot host large traveling exhibitions for which the museum could charge an entry fee.
The history museum, which can trace its history back to the early 20th century, first opened at its present home on the Bicentennial Mall in 1994. Designed by Cambridge Seven Associates for O'Brien/Atkins Associates, the two-story, 172,000 square-foot building includes "exhibit spaces, administrative areas, a gift shop and 300-seat auditorium organized around a 68-foot high atrium with skylights, for the display of larger artifacts," and much more.
The Museum of Natural Sciences, across the mall from the history museum, had the Nature Research Center added on to it in 2012.
An expansion of the history museum  would allow not only for the addition of profitable traveling exhibits, but an update of the Story of North Carolina exhibit that would include the last 50 years: the exhibit currently stops in 1960, but stretches back a total of 14,000 years.
There was no mention, however, of a possible museum expansion at a March 2016 presentation on Project Phoenix given at the State Construction Conference.
John LaPenta, who was quoted in that earlier News & Observer article, described the 4-acre Lot 18 as an "unbelievably valuable piece of property."
"And it's a surface parking lot! You know, there's a lot more we can do with that land than park cars there," LaPenta said.
LaPenta went on to explain that one of Governor McCrory's initiatives was to bring density to the State Capitol region of downtown Raleigh.
"You do that by having hotels, multifamily residential, condominiums or apartments; multi-use retail," LaPenta said.
"As everybody knows, come 5 o'clock in the Capitol region it's a ghost town: by bringing density, it starts to snowball: more housing; you have hotels that bring more restaurants that brings more shops, people stay out past 6, 7 o'clock in the evening."
In order to reach a decision on the property's future, LaPenta said they wanted to make sure all the stakeholders — including the Department of Cultural and Natural Resources which operates the museum, and the Department of Administration — were involved.
"We want to be partners in the development; a public-private partnership that might mean they build a high-rise office and the State takes the first four floors; does that mean we become equity partners?" LaPenta said, going on to detail a number of ways in which the partnership might work.
While some might bemoan the possibility that this lot will be used to turn a profit rather than expand an invaluable cultural resource, it's worth noting that long before it was known as Lot 18, this surface parking lot was known as lot 209, and was sold off to a private developer in 1792 to fund construction of the original State House.
According to the academic paper "Brief History of the Vance Apartments Site in Raleigh, North Carolina," the original owner of lot 209 was "one Poins Ingram, an elusive figure who appears only fleetingly in the records. Like many of the original owners of lots in Raleigh, Ingram seems to have been a nonresident whose interests in the city were primarily speculative in nature. Indeed, Ingram appears to have been not only from outside Wake County, but from outside North Carolina as well. "
The Vance Apartments themselves appear to have been designed around 1913 by Frank B. Simpson, a native Raleigh-ite whose best-known work is the Capital Club Building at 16 W. Martin Street. Initial plans called for an 8-story, 52-unit/191 room complex, which would be large for that part of downtown Raleigh even by today's standards.
After those ambitious plans fell apart, the building was redesigned, although when the Vance Apartments opened in 1920, the three-story, 36-unit complex was the largest of Raleigh's then-four apartment buildings. The other three were the Capital Apartments with 28 units, the Royster Apartments with seven units and the College Court Apartments with five units.
Outside of that academic paper we linked above, which is quite detailed, there's been almost nothing else written about the Vance Apartments. Even Goodnight Raleigh, which at one time or another has probably written about every historically significant building in Raleigh, doesn't have an entry, although it's described as a "lost" art-deco building in one post and discussed briefly in the comments section of another.
So it's no surprise there's no photographs of the place.
The apartments were torn down in 1990, which predates the historical satellite view function within the Google Earth application. Translation: we couldn't even get a grainy, low-res image of this place. So if anyone out there has any, please send 'em in!
UPDATE: Less than two hours after this post was live, reader and local genius Jason Sullivan let us know something we hadn't been aware of: iMaps, a fantastic mapping tool we actually used to research this article, provides archival satellite photographs dating back to 1981! So thanks to Jason, we were able to dig up a 1981 aerial shot of The Vance Apartments. Enjoy!
As for the site formerly known as the Vance Apartments, whether it becomes an expansion of the History Museum, a hotel or an office-building, it appears the land itself will remain in the hands of the state, although as we saw with the Old Rex site, plans to lease can sometimes turn to plans to sell. Regardless: whatever comes will surely be a better use of the property than a surface parking lot.
---
Lot 18: Just The Facts
Here's some basic, if boring facts about this property:
Now known at Lot 18, was originally known at Lot 209
Is actually made up of four separate parcels, all owned by the State and acquired at different times and with different street addresses
The Historic Haywood House, built in 1854 and privately owned, sits on the southeast corner of the property at the intersection of Blount and Edenton. This "fifth parcel" at 127 E. Edenton Street is privately owned by the Haywood family; the Haywood family initially purchased the land in 1799.
The largest of the four state-owned parcels is the portion abutting W. Jones Street, although its address is technically 101 N. Wilmington. This 2.3 acre parcel has an estimated value of $5,722,422 and was acquired by the State in 1965. Oddly enough, we were able to locate the deed in which the previous owners, the Haighs, purchased the land, but not the deed in which the land was sold to the state.
The other three sites sit along East Edenton Street
The smallest of these sits on the southwest corner at 105 E. Edenton. The .26 acre lot has an assessed value of $1,478,996 and was acquired by the State in 1983 for $78,500.
Next door is 119 E. Edenton, the largest (at .58 acres) and the most valuable (at $3,299,463) of the three Edenton lots. It was acquired by the State in 1975
123 E. Edenton, a .36 acre lot, sits between 119 E. Edenton and the historic Haywood House. It's presently valued at $2,047,964 and was acquired by the state in 1983