Brought to you by Rufty-Peedin Design Build
Tuesday, July 26, 2016
It's nice being right.
On July 23, 2015, we did a brief preview of a Valvoline Instant Oil Change proposed for a site in North Raleigh.
We wrote at the time that "the newest Raleigh location of the oil change and preventive maintenance chain would be built on the space of a former Citgo Gas Station, which was accompanied by a "Capital Food Shop," at 8315 Falls of Neuse Road."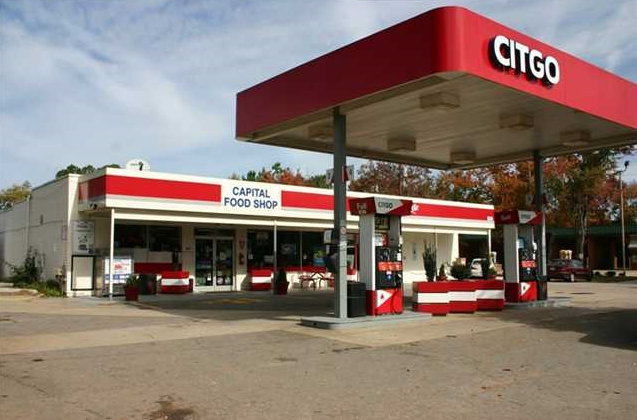 Two paragraphs and a now defunct YouTube video later, we pulled a bit of a Nostradamus:

Well, the future is now. On July 21, 2016, two demolition permits were issued for the site of that Citgo Gas Station and the Capital Food Shop.
As we mentioned, the 3,504 square foot structure that housed the Capital Food Shop was first built in 1969 — and remodeled in 1989. We're not sure how recently this was, but it appears that the NorthSide Barbershop operated for a time out of the Food Shop. Interesting.  The $10,000 demolition permit for the building was issued to G.B. Hopkins Inc.
The accompanying 1,280 square-foot service garage was built in 1969 and, according to County records, has undergone no substantial renovations during its 47-year existence. It will also be torn down at a listed cost of $10,000 by G.B. Hopkins Inc. It's entirely possible that the $10,000 could be the total cost for both buildings.
Once Hopkins finishes tearing down these old but not-exactly historic structures, site work on the new Valvoline Instant Oil Change can begin.
The new automotive service facility consisting of 5 vehicle service bays will include a new, 3,997 square-foot, 23-foot-tall structure. It will reduce the overall impervious surface on the lot by about 500 square feet.
As the site is located in the Falls Watershed Protection Overlay District, we thought our readers might be curious to see what kind of stormwater requirements would be imposed on the development. From the conditional approval version of the site plan document:
This project is exempt from impervious surface coverage and stormwater Retention, detention, and capture requirements per UDO 9.5.2.F.1 improvements where runoff flows by gravity outside FWPOD. Nitrogen and phosphorus reduction requirements will be met with the purchase of off-site mitigation credits (buy down option).
This exemption is apparently due to the fact that the development will take up less than 25,842 square feet of impervious surface. And we imagine that a service shop will generate less toxic runoff than a gas station, so that's probably good.
Not much has changed about the site plans since we covered them last July, although it's perhaps worth noting that the original size of the building was listed at 3,922 square feet. Big difference.
What has changed since then was the City's approval of the plans in October 2015, followed by a sale of the land to Charlotte-based Southeast Auto Quality Inc. for $775,000 in November 2015.
As best we can tell, it had been listed for $999,999. Here's the description from an archived version of the ad:
Currently used as a convenient store and an auto repair shop. Great traffic count that provides a better potential for more modern facility, restaurant, office, or retail.
Valvoline Instant Oil Change currently has two locations in Raleigh, one at 300 E Six Forks Road, built in 1997, and another at 4512 Pleasant Valley Road, built in 2001.