Brought to you by Rufty-Peedin Design Build
Monday, August 29, 2016
Shoppers at North Raleigh's Triangle Town Center who realize too late they've made more purchases than they can possibly cram into their already-overstuffed domicile will be relieved to learn that a new storage center will soon be opening nearby, offering the perfect spot to store those extra goods.
That's right: today's new building is yet another storage facility. We've covered everything from how many of them are in the City, to why there's so many of them and the notion that many are built in order to profit from the land until a more valuable development concept comes along.
The latest of the Raleigh/Durham/Triangle area's more than 10,000 self-storage facilities is coming to North Raleigh off Louisburg road courtesy of Ample Storage. It will be the 12th such facility built by Ample in Raleigh, according to data provided by Factual.com.
A total of four permits were issued for this new location on the 5200 block of Sinclair Drive. We'll list the permit descriptions below, along with their square footage and cost. The descriptions come verbatim from the permits; as such, we read the first three in a Russian accent.
Building A: This Is Permit For 3 Story Fully Sprinkler S-1 Of Type 2-B Constr. The total square footage is 67,800 and the listed cost is $5,000,000.
Building B: This Is Permit For Single Story Bldg In Group Of Four Bldgs S-1 Of 2-B Constr. The total square footage is 8,400 and the listed cost is $336,000.
Building C: This Is Permit For 1 Story Type 2-B Constr S-1 Occupancy. The total square footage is 23,925 and the listed cost is $957,000.
Building D: This Permit Is For 1 Story Non-Sprinkler 2-B Constr S-1 Occu Bldg D Of 4 On Site. The total square footage is 14,675 and the listed cost is $660,375.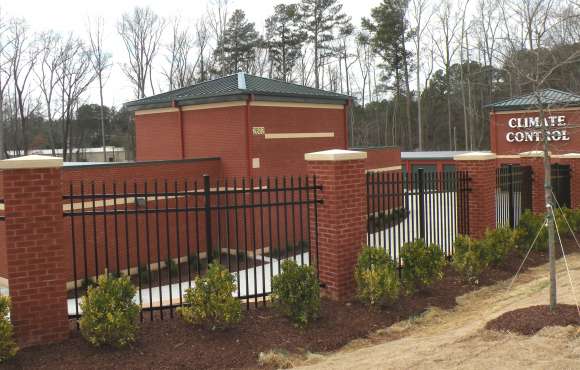 Lynndale Inc. will be serving as the general contractor for this project. Grantham & Hinnant Electrical will be handling, of course, the electrical work, while they will be splitting fire protection work between J & D Sprinkler and Narron Contracting, which is also handling land disturbing & right of way. The mechanical work will be done by Odd Jobs Inc, while William Parrish Plumbing will handle the plumbing.
As we mentioned, we've discussed storage facilities a number of times in the past. Instead of simply rehashing everything we've learned over the years, we figured we'd just list a few highlights. People like reading list-based articles, right?
 There are about 250 total self-storage facilities in Raleigh alone
"Large investors and institutions who have identified the storage sector for its performance during the downturn have a high demand for quality infill properties, yet few quality infill properties are available for acquisition as the public REITS rarely sell any properties of quality. The result is a void of quality infill product available for acquisition," – From an interview on "Storage.com" with developers planning to expand into self-storage market
 "America has 46 square feet of retail space per capita. The equivalent per capita number in the UK is 9 square feet — less than one-fifth as much. And the U.K. has the most retail space of any country in Europe. So, seen with European eyes, America not only has too many mattress stores, it has too many stores period — from nail salons and donut shops to payday lenders and pharmacies. And, interestingly, it also has too many self-storage facilities…possibly for Americans to store away all those mattresses they are stocking up?" – From an article in Psychology Today by Utpal Dholakia Ph.D.
There exists a website titled "Inside Self Storage" which offers everything from blogs, podcasts and videos covering the self-storage industry. Here's one recent entry that caught our eye:


---

Lessons to Learn From Tenant Shooting A recent shooting a CubeSmart facility offers some lessons on safety and security for all self-storage operators. Here are some steps you can take to keep your property safe.