Brought to you by Rufty-Peedin Design Build
Tuesday, August 30, 2016
While three demolition permits were issued last week, only one of them was for a new project: the other two were issued to replace previously expired demo permits.
So before we get into the newest knockdown, let's take a quick look at these two dismantlings from a not-so distant past.
First up was a permit issued to T&L Holdings for a property at 2304 Hillsborough Street. The first time a teardown was authorized for this "Seed & Straw" building (its most recent tenant was "Hotbox Pizza) was way back in February 2014.
Before that, it was actually home to a Kinko's, way back in the late 90s. Either way, the old building is long gone, and work continues on the new luxury 2304 Hillsborough apartment complex. Technically, it's mixed-use: two floors of retail and three stories of residential. Toma Varnedoe Construction is handling the work, and has been uploading occasional photos of their progress to Instagram.

Interestingly enough, this isn't the first time the expired demo permit for 2304 Hillsborough has needed renewing. The first time was last August; honestly considering how far the progress has come on this structure — scheduled for completion by January 2017 — we don't have any clue why this 30-month old permit had to be renewed again this August.
Oh well. The next expired demo permit to be granted new life last week was first issued five years ago in 2011. Whew! While the former Kellogg Plant that once sat at 2912 Wake Forest Road has been gone for more than four years, we don't know when, *exactly* it was torn down, as the Google Satellite imagery doesn't contain any images between July 2010 and April 2013, when it looked much the same as it does today. See below for past and present imagery.
What really caught our eye about this project was the mysteriously named company listed as the owner: ITB Holdings, LLC. We had heard William N. Finley was expanding his ITB Media Empire; was he also branching out into real estate? Instead of trying to breach Finley's layers of personal assistants, editors and hangers-on to figure out if he was involved, we decided it would be easier to simply research the LLC itself. 
While the property at 2912 Wake Forest is located (just barely) inside the 440 beltline, the mailing address for ITB Holdings was a PO Box in Chapel Hill, a sure sign that Finley was not likely to be involved. 
While he did once refer to UNC as an "ITB Satellite Campus" back in early 2014:
UNC is an ITB satellite campus. But there's no such thing as Raleigh-CH either RT @danlondon: @WNFIV What is the ITB opinion on Chapel Hill?

— William N. Finley IV (@WNFIV) April 28, 2014
…his more recent tweets make us doubt he would set up an office there:
Idiotic. That isn't even up for debate. RT @Treyphanatic13: @WNFIV I'm with a guy saying chapel hill>itb needs your thoughts/explanation

— William N. Finley IV (@WNFIV) September 19, 2014
.@dcircosta @BonnerGaylord @NewRaleigh meaning, if you live in OTB Chapel Hill you'll turn into a gel head that drunk drives into ITB cars

— William N. Finley IV (@WNFIV) October 8, 2014
As for what's coming next to the site, the excellent Amanda Hoyle over at TBJ produced a good write-up earlier this year about the large retail/hotel development planned for 2912 Wake Forest.
OK, so moving on to our only new demolition project of the week: a fire-ravaged building at the Pinnacle Apartments near the Crabtree Valley Mall is being torn down at a cost of $17,500 by Cecil Holcomb Demolition. The 12-unit building was destroyed in April by a fire believed to have been started by a discarded cigarette.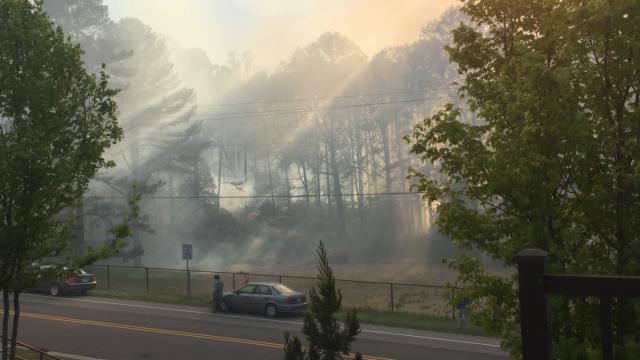 On a lighter note, the website for the complex bills itself with a tagline that seems more designed for homeless vagrants than apartment seekers: "Live in the Woods, Walk to the Mall."