Monday, December 19, 2016
Brought to you by Rufty-Peedin Design Builders
Mind Your Manors Monday is a relatively new feature that will take a look back at the previous week's single-family and town home renovation and new building projects. 
Once again this week, we'll be incorporating home sales data into our analysis, and using somewhat-professional looking infographics. As always, we'd love to hear any suggestions for new or additional Mind Your Manors Monday content.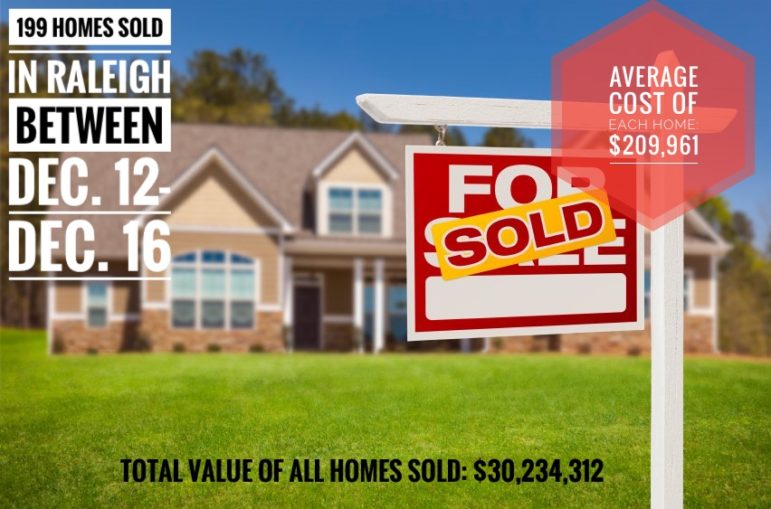 Two things worth noting before we dive in:
While our new homes/home renovations/home demolitions categories do not include condominiums, sales of condo units will be included in this category. Why? It's easier that way.
This data is compiled from a comprehensive database, updated daily, put together by Wake County. Some of the data is a little weird: home sales listed at $0, deed dates listed 100 years in the future, etc. We did our best to screen out these obvious errors, but can't guarantee we didn't miss a few other anomalies. So we'd say the figures below are "close to exact" rather than being 100 percent precise.
A total of 199 residential units were sold in Raleigh between December 12 and December 16. The total value of all the combined sales was $30,234,312; the average cost of each home was $209,961 and the median cost was a somewhat more reasonable $170,500. For all you math nerds following along at home: $30.2 million divided by 199 is not $209,961, but a shocking 56 of the sales recorded last week were listed at zero dollars, so we excluded them from both the average and the median figures. The majority of those zero-dollar "sales" were for lots in the new 5401 North master-planned residential community in North Raleigh near the 540/401 interchange, which has the great tagline of  "The edge of the City…The Center of Attention!"
NOTE: We had previously misidentified the location of this development as being off Wake Forest Road.
The least expensive of the nonzero dollar sales was the $10,000 purchase of 739 Ellington Street, a 684 square-foot home built in 1962. It was apparently purchased by a Virginia-based construction company.
At $895,000, the most expensive home purchase from the last two weeks was for a house at 5101 Accabonac Point in the North Raleigh Hamptons at Umstead neighborhood. The 3,912 square-foot home was built in 2014 by the optimistically named Foreverhome LLC. We're not entirely sure which real estate firm sold the property, as it was listed on several different agent's websites. Although the description was not as enticing as some of those we've come across in the past, we've decided to share it anyway:
Exquisite combination of stone & brick, with cedar columns flanking covered entry. Beautiful iron grill enhances the 8′ Mahogany front door! Wonderful corner Homesite with fenced backyard is beautifully landscaped!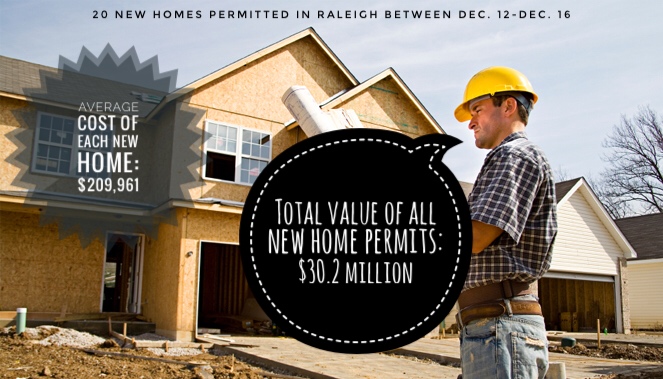 20 new Raleigh homes received building permits last week, a slight decline from the 30 issued the week before. The homes ranged in size and cost from a quartet of two-story, 1,555 square foot Southeast Raleigh homes built by Wade Jurney homes at a cost of $157,556 to a $604,000, 5,955 SF single-family dwelling at 5001 Wainscott Way. Arthur Rutenberg Homes will be handling the build out of this Wainscott Way manor. The average cost of a new home permitted over the last two weeks was $294,811, while the median was $274,831. The total cost of all new homes built last week was $5,896,229.
The largest and smallest homes in terms of square footage were also the most and least expensive ones to receive permits last week.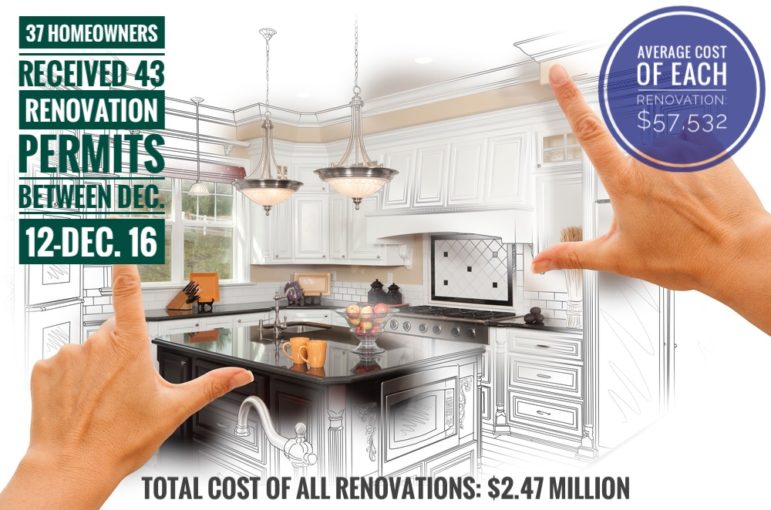 37 homeowners received a total of 43 renovation/addition/"other" permits last week at a total cost of $2,473,859. The average cost of each permit was $57,532 while the median cost was about half of that at $29,780. The costliest project was a $250,000 whole-house renovation of a property on Brunswick Street, which will be handled by Dempsey Hodges Construction.
The total square footage involved in all renovations permitted last week was 21,858 and the average size of a renovation project permitted last week was 508 SF, with a median size of 397 SF.
Note: If you're wondering what "other" means, most of the projects with that work description are deck/garage additions, but they also include things like pergola renovations and in-ground pool installations.
Editor's Note: No residential properties received demolition permits this week.