Heavy storms Tuesday night resulted in floods that trapped more than 30 presumably mortified people inside the Milner Inn and the Foxy Lady, twin cultural institutions in the 1800 block of Capital Boulevard.
Past floods, coupled with a desire to create more green space and restore Pigeon Branch Creek, have set the city down a dark path of unrelenting destruction along that low-lying stretch of Capital.
The city's scheme to sacrifice elite landmarks such as the Foxy Lady, AMF Bowling and Dunkin' Donuts to the Raleigh Greenway System was first cooked up in 2012, as part of the Capital Boulevard Corridor Study.
Since that time, city officials have kept quite busy. As a result, grant money from FEMA now fattens the city's overburdened coffers. The bowling alley is gone — purchased and then demolished by the city in 2013.
The Dunkin Donuts – Raleigh's first! – is next on the city's hit list. The store shut its doors for good at the end of June. Although county records indicate the land is still in the merciful hands of a private owner, it's only a matter of time before the city gets the deed.
City officials now predict it will take between five and 10 years before it has acquired and destroyed all of the property that now sits in the Capital Boulevard floodplain. Once this phase of its plan is complete, the city will bury all memories of the site's former existence beneath mounds of rich soil as it begins construction of the ominously titled North Boulevard Park.
While the stated goal for the park is to restore the creek and bring back natural floodplain functions, its planned absorption by the Greenway System hints at who's really pulling the strings here. The park will be connected via a paved walkway that will extend from Crabtree Boulevard to Atlantic Avenue.
Before any of this can happen, the city must first wrest the land away from its current owners. According to the minutes from a Feb. 19, 2013, City Council meeting, negotiations with the owners of the Milner Inn have been going on for more than a year and half.
After notifying the City Council of nearly $1.5 million in grant money for the project, then-City Manager Russell Allen told them that the project was a "volunteer thing on the part of the owners of the Milner Inn; they are willing to sell the property."
However, as the minutes also quote Allen as saying "the building be demolished and the area become green space," their veracity should best be taken with a grain of salt. Either that or Allen was minutes away from hulking out on the Councilors.
The grant money – $1,100,785 from the feds and $366,928 from the state – is to be used for the "acquisition and demolition of five structures at the Milner Inn on Capital Boulevard." Thanks, Obama.
Happening Now-ish
Last week we mentioned how southeast Raleigh was getting another Family Dollar. As it happens, five days before that column was published, permits were issued for a new Dollar Tree on a vacant piece of land just north of New Bern Avenue's Wal-Mart.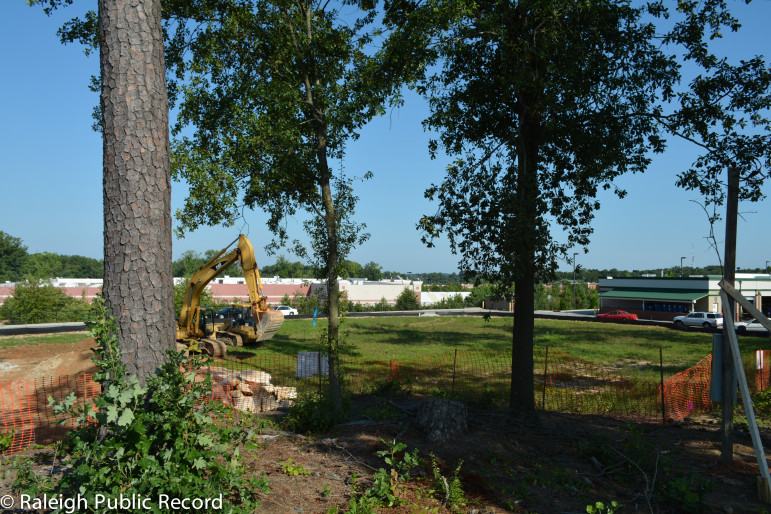 The megachain has seen declining sales growth in recent years, a fact some have attributed to the spread of dollar stores. If nothing else, the new Dollar Tree will bring even more cars to this highly-trafficked area, a fact that local residents are likely delighting in.
Wake Tech is getting ready for a $2.1 million revamp of a recently leased space it will use to expand its adult education program. The 130,00-square-foot-facility on Bush Street will have space for eight computer labs and 38 classrooms. The current Adult Education facility has room enough only for 15 classrooms and three computer labs. And just a heads up — despite its alluring name, future students should be aware that "Adult" does not carry the same meaning here as it does when it's followed by "video" or "entertainment." Unfortunately.
For the second time in two months, accident-prone drivers have drummed up business for local contractors specializing in exterior building repair. The Capital Boulevard-facing side of graphic design firm Ahpeele Studios was severely damaged to the tune of $35,000 following its run-in with a car. Not coincidentally, the stretch of Capital on which it resides – just past the railroad bridge on the way out of the city – has been ranked the most hazardous section of roadway in the state.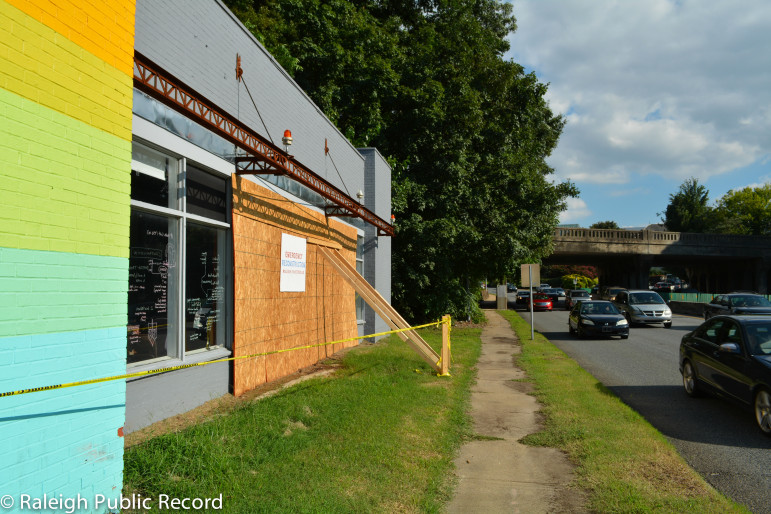 Personal training studio Kinetic Fitness is set to undergo $369,989 in renovations, with local construction firm Riley Lewis handling the work. The studio's first incarnation, Potential Energy, was reportedly a giant failure; most classes consisted of nothing more than students standing around doing nothing.
Coming Soon
The Planning Commission had a packed schedule this week – four site plans, 10 street name change requests, two new rezonings, five old rezonings … The list goes on.
Commissioners wasted little time working their way through the agenda though, wrapping up in about two and a half hours. Or about four episodes of Law & Order.
All four site plans were met with unanimous recommendations of approval from the commissioners.
First up was a new 13,650-square-foot Walgreens on Leesville Road in northwest Raleigh. This was followed by a four-story, 320,231-square-foot multi-family mixed use project on Hillsborough Street near Ashe Avenue. Given the street's history with these kind of developments, it was surprising that no members of the public turned out to protest.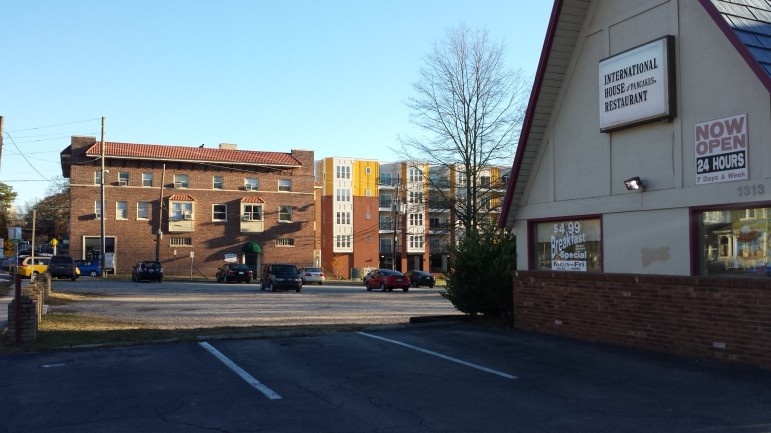 Before voting on the project, one of the commissioners, who apparently had a wildly different collegiate experience than this reporter, joked, "For a college student, living next to an IHOP is about as close to Nirvana as you can experience."
The next project presented was for yet another multi-family mixed-use development on Hillsborough, this time near its intersection with Dan Allen Drive. Its owners are proposing a four-story, 30-unit building with 3,000 square feet of ground floor retail.
Once again, no members of the public were present to comment.
The final site plan was also residential, but on a much larger scale. Titled The West II and located in North Central Raleigh between North Street and West Johnson Street, the 286,480-square-foot, seven-story building would stand 99 feet tall. The first two stories would be dedicated to a parking garage, with the rest occupied by 177 dwelling units.
Planning Commissioners were also quick to approve a series of street-name changes in a new public housing development in southeast Raleigh. Originally, the streets had been named after famous magicians, e.g. Houdini. Alley.
After a public backlash, Raleigh's Housing Authority decided to rename the streets in honor of historical figures, a school mascot and a creek. Houdini Alley is now known as Little Blues Alley.
A portion of Bragg Street will also be changing its name to Levister Court.
Commissioners also went ahead and unanimously recommended for approval a master plan termination request, which essentially will allow for easier redevelopment of a 14.47 acre site off Glenwood Avenue north of Interstate 540, and a waiver of a two-year waiting period for the rezoning of 5.6 acres on East Six Forks Road near Anderson Drive as well.
The gravy train of unanimous recommendations for approval came to screeching halt once the Commissioners started hearing rezoning cases. The first up, Z-18-14, would allow office use for two residential properties on Sandy Forks Road near Spring Forest. It was deferred so the applicants could present to the local CAC.
Z-19-14 would rezone 11.56 acres in North Raleigh near the I-540 interchange on Louisburg from R-1 to R-10, which would increase the maximum number of residential units from 11 to 75. This case was also deferred.
The remainder of the cases – Z-6-14, Z-14-14, Z-15-14 and Z-16-14 – have all been before the planning commission before. All of them were once again deferred.