Permits for an interior renovation of the decidedly non-historical, and, incidentally nondenominational Oak City Church were issued earlier this month — on September 11 to Five Horizons Construction to be exact.
Located in a building on Tillery Place off Capital Boulevard that's listed in the county records as a "flex warehouse" built in 1986, it's clear the church is concerned more with the beauty of their mission and its purpose than the beauty of the building in which they worship and its intended purpose.
While countless congregations meet in repurposed spaces — everything from old movie theaters to former industrial buildings — the architectural wonder of purpose-built churches is something that can and should be appreciated by everyone from atheists to Zoroastrianists.
Unfortunately, discovering which of Raleigh's many stately churches is the oldest — for the purpose of this column, we use oldest to mean oldest building, not oldest congregation — turned out to be much harder than simply Googling "Raleigh's oldest church," "oldest church in Raleigh" or "first church built in Raleigh."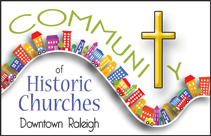 Thankfully, the precious minutes wasted on Google were not entirely fruitless — they did turn up the website for the Community of Historic Churches Downtown Raleigh.
Put together by Margaret Park, a member of the Good Shepherd parish, the site is a repository of information for some of Raleigh's oldest congregations.
Ms. Park told the Record that when she began working on the project, her focus was less on the oldest religious structures and more on the communities that worship within.
By that metric, the Edenton Street United Methodist Church, formed in 1811, appears to be Raleigh's oldest. However, the church's current home was actually built in 1959. That makes it a scant seven years older than the former Cardinal Theatre.
Park was unsure which of the churches listed on her site was housed in the oldest building.
It was time to turn elsewhere. Google was out. Our favorite book about this city's history, "North Carolina's Capital Raleigh," was no help. It only listed two churches — First Baptist, built in 1859, and First Presbyterian, built in 1897 — in its index.
A lengthy trip to the library might have produced an answer, but instead we were able to find someone else to do the research for us. The next step, of course, will be finding someone funny to write the jokes.
In the meantime, Carla Morris, a reference assistant at the State Library of North Carolina, was able to turn up the identity of the city's oldest, still-standing church: Christ Church of Raleigh, located at 120 East Edenton Street on Capitol Square.
In an email, Morris wrote:"According to 'An Architectural and Historical Inventory of Raleigh, North Carolina', published by the City of Raleigh Planning Department [in] 1978, the cornerstone was dated 1848 and the church was completed in 1854."
After a little research, it turned out the "North Carolina's Capital" book did have an entry on Christ Church — it was just listed in the index under its original benefactor, Mary Sumner Blount. Blount financed the construction of the original church in 1829.
The neo-Gothic structure that stands today was built nearly 20 years later and designed by Richard Upjohn of New York, the founder of the American Institute of Architects.
The church was built at a cost of $18,000, later offset by the sale of pews to church members for prices ranging from $50 to $500, a practice that was apparently common at the time.
Additions to the original structure have been made over time — in 1861, the stone steeple-tower was added and in 1921 an addition 40 feet larger than the original church was completed.
That should about wrap it up — except for one thing. Morris was perhaps a little more diligent than this reporter would have been, and turned up evidence showing that, technically, there is another church in Raleigh that was built one year earlier than Christ Church.
"However, it was moved from Chatham County to the Mordecai Historic Park," she wrote.
St. Mark's Chapel is now found in the historic Oakwood district adjacent to the Mordecai house, and is apparently a popular spot for weddings. But it wasn't moved there until 1979; built in Chatham County in 1847, the chapel was later moved to Siler City before coming to rest in Raleigh.
For those interested in seeing eight of Raleigh's historic churches — St. Mark's not included — up close and in person, there will be a historical churches tour held October 11 from 9 a.m. to 12 p.m.
And for those interested in a realistic, in-depth look at the life of a research librarian such as Morris, the 2004 television movie "The Librarian," starring Noah Wyle, is a chillingly accurate portrayal of the job, and was, in fact, partly inspired by the true-life tale of Dr. Henry Jones.