Brought to you by Rufty-Peedin Design Builders
Friday, December 30, 2016
Sushi lovers, rejoice!
Nearly a year after Sushi Nine was destroyed in a tragic fire and ten months after demolition permits were issued for its burned-out remains, the owners have received the official go-ahead from the City to build anew.
On December 21, the Ammons Building Corporation received a $210,000 permit for a "New Sushi Nine Building & Parking" which will be built out on the site of the former restaurant at 3812 Western Boulevard.
The original building was first built in 1985 as a Golden Corral restaurant, and before becoming Sushi Nine was also home to Ten Ten, a Chinese restaurant.
Sushi Nine clearly had a lot of fans and supporters: the restaurant's posts on social media received lots of great feedback, and it had pretty decent Yelp ratings. Kong L., an Elite Yelp Reviewer (yes, that's a thing, and from what I've heard, there are real-life perks, like free meals from restaurants, invitations to grand openings, groupies, etc.) wrote of Sushi Nine:
I've searched near and far for the best sushi in the Raleigh area and hands down…"Sushi Nine" is the winner! I've been living in Raleigh, NC for the past 3 years and have tried sushi from all over the area and nothing is as good as sushi nine. Each time I visit, I know exactly how the roll should taste; consistency is the key. I also like just enough sauce on my sushi; not splattered and drowned with sauce.
BOGO all day and everyday whether you're eating in or taking out. That's the up side of this sushi restaurant.
It's unknown at this time whether the BOGO deal will be brought back, but we imagine most patrons will just be happy to see the return of their favorite sushi joint.
In other foreign-food foodie news, the Jerusalem Bakery & Grocery at the Mission Valley Shopping Center — not far from Sushi Nine, as it happens — will apparently be expanding its operations, per a permit issued December 20. The $26,000 job, which will be handled by Sam G. Budwan, describes the work involved as "expanding into Suite 106."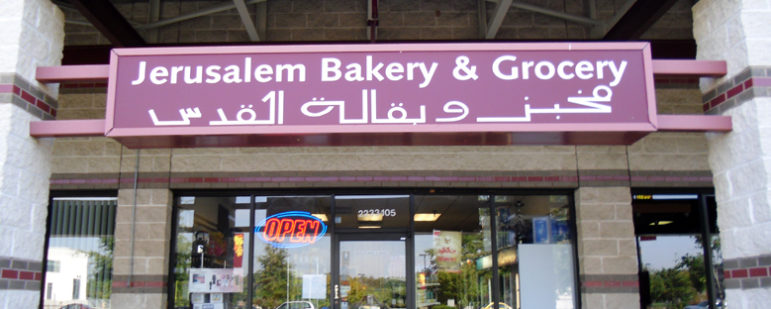 As Jerusalem Bakery currently occupies suite 105, we take this to mean that 106's current occupant, Quizno's Subs, will be no more. Tragic, but hey, the bakery has much better Yelp reviews, and apparently serves the best baklava in Raleigh. We might have to verify this for ourselves at some point.
Over at Cameron Village, the Harris Teeter-attached Starbucks is set to undergo a significant, $600,000 interior and exterior upgrade. The work will be undertaken by Independence Construction Company. We can't imagine what kind of transformation $600k will bring to this humble coffee shop, but if it were up to us, Independence Construction would turn it into the new home of Dumb Starbucks.

Our final restaurant-related project of the week was for Deke's Grill, way out at the Brier Creek Country Club. This $300,000 job will transform a former changing room/locker room into a dining area. Sounds like Inland Construction Company has their work cut out for them; we can't imagine anyone is going to request to be seated in the "locker room" section unless Inland does some really amazing work.
There weren't many other permits issued last week worth talking about: Citrix is having a "ductless split system" installed in their stairwells for $104,280 care of RCI Builders, the Huntington Learning Center will apparently be opening up shop at Brennan Station out on Creedmoor Road in North Raleigh and swimming-pool suppliers SCP Distributors will be adding two hazardous material storage units to their site for $140,000.