On Monday, we previewed what would be coming up at City Council with our Agenda Preview, an in-depth look at the issues scheduled for discussion before council. Today, we bring you The Council Record, an informal but nevertheless comprehensive look at the most recent City Council meeting. 

May 17, 2016
Work Session
City Council meets twice a month: the first time, they hold afternoon and evening sessions. The second time, they hold a lunchtime work session and an afternoon meeting. Work sessions are essentially opportunities for Councilors to learn more about the issues facing the city.
Although there were only two items on the Work Session agenda this week, the meeting actually ran a bit long and bled into the start time for the 1 p.m. afternoon session.
Both items were to blame, as each generated lengthy discussions between Councilors and City staff.
First up was a presentation from Todd Delk, who explained the various conditions under which a Traffic Impact Analysis study would be required for a new development. Councilors asked about lowering the thresholds — a 10,000 square foot shopping center, instead of 20,000, for example — and were told this would likely mean the need to hire new staff or outsource some of the necessary work to consultants.
Speaking of consultants, Councilor Russ Stephenson asked whether there might be a way to establish a preferred vendor system for engineers that perform TIA studies within the City. Delk, who used to work for the City of Cary, which utilizes such a system, said it can sometimes slow the process down because the City has to be involved in the negotiations between the developer and the engineer.
As traffic is a concern with nearly every new development, Councilors had a number of other questions, including whether any studies were done for weekend trips — they are not — and what some of the City's traffic mitigation options are — these include adding or restricting turn lanes, altering signal timing and general roadway/widening improvements.
The City's Transportation Planning Manager Eric Lamb pointed out, however, that widening is not as easy or effective a solution as it appears to be.
"We can't just widen our way out of congestion," Lamb said.
The other item up for discussion was the East College Park Neighborhood development. The City of Raleigh at present owns more than 140 properties in the East College Park neighborhood in Southeast Raleigh. Many of them were dilapidated single-family homes that, if not vacant, were used for rentals.
A large grouping of City-owned parcels will eventually be sold off and redeveloped into a mix of single-family, town home and possibly apartment units as a way of providing a mix of affordable and long-term housing for the area.
In February, Council approved work for the replacement of water, storm and sewer lines for the neighborhood, although before this work begins Councilors are being asked to select from a number of possible design alternatives for the new neighborhood.
While the future homes will be built by an outside developer who purchases the land from the City, that developer will be bound to the layout prescribed by Council.
Four options were presented on Tuesday, which offered differing mixes of home types clustered throughout the neighborhood. Councilor Bonner Gaylord, who appeared to be running a simulacrum of AutoCAD in his head, suggested that they go with "alternative D, but add the block C layout from alternative C and the block B layout from alternative B."
The most notable aspect of this proposal would be the replacement of six duplexes on the north of the property with 24 apartment units.
Staff will bring back a version of Gaylord's suggestion at the June 21 Work Session for further discussion.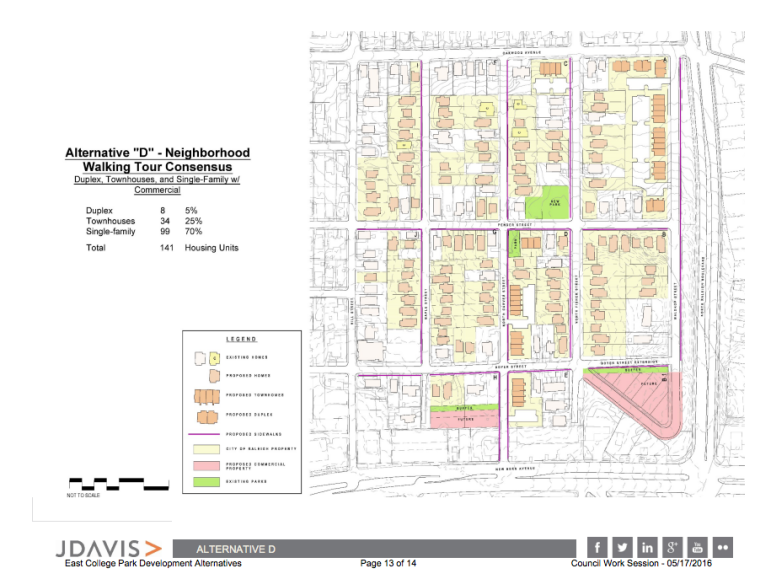 Afternoon Session
Tuesday's afternoon session began as it always does, with an invocation. This one was led by Pastor Alexander Harshaw of the First Baptist Church. This was followed by the Pledge of Allegiance, led by Councilor Mary Ann Baldwin.
Presentations & Awards
Mayor Nancy McFarlane began the meeting by declaring Tuesday, May 17 as William Ivey Long, in honor of the acclaimed costume designer and North Carolina native. Much of McFarlane's introduction was spent listing off the endless array of honors Long has received for his work on shows ranging from Cinderella to The Producers.
Long noted he was "pleased as punch" that the City was celebrating and supporting the arts.
The day's only agency grantee presentation came from SAFEChild, which was described as the only nonprofit child abuse prevention agency in Wake County.
Executive Director Cristin DeRonja said while they served all of Wake County, more than 50 percent of the children they helped lived within the city limits of Raleigh. DeRonja asked that Council do for SAFEChild what a child had once asked of their organization: "Please remember me."
Consent Agenda
Only one item was pulled from the Consent Agenda, an encroachment request from Kane Realty. Gaylord, who is the general manager at Kane's North Hills development, has a standing recusal from the item. As with the rest of the agenda, it was passed unanimously.
Planning Commission Report
Planning Commission chairman Steven Schuster brought three rezoning cases before Council on Tuesday. All had been recommended for approval by the Commission, and staff was suggesting a public hearing date of June 7 for all three.
Schuster noted that one of the cases was likely to draw a substantial number of people both in support of and against allowing it to move forward. The controversial Z-7-16 rezoning case is for a property on Jones Franklin Road that would allow for the Christian pregnancy center a Hand of Hope to open next door to the Preferred Women's Health Center, an abortion clinic on Jones Franklin Road.
Councilors asked City Manager Ruffin Hall how many items were already scheduled for June 7 Public Hearings, and decided to set the hearing for the afternoon session on June 21 instead. The other two cases, Z-5-16 & Z-8-16, will have their hearings on June 7.
Special Items
Rezoning case Z-39-15 had been held over from a previous meeting due to paperwork issues. This rezoning case would allow for a 78-unit apartment complex on the 1800 block of Trailwood Drive. Councilor Stephenson proposed approving the rezoning, but only for the two larger parcels included in the request, and not a third, smaller one.
City Attorney Thomas McCormick said there was no problem with this, and the applicant could come back later to rezone the final parcel if they so desired.
City Manager's Report
In May of 2015, the City began working to update its 2009 bicycle plan. The plan is a detailed and extensive one, so we'll only touch on a few of the highlights mentioned at Tuesday's Council meeting. If you'd like more details, there's likely no better resource than the City's own website about the plan, BikeRaleigh.org.
Jason Myers from the City's planning department told Councilors that one of the biggest changes between the 2009 and the 2016 plans was that the older one had been geared toward "enthused and confident" riders: ones that would feel comfortable commuting in a bike lane alongside rush hour traffic, for example.
For the 2016 plan, the City is looking to adopt an "all ages" approach that would serve ages 8-80, Myers said. This would mean going beyond bike lanes (which are referred to as a type of "bicycle facility") and doing things like introducing lower-speed and lower-volume routes through back roads and neighborhoods that would guide riders via wayfinding signage.
Myers said in many cities known for their bike-friendliness, two of the most successful approaches have been Separated Bikeways, which provide a separate bike lane, typically buffered from the road by a median, and the kind of Neighborhood Bikeways we just discussed.
In 2009, four main goals were established as part of the City's plan, which have largely been achieved. They included recognition as a bicycle-friendly community, for which the City earned a bronze-level designation and the completion of the top five priority projects by 2011: the City also managed to increase the amount of on-road bike facilities from 5.3 miles to more than 70.
For the 2016 plan, there are three main goals.
The first deals with the all-ages approach, and seeks to build out 30 miles of Separated Bikeways  and 30 miles of Neighborhood Bikeways within five years.
The second goal is to launch or participate in four new programs over the next four years, which could include partnerships with Wake County Schools or creating bicycle training classes.
Finally, the City wants to achieve silver-level designation as a Bicycle Friendly Community within three years.
Councilor David Cox asked if future street improvement projects that may result in a loss of parking would come before Council for approval and was told they would. Councilor Corey Branch asked about connecting bike lanes with schools, something staff said was a priority they would look into.
Councilor Russ Stephenson said the new plan was a tremendous step forward, and Councilor Dickie Thompson said he got asked more about bike lanes than almost any other issue and was grateful for all the work staff had put in.
The Bike Plan update was followed with a report on the City's proposed FY2017 budget and five-year capital improvement program.
As this is even more complex and detailed than the bike plan (as one would hope), we'll once again only touch on a few of the highlights mentioned at Tuesday's meeting. As with the bike plan, the City has an excellent web resource where you can read the proposed budget in all its excruciating detail that's located here.
Beneath our brief breakdown on the budget, we've embedded the slideshow presentation given at Tuesday's meeting, although it contains much of the same information.
Benjamin Canada began Tuesday's presentation by noting the City's total proposed budget for FY2017 was $858.6 million, an increase of $25 million from the previous year. Here are some of the major highlights of the budget:
28 percent of the City's revenue comes through property taxes, which saw a 2 percent increate of $4.6 million
Sales tax, which generates 11 percent of the City's revenue, saw a 5 percent increase of $4.4 million
Water & sewer charges account for 18 percent of the revenue, "Interest, Fees & Miscellaneous" accounts for 26 percent.
Downtown Cleanliness: The City will add 15 new positions to work on improving the cleanliness and overall aesthetic of downtown Raleigh
The police will be getting $1.5 million for a body-camera pilot program along with a new training facility
The 911 system will add 12 new employees: 10 call-takers and two supervisors
The Raleigh Fire Department will add a new fire inspections position and replace Fire Station No. 1
The City will fund a $200,000 "bill assistance" program for low-income members of the community who are behind on their water or sewer bills
$850,000 will be spent on public art, revenue for which is expected to be generated through three new facilities. A new position of Art Exhibit Curator will also be created
The City will add two new marketing positions to encourage economic development, six new plan review and inspection positions, a civic design position and a historic preservation position, two positions for graphical support for communications and two positions at Union Station
City Staff (approximately 1,100 of them) will be relocated to a centralized space on West Hargett Street, where Council Chambers and several City offices currently operate. The two adjacent buildings, a former police facility and a parking garage, will be torn down to make way for the new complex
City Staff will see a 3.25 percent average merit increase
Public Utilities will add 12 new employees in order to complete an additional 20-25 projects
A $1/month fee will be added to people's utility bills to fund capital programs
Utility bills are expected to go up an average of $1.99 per month in addition to this
Solid Waste Collection will cost an additional 75 cents a month, and the department will add five new positions
The Parks department will spend $1.8 million to operate new or renovated facilities over the next 18 months
One cent from each property tax assessment will be used to fund the annual $5.7 million debt service for Dix Park. Master planning for the future park will begin this summer
Staff is recommending a 1 cent property tax increase (a total of $5.7 million per annum) to fund affordable housing projects
A Public Hearing for the budget will be held June 7 at 7 p.m., so if you have an opinion on any of this, come on out to Council Chambers!
Public Hearings
Limited Bond Obligation Bond Reissue: Council will consider $31,500,000 Installment Financing reissue of a prior Installment Financing (2009 Limited Obligation Bonds), which Council authorized to be pursued at the May 3, 2016 Council meeting. No one spoke on the issue and it was approved unanimously by Council.
Perkins Property Annexation: A hearing to consider an annexation for a property at 3001 Club Drive. No one spoke on the issue and it was approved unanimously.
TC-4-16: A text change that would reduce by half the number of parking spaces required for overnight lodging facilities, i.e. hotels, in the downtown overlay district. Although a brief summary from staff was provided, no members of the public were present to speak on the case and it was approved unanimously.
Sidewalk Assessment Role: A continuation of a hearing that was opened May 3 regarding an assessment on surrounding property owners for a Wade Avenue sidewalk project. Meredith College and the  owners of the Ridgewood Shopping Center had requested more time to look into the issue, and made this same request again on Tuesday. City Manager Hall said they had only begun speaking with the property owners very recently and wouldn't mind continuing the discussion. Council allowed the hearing to be extended.
Evidentiary Hearing
A very brief evidentiary hearing was held regarding a .2-acre parcel property at the corner of North Person and East Lane Streets, currently zoned R-10, that the owner wanted to subdivide into two lots of 6,264 square feet and 2,793 square feet. Council voted unanimously to approve the case.
Growth & Natural Resources Committee Report
Moore Square Renovation: The Committee last week recommended that the contracting method for this project be switched from Construction Manager at Risk to General Contractor. The project would have to be rebid in a low-bid format in order for this to happen. Councilor Branch asked why this change was necessary, and Councilor Thompson said because the design was so far along, the extra costs associated with a CMAR contract were not worth it. Thompson noted that there were a number of projects that could use the additional money that would be saved, money Branch said he'd like to see directed to Chavis Park. Councilor Baldwin recused herself from the vote, and it passed 6-1, with Branch serving as the only dissenting vote.
Z-4-16: Council voted to approve a case would rezone a .36 acre parcel of land on Oberlin Road near Wade Avenue and across from the Oberlin Court development to allow for office and residential development. It is currently only zoned for residential use. The Committee had recommended approval of the case.
Stone's Warehouse: The developers of the Stone's Warehouse project requested  approval to change the contractor on the job from Clancy & Theys to CT Wilson. The committee recommended approving the contract change, and Council agreed.
Report of Mayor and Council Members
Councilor Cox asked about the addition of a left-turn arrows at the intersections of Raven Ridge and Falls of Neuse and Fox and Spring Forest. He also asked about the possibility of re-prioritizing a sidewalk project that would receive partial funding from business owners. Councilor Gaylord said this issue had come up in the past and had been discussed without much success, but he was willing to try again. Council eventually asked staff to look into whether such an approach had been implemented successfully elsewhere.
Councilor Stephenson said neighbors of Fire Station No. 5, currently under renovation, had raised concerns related to tree preservation, something he asked staff to look into
Councilor Branch congratulated the recent graduates of Shaw University and St. Augustine's University, whose ceremonies he attended over the last two weekends.
Councilor Crowder requested that the City allocate outside agency funding to offer financial literacy classes through Triangle Family Services
Councilor Gaylord said he had attended a performance of Beertown, which he described as "a fascinating play and very interesting community theater"
Councilor Thompson thanked staff for their work on the budget and said a report done on the Grace Home had been excellent
Councilor Baldwin thanked staff and City Manager Hall for attending the Oak City Outreach Center fundraiser held last week