Post by Donna Belt
When my husband retired in the early 2000's from a role that had moved us to London, we resolved to explore Europe by living in each setting of our choice for at least a month.  Our goal was to look past the buildings and history to feel the pulse of a place, how people related to each other, how they cooked, and looked after their families.  Often we felt like observers, trapped by our otherness, until market day would arrive.  Then we'd buy our eggs in a brown paper bag, carefully handed over with a smile from a local farm woman.  And we'd get to know the farm cheese produced for generations in that locale.  Neighbors who'd never spoken to us would pause with us in line to greet us and ask what had brought us there.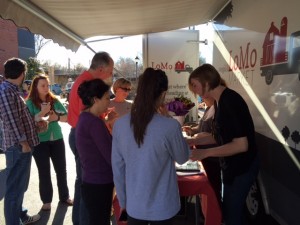 As we walked through the winter drizzle to Glenwood's first Sunday afternoon LoMo stop and I saw neighbors hurrying up the street with their hoods pulled against the cold, it struck me that LoMo is our own version of the small European village market day.  It's our window on what is growing in the countryside, and what locally ground nut butters taste like, and the magic of fish freshly pulled from the sea.  It's seeing the same few people selling regional products – from home made soups, to fresh baked bread, to ready-assembled dinners – each week, and greeting neighbors we've never met.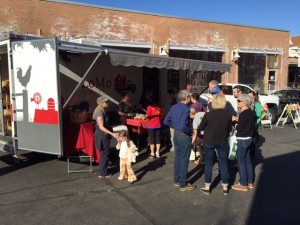 When LoMo agreed to come to our neighborhood, I saw it as a convenience.  Great!  I'll top off my produce for the week.  But now, I see it as so much more.  I'm supporting a responsible, sustainable way of growing and distributing food; I'm helping entrepreneurial young people who are connecting others who are creating a living doing what they love; and I'm appreciating a sense of neighborhood that is growing organically, simply from recognizing the same faces each week.
Come join us.  LoMo (Local Mobile) parks beside Dos Taquitos every Sunday afternoon between 4:30 and 6:00.  See you there, Neighbor.
Other LoMo Market stops in downtown Raleigh: [see map]
Citrix: West Street, Tuesdays 11:30am – 1:oopm
Seaboard Station: Halifax Street, Tuesdays 6:00pm – 7:30pm
St. Mary's School: Hillsborough Street, Wednesdays 3:30pm – 5:00pm
The Boylan Saturday Market: Kinsey Street, Saturdays 10:30am – 1:00pm