Post by Donna Belt
(Donna is an Executive Board Member of the Glenwood South Neighborhood Collaborative and leads the neighborhood's public art.)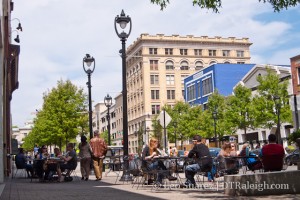 On the morning of January 26, headlines in the N&O – Downtown developer Hatem raises alarm as Raleigh weighs noisier Fayetteville Street – reignited a conversation that has been taking place in Raleigh over the past few years.  And now, it's come to the forefront as City Councillors weigh Hatem's argument against Outdoor Amplified Entertainment permits for bars and restaurants along Fayetteville Street.
First, I'd like to say that Hatem is right.  He does need to move to Oakwood, if he finds Fayetteville Street "unlivable".  Families with young children are often happy for a lifestyle with controls in place that ensure quiet homogeneity.
As a prime developer of downtown properties, Greg Hatem has contributed a lot to our city.  But the argument he makes negating the approval of these permits is based on a self-limiting premise, that it's EITHER happy residents with restrictions placed on late night businesses, OR miserable residents suffering with unlivable noise and mess.
Glenwood South – with 5 times more residents than the Fayetteville Street District and 75 businesses (many open late night) – has embraced moving the conversation from an assumption of Either-Or to Both-And.
BOTH late night businesses have Amplified Outdoor Entertainment permits, AND residents have a process in place for working with business owners and a City appointed noise ordinance officer until concerns are resolved.
BOTH late night businesses are encouraged, AND the vitality of daytime restaurants and shops is supported by the Glenwood South Neighborhood Collaborative, DLA, DRA and Shop Local Raleigh.
We believe that what is good for business is also good for residents, when both are working together for the empowerment of all.  And certainly happy residents make good customers.
We believe that Raleigh cannot develop the vitality that entices residents to move into the downtown if we continue to stay stuck in an Either-Or discussion.
We believe that downtown life is MORE engaging and alive because of diverse interests considering creative resolutions for solving the issues that inevitably arise with thousands of residents living in mixed use districts.
If you're an Either-Or kind of person, then the suburbs will suit you fine.  But if you welcome the opportunity to create community around models that are inclusive, adaptable and innovative, then downtown life is a great choice.  That is, as long as  arguments like Hatem's are seen for what they are: show stoppers, rather than invitations for the kind of collaboration that defines an alive, vital downtown.