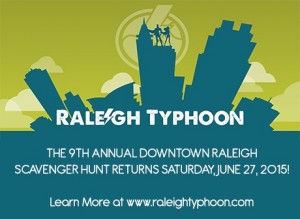 The Raleigh Typhoon scavenger hunt and urban adventure returns Saturday, June 27, 2015 with TWO new ways to play!  For the first time ever, the Raleigh Typhoon will feature two games: an "Extreme Challenge" scavenger hunt (for more competitive types), and a more laid back "Pub Crawl" scavenger hunt.  All proceeds from the Raleigh Typhoon benefit Activate Good.
When: Saturday, June 27th
Extreme Challenge Game Kick off: 1:00pm (check-in by 12:30pm)
Pub Crawl Kick off: 5:00pm (check in by 4:30pm)
Prize announcements & party: 9:00pm
Where: Tir Na Nog, 218 S. Blount Street, Downtown Raleigh
Form a team: Grab friends and form a team to tackle hilarious games and solve puzzles in one or both scavenger games while visiting a variety of Downtown Raleigh hotspots. Teams who successfully solve puzzles by the deadline are eligible for prizes. Teams must contain between 2 and 8 participants; all participants must be 21 or over.
Registration: Limited space is available – participants are encouraged to register their teams online no later than June 26, 2015 at www.raleightyphoon.com.  Teams must include 2-8 players. Online Registration for ONE game is $15/person OR $100/team; Online Registration for BOTH games is $25/person OR $180/team by June 26.  Limited team spots may be available for registration at the door on June 27 (prices increase at the door).
About The Raleigh Typhoon
2015 marks the 9th Annual Raleigh Typhoon Scavenger Hunt. The Raleigh Typhoon serves as one of the largest scavenger hunts in Raleigh, NC. Over the past eight years, over 2000 people have participated as individuals and teams to scout out items, answer challenging trivia, and perform tons of fun tasks in the hopes of capturing prizes.
From lip syncing to ladder golf, word searches to acrobatics, rickshaws to rhymes – the Raleigh Typhoon is designed to be challenging, entertaining, educational, and most of all – fun!
Costumes are highly encouraged (there may or may not be a costume-themed prize!). While the Raleigh Typhoon isn't a race, individuals and teams are required to complete all of the tasks by a certain time in order to win.
Prizes will be given out at the conclusion of the scavenger hunt. Don't miss out on the fun, and discover a little more about downtown Raleigh's treasures!
For additional information contact: typhoon@activategood.org