Brought to you by Rufty-Peedin Design Build
Thursday, August 11, 2016
In April of this year, permits were issued for three unnamed jobs at the Crabtree Valley Mall; despite the low-level efforts of this reporter, we were never able to figure out what the heck was going on over there.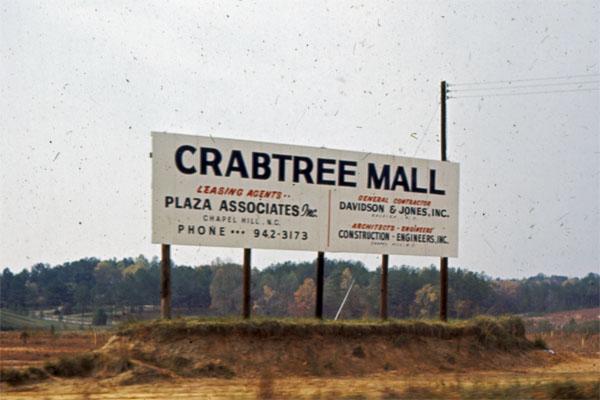 Until now. Maybe.
Thanks to a purchase three years ago of a used copy of Red Dead Redemption at my local GameStop, I somehow managed to find my way onto their highly exclusive, members-only email list that alerts me to whatever deals and specials might be happening at my store this week. It's a Godsend, really.
But this week, the email they sent wasn't about GameStop at all.
"James, Join Us! ThinkGeek Store Grand Opening"
Say what?
It turns out, a brand-new ThinkGeek store is set to hold its grand opening at the Crabtree Valley Mall this Friday in a spot across from GameStop near the food court this Friday (tomorrow!) from 10-5.
ThinkGeek is a chain of retail stores specializing in, for a lack of a better term, geek-themed "apparel, home and office décor, electronics and gadgets, outdoor and survival gear, collectibles, and much more." Think FYE without the DVD and CD sections, or Hot Topic without the edgy goth and druggie merchandise.
As of this writing, the top-selling item on the ThinkGeek website was the $49.99 "Backpack of Holding" — a reference to the "bag of holding" from the Dungeons & Dragons fantasy role-playing board game. We wonder if Donald Trump owns one.
We need someone with experience to run D&D campaigns. I've played with real hulks and giants! #DungeonMaster @DnD pic.twitter.com/X6eu9w2thc

— Dungeons And Donalds (@DungeonsDonald) August 8, 2016
In June 2015, GameStop acquired ThinkGeek's parent company for a cool $140 million, swiping them away from Hot Topic, which had also been working to acquire the chain.
ThinkGeek is now one of several brands operating under the GameStop umbrella. Others include Simply Mac, a reseller of Apple products, and Cricket Wireless, the prepaid cellphone store with several locations throughout Raleigh. Never would've guessed they were owned by GameStop.
Although the grand opening for ThinkGeek — this will be the chain's first location in North Carolina — is scheduled for Friday the 12th, a GameStop employee at Crabtree I talked to without identifying myself as a "reporter" said the store's first real day will be the 13th.
We weren't able to get much clarity on that; maybe when the grand celebration ends at 5 p.m., the store will close, while normally it stays open until 9?
We don't have an answer for this, despite reaching out to both the store itself (through Facebook…) and the GameStop press people on Monday. To be fair, "the store" messaged us back and said they were too busy setting up but that the press people would be in touch. They weren't, obviously. So if you were wondering if this was some kind of sponsored post…nope. Except by Rufty-Peedin Design Build, of course, but they sponsor all of our posts!
Oh well. It'd be easy to mock the merchandise a place like ThinkGeeek carries, the audience it caters to and the whole concept of "geek culture" as it exists today, but…look at that Back to the Future USB Charger. Never mind the fact the Flux Capacitor was located in the *back* of the DeLorean, this is really neat.

As for the grand opening itself, the so-called festivities will include everything from "limited edition ThinkGeek Pins" for the first 1,000 customers to prize raffles and a free ThinkGeek patch with the purchase of any "Con Bag of Holding." This item is apparently a scaled-down version of the aforementioned Backpack of Holding, designed specifically for use at sci-fi/fantasy conventions.
According to that exclusive, members-only email I got from GameStop, "Cosplay is welcome*" at the grand opening.
Why the asterisk?
"Please don't cause a panic in the rest of the mall," the email states.
"All masks and props are to only be used in the store."
Interestingly enough, mall policy does not explicitly ban the wearing of masks or other outlandish costumes. From the posted code of conduct:
"ATTIRE: Appropriate attire is required (shirt, pants, and shoes). Profane, offensive or antagonistic slogans or graphics will not be permitted. Offensive attire includes lewd or extreme dress or anything which may offend the sensitivities of others. Undergarments must not be visible."
A member of Guest Services at Crabtree told us that while masks may not specifically be prohibited by mall policy, "as a general rule, it's not a good idea" to wear them inside. Keep in mind: Crabtree Valley Mall is patrolled by the Special Police, who carry real guns.
Either way, let's just hope it's not too hot on Friday to wear my Spider-Man hoodie.