Inbound Raleigh was a podcast about transportation and transit in Raleigh, N.C. that aired from September 2015 to December 2019.
We had three main goals when starting: (1) to learn about transit, (2) to learn about podcasting, and (3) to foster discussion about transit and transportation. While we felt the discussion should continue, it's time for us to move on to other projects.
Thank you to everyone who listened and supported. Please help us make sure transit and transportation talks continue!
About the Host
Jennifer Suarez
Jennifer is a partner at a marketing agency. (Hire us!) As a former journalist and TV news producer, she has an avid interest in storytelling and discussions about the community. She graduated from Raleigh Neighborhood College in 2015 (highly recommend!). She lives and works in downtown Raleigh. Jennifer loves to travel to new places (especially cities with transit) and enjoys bicycling both for fun and transport (except in August). Her education is a B.S. in journalism from Southern Illinois University and an M.A. in Public Affairs Reporting from the University of Illinois-Springfield.
Past Co-Host
James Borden was co-host of Inbound Raleigh until April 2018, when he moved to Cincinnati for a new job.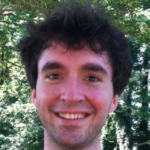 James is a journalist who has covered development in Raleigh for the now defunct Raleigh Public Record. He also worked full-time covering the construction industry for a trade paper and served on the board of directors for the nonprofit organization WomenNC. A Pennsylvania native, James graduated with a BA in English with a journalism concentration and a minor in political science from the University of Delaware in 2004. He moved to North Carolina in 2008 and has lived in Raleigh since 2010.
Past guest hosts: Amy G. Howard and Imran Aukhil.