The wave of demolition that began in the final week of October — which saw the destruction of a discount store and a former restaurant — continued into November, as permits for the demolition of Green Elementary were issued on November 6 to Balfour Beatty Construction.
We would like to be there  when they finally push the button — if that's something that happens in real life — that blows up the school, if only because the guy doing it probably has a one-liner he's been saving for years.
"Class dismissed," maybe, or "School's out. Forever."
Well that last one wouldn't be technically accurate, as once the 72,213 square-foot demolition and abatement project is finished, work will begin on a replacement school. For more pictures of the demolition site, scroll to the bottom of the page.
The new facility, which will function as a magnet school, will come in at 95,930 square feet and was designed by Moseley Architects. It will feature lower, upper and main levels, each dedicated to different programs.
Among the changes it will usher in are an improved carpool lane, a new multipurpose space and more modern classrooms.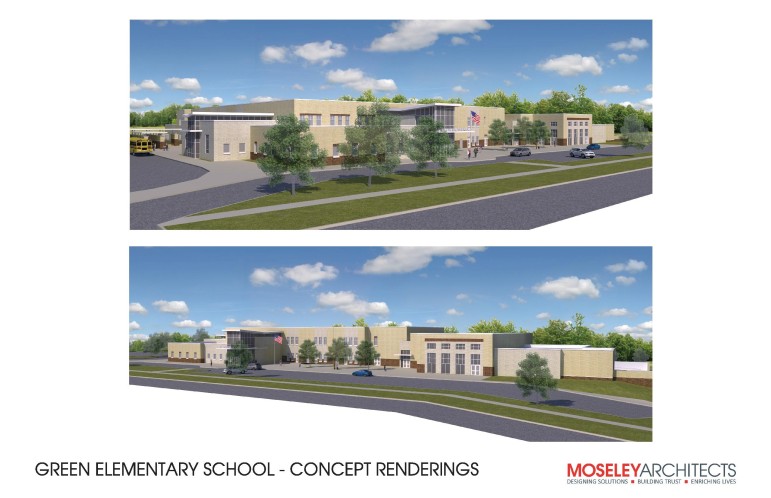 The $24 million project will be the first paid for by the $810 million school bond approved by voters last year. Vertical construction is slated to start early next year, and wrap up in April of 2016.

Instead of giving the 664 students the new school is designed to service a much-needed two-year vacation, the kids will instead be housed in a "modular campus" on Spring Forest Road near East Millbrook Middle. So, essentially, they'll be attending class in trailers. For two years. A bunch of elementary-school students crammed into a bunch of trailers. For two years. If ever there was an argument for teacher raises, this is it.

Although not in the permitting stage, the groundwork is now being laid for another city demolition project — one we've discussed before. The city of Raleigh has put out for bid the demolition of the Milner Inn, a property which includes both the former motel, and the former gentlemen's club the Foxy Lady.

Contractors have until November 24 to get their bids in for the project, meaning work will likely begin early next year, paving the way for an addition to the city's greenway system.

Not all city projects are about tearing down and starting over from scratch. Permits were issued earlier this month for some improvements at the new home of the RPD Northeast District Station. The city had previously been leasing space for the station at the Litchford Village Shopping Center, although, technically, the shopping center is located in the RPD North District.

At 23,840 square feet, the Northeast district's new home will be more than double the space they had previously — 11,000 square feet. The larger facility will serve a district whose population, currently about 100,000 people, is projected to grow 33% by 2030.

To acquire the space, the city signed a seven-year lease with Beacon Ventures LLC in the amount of $11.00/square-foot, a rate that will increase until maxing out at $12.02 in 2020. When all the numbers are factored in, including taxes and maintenance, the city will be paying about $320,648 a year for the space in its first year.

No security deposit was required.

Cops and teachers who want new manicures to go along with their new offices would do well to check out the all-new LCN Nails at the Strickland Corners shopping center, which received permits November 7, or the new Paris Nail at Wade Park, which will reportedly also feature a wine bar. Ooh la-la.

Among the other permits issued the first week of November were the Duke Hematology Medical Clinic on Wake Forest Road, for $375,000, PPS Engineers at Smoketree Tower, for $348,000, and Midtown Dermatology on Six Forks for $302,000.

By The Numbers
The growth of the past months in both the number and value of construction permits and real estate transactions in Raleigh continued through October, which saw several record-breaking numbers.

The overall value of the construction permits issued was $199 million — $20 million more than the previous 2012 high of $179 million. The five year average was $91 million. Year to date, 2014's permits have been valued at more than a billion dollars.

The number of permits issued — 596 — was higher than the five-year average of 478, but was still a bit lower than October 2012's 650 permits.

The value of October's real estate transactions also set a record — at $515 million, it crushed the previous high of $333 million, set in 2013. This year's number more than doubled the five-year average of $235 million.

The number of transactions was also a record high at 885, easily besting the five-year average of 522.

There's an old gag in the Simpsons, where Disco Stu is pitching his "Can't Stop the Learnin' Disco Academies" at a small business convention.

Pointing to a chart that shows the tremendous growth of disco record sales from 1973-1976, he remarks "If these trends continue…."

Of course, those trends didn't continue. That's the joke, but the point is, you don't have to cook the books or manipulate the stats to see that Raleigh is growing and will continue to grow for the foreseeable future.

All this talk of growth and how the city is expanding and increasing its population — it's happening right now. You just have to look at the numbers.

As promised, here are some additional photos of Green Elementary: