City Council sessions on January 19 — 11:30 a.m. for its work session and 1 p.m. for its regular meeting.
City council agendas follow a very traditional format. First, there is the consent agenda, for routine items that can be approved in just one motion. Second, there's the report and recommendation of the planning commission, where public hearings are set for rezoning cases. There's the report and recommendation for the City Manager, and then for City departments. Finally, the committees — public works or law and public safety for instance — make their reports.
These agenda previews will highlight the most important, engaging, and interesting items that we feel the public needs to know about. As many of these items are not discussed in detail in the council's public sessions, we hope this can provide a little more insight into the business of Raleigh's government.
Consent Agenda
The consent agenda is a set of routine items that can be approved by a roll-call vote.
Consent Agenda: Contracts & Finance
Safelight Payouts: This is kind of interesting: An interlocal agreement whereby the City of Raleigh transfers to the Wake County School System proceeds from its Safelight red light camera program is expiring, and the City is planning to renew it, likely because it's required by state statute. In 2007, the City paid out $8,689. In 2015, it paid out $828,142. This was not a gradual increase, however, as the amount fluctuated from year to year: in 2010 it was $214,441, in 2013 it was $106,432, etc. 2015's was the highest amount since the program began.
Bond Financing: This particular item deals with issuing and refunding general obligation bonds, and for anyone who's really curious to dig into the particulars, we recommend viewing this PDF.  Essentially, the City will be repaying about $160 million in bonds that have been issued over the past several years. It will also issue $6 million in new general obligation housing bonds.
Stanhope Center II – Urban Redevelopment Main Replacement Reimbursement. Under a policy established in February 2015, the City is reimbursing the developers of the Stanhope Center on Hillsborough Street$230,753 for sewer main replacement work they did near Friendly and Morrill Drives. This was the first reimbursement to be issued under this nearly year-old policy.
Urban Pollinator Garden Grant Award: The City of Raleigh was awarded a $10,000 grant from Burt's Bees Greater Good Foundation, a "501(c)(3) non-profit organization dedicated to sustaining charitable grassroots initiatives that support human and honeybee health." The money will be used to build an Urban Pollinator Garden as part of the Union Station development.
Walkable Neighborhood Grant Award: The City of Raleigh has received an $8,000 grant from the John Rex Endowment (in collaboration with Third Sector New England and Active Living by Design) to "fund one part-time position to evaluate walkable neighborhood access to parks and greenway trails."
Grant Request: The City of Raleigh is looking to get $280,000 from the North Carolina Clean Water Management Trust Fund in order to "restore a stream in the northwest corner of Millbrook Exchange Park and to evaluate the effectiveness of an innovative method for the restoration of streams." The City will contribute $70,000 to the project, bringing the total cost to $350,000.
Beechwood Drive Contract Amendment: In July 2015, the City of Raleigh hired Parsons Brinckerhoff, Inc to provide engineering services for a drainage improvement project on Beechwood Drive. The contract at the time was for $10,000; a fee has now been negotiated for Phase I design services on the project. The amendment will authorize payment of an additional $299,540 to Parson Brinckerhoff, Inc.
Swan Street Contract Amendment: In a situation almost identical to the one above, the City of Raleigh hired WK Dickson to provide engineering services for a drainage improvement project on Swann Street. The original contract was for $10,000; the Phase I design services came out to $295,657.
Water Treatment Plant Cleaning Services: Local company Joy Cleaning Services was probably happy when they learned their proposal for janitorial services at the Neuse River Resource Recovery Facility in Raleigh, the Smith Creek WWTP in Wake Forest and the Little Creek WWTP in Zebulon was selected by City staff. Council now has to authorize the two-year, $131,998 contract.
Insurance Payments: The City of Raleigh contracts with the Interlocal Risk Financing Fund of North Carolina for insurance, and will pay a total of $370,000 for one year of workers comp and property & general liability claims insurance. The City's initial five-year contract from 2009-2014 saw it paying $420,000 a year for the same insurance. That rate has gone down as the City has exercised options that saw it paying $400,000 last year and $370,000 this year.
TheMissions & Values of Parks, Recreation, and Cultural Resources: This City department is requesting a $71,146 budget amendment to fund a contract that will "communicate and reinforce the mission/values message" of the department by installing "signage or exhibit style displays" in park facilities. According to a memo issued by the PRCR staff, the signage and displays will "help tell our story" and engage both patrons and employees.
Consent Agenda: Streets, Traffic & Engineering
In December of last year, the City of Raleigh renewed a permit with the NC Dept. of Environmental Quality for the operation and maintenance of several local sanitary sewer systems. The permit is renewed every five years, but this time around, the state removed some language from the permit that provided "affirmative defense language" to the City. This language "protects the City in the event there are failures to the collection system that are beyond reasonable control of the City." Staff is now going to file a contested case petition to challenge the revised conditions.
Emergency Water Service: City Council is being asked to authorize emergency water service to a property at 4308 Pearl Road where the well water has become contaminated and is no longer potable. Thankfully, service is available through an existing main at the front of the property, and all costs of installation will be paid by the state.
Hillsborough Street Right-of-ways: City staff are asking Council to approve several right-of-way condemnations for properties on Hillsborough Street as part of the Phase II redevelopment project. This will allow the installation of underground utility lines and the removal of many utility polls. Additionally, it will allow for "Benches, bicycle racks, waste and recycling bins, public art, and LED street lights that will enhance the aesthetics of the street." The properties in question are located on the 2700-3100 blocks of Hillsborough near Dixie Trail.
Hedgemoor Drive/Mine Shaft Road/Mayview Road Speed Limit Reduction: After receiving a petition signed by 75 percent of the residents along the affected streets, City staff are requesting that Council approve a speed limit reduction on the roads in question from 35 to 25 miles per hour.
No Parking on Jarvis: Staff has recommended that Council establish a No Parking Zone on the west side of Jarvis Street between Fairview Road and Vance Street. This measure is also the result of a neighborhood petition.
North Street Loading Zone: The owners of the West Condominium have requested that a loading zone be established at their main entrance on the north side of North Street.
Fiber Optic Installation: Fiber Technologies Networks LLC is requesting permission to a fiber optic cable and a pole in the right of way in several locations. For a detailed list, please see this PDF.
Fayetteville Street Canopy: Karl Hudson, the owner of the office building at 224 Fayetteville Street, is seeking permission to install a canopy that would encroach onto the sidewalk. The canopy was designed by Clearscapes Architecture, and renderings were included in the packet, which you can see below.
Consent Agenda: Other Business
Only one other item on the consent agenda, but it didn't fit into any real category. The City had to establish an "order of priority for emergency management functions in the absence of the mayor." The order goes: 1. Mayor McFarlane. 2. Mayor Pro Tempore Crowder 3. Council Member Stephenson 4. Council Member Baldwin 5. Council Member Gaylord 6. Council Member Branch 7. Council Member Cox 8. Council Member Thompson. This basically means if there's a situation where Councilor Dickie Thompson is running the City's emergency management functions, things aren't looking so good.
Planning Commission Reports and Recommendations 
Story heigh measurement: Planning Commission recommends a text change that would change the current way of measuring story height from "top of the finished floor to the ceiling above" to "top of the finished floor to bottom of the floor above". This change, it was determined, would reflect the original intent of the language. A public hearing on the matter will likely be set for February 2.
Z-34-13: This rezoning case at 6117 Hillsborough Street would rezone a property currently marked R-10 and R-4 to all R-10. This would allow for a community mixed-use development. Several neighbors took issue with the case and filed a Valid Statutory Protest Petition last year. Planning Commission recommends granting the applicant a 60-day extension on the rezoning case.
Z-39-15: This rezoning case would allow for a 78-unit apartment complex on the 1800 block of Trailwood Drive in West Raleigh. Planning Commission recommends approval of the case, and a public hearing date of February 2 has been requested.
Special Items
These are items that fall outside of the normal structure of the council agenda.
Dangerous Dog Ordinance Revision: This ordinance change has been kicking around for a little while now, and seeks to "clarify and simplify both the identification of a dangerous dog as well as to specify actions the Animal Control division of the Police Department should take once a dog has been determined to be dangerous." It was discussed at the last Council meeting, and some modifications will likely be discussed at Tuesday's meeting.
Z-38-15: The public hearing for this rezoning case was held January 5, and the owner agreed to add a condition that would limit the number of single family homes in the proposed development to 57. The property is located on Shady Grove Road, north of its intersection with Leesville Road.
Two Hour Parking on Toxey Drive: Due to the parking congestion caused by students of the nearby St. David's School, residents on Toxey Drive have requested that a two-hour parking zone be implemented on the east side of Toxey Drive from the intersection of White Oak Road southward 530 feet. In its report, staff noted that Council may wish to defer an action until March, as "construction on the parking lot has only recently commenced"
City Manager Reports and Recommendations 
Wake Transit Plan: The City Manager is presenting for informational purposes the new 10-year transit plan from Wake County. The plan will include the "implementation of additional fixed-route transit services, such as commuter rail and bus rapid transit."
$40 Million Smart Cities Grant: The City Manager is asking Council to authorize City staff to work with a team from NC State on an application for a $40 million Smart Cities Grant from the US Department of Transportation. The grant is designed to "incentivize mid-sized cities to utilize innovation and emerging technology to improve safety, enhance mobility, protect the environment, and provide people with better access to jobs, schools, and essential services" and is due February 4.
Parks, Rec. and Greenway Advisory Board Reports and Recommendations 
Wooten Meadow Park Master Plan: The Advisory Board recommends that Council adopt a master plan for Wooten Meadow Park. DHM Design, in conjunction with Ward Consulting Engineers, Axiom Environmental and S&ME Inc. began the master planning process in September 2014. It has undergone a lengthy public review and revision process since then (for a full accounting, check this PDF). The plan was based on eight values. Per the plan, these values are (in priority ranking): "Nature, Preservation, Education, Passive Recreation, Aesthetically Pleasing, Safety, Quiet, and Play. The Master Plan is a physical manifestation of these values, as the Plan strives to provide spaces for enjoying nature, engaging in passive recreation, educating the community, preserving the landscape, and playing with childlike fervor."  For more specifics, see the above-linked PDF.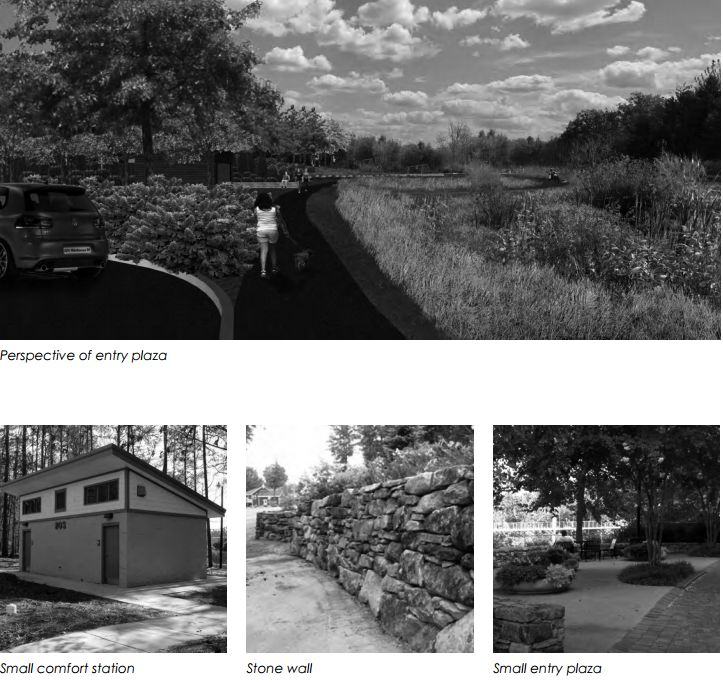 Requests and Petitions of Citizens
We'll just list these as they appear on the agenda. 
Joseph Hartman would like to make a proposal for 20 mile-per-hour zones in some Raleigh residential areas.
Elizabeth Gardner, Neuse River Kids Club, would like to make a donation to the Adventure Program to pay for kid-sized equipment.
Joseph Conover, Nova Agency Company Police Department, representing On Point Protection Agency and Global One Company Police, would like to express concerns related to the Raleigh Police Department.
Larry Booth would like to request further consideration for relocation of a Duke Energy transformer underground vault proposed for installation at 3111 Hillsborough Street as part of the Hillsborough Street Revitalization Project, Phase 2, as well as further consideration for saving an oak tree located at 3109 Hillsborough Street. Mr. Booth previously appeared before Council during the January 5 meeting.
Public Hearings
Demolition of Unfit Buildings: A property at 532 Bragg Street may have a lien placed against it for demolition of Unfit Buildings. The cost of demolition is estimated at $14,125.
Public Nuisances: A number of property owners are being fined abatement/public nuisance fees, mostly in the $200-$300 range and for issues such as "a dense growth of weeds."
Limited Obligation Bond Debt Financing: A public hearing for an issue discussed at the January 5 Council meeting, this would allow for $52 million in installment financing that would "fund certain fire station improvements (Fire Station 14), fund improvements to the Performing Arts Center, and refinance certain prior installment financing obligations."
Z-15-15: This rezoning case for a property on Spring Forest Road and Atlantic Avenue would rezone the land from Shopping Center Conditional Use to Commercial Mixed Use Conditional Use. Council can either approve or deny the request.