The Council Record, an informal but nevertheless comprehensive look at the most recent City Council meeting. Ordinarily, we run The Council Record following a regular session of City Council. However, when possible, we will also use it to cover Council Work Sessions. 

May 10, 2016
Editor's note: Council doesn't mean in Chambers (pictured above) for its work sessions. It meets in room 305 upstairs; I wasn't able to get a good picture of it. The room is small and often filled to capacity.
The first item on the work session agenda Tuesday dealt with plans for a Southeast Raleigh Tennis Complex.
Shawsheen Baker, a senior park planner with the City, said they had been approached several years ago by tennis advocacy organizations desiring more courts to "serve the underserved," such as communities in Southeast Raleigh.
Although the initial project budget was $5 million, that included a private contribution of $1 million that has not yet been finalized. The current budget is $4 million; $3.68 million remains after consultant costs.
Initial plans called for a new tennis facility at Barwell Road Park, which consultants estimated would have cost the city about $6.58 million. The current plan calls for expanding and upgrading existing tennis facilities at Biltmore Hills Park, which would cost an estimated $1.75 million.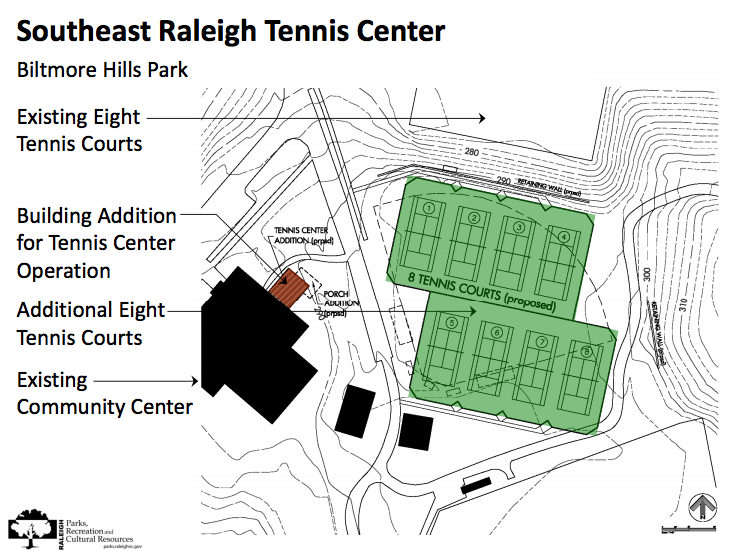 Councilor Corey Branch, whose district includes Southeast Raleigh, said he had spoken with several people in the surrounding neighborhoods who were excited for the project to move forward.
Although the cost estimates were called into question, all Baker could say was that they were preliminary estimates, and City Manager Ruffin Hall said that a final cost couldn't be determined until the project was actually bid out. Councilor Bonner Gaylord noted that even after a project bids, change orders can often drive up the final cost.
The next item dealt with Green Infrastructure and Low Impact Development (GI/LID) Policies, which would require text changes allowing for different types of stormwater management practices. Specifically, this would reflect a shift away from retention ponds as a primary method of stormwater control.
Blair Hinkle from Public Utilities began the presentation with a photo of his daughter, joking that she was a big fan of the City's GI/LID policies.
The new policies would not only provide better stormwater management practices, but, by removing the need for retention ponds, would also free up more space for development. Councilors Russ Stephenson and David Cox were concerned this would lead to more development in the watershed.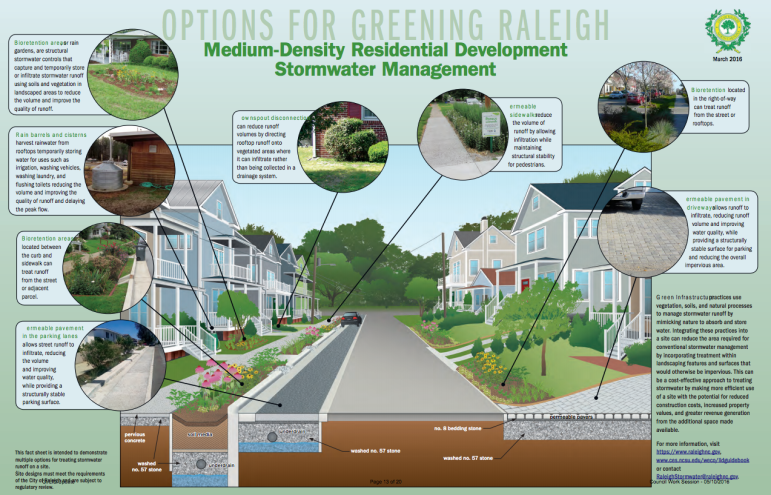 Hinkle said while the changes in code allowing for GI/LID infrastructure would apply citywide, watershed areas could be exempted, although he noted repeatedly that the changes would not allow for the development of any project not currently allowed under existing code.
Following an extended back and forth among several Councilors, staff members and a representative from the design consultant, Tetra Tech, it was decided that another work session would be held to further discuss the potential impacts of the proposed changes.
Branch noted that the changes might be difficult for residents to understand, and joked that even though he was an engineer who understood all of the documentation, "When I read this, I'll fall asleep."
The final item was an update on the design of Moore Square Park. Councilor Mary Ann Baldwin asked whether it would be a conflict of interest for her to be involved in the discussion because her employer, Holt Brothers, was likely to be the Construction Manager for the project.
However, in a meeting of the Council's Growth and Natural Resources Committee meeting on Wednesday (ed. note: we'll have a write-up tomorrow), it was recommended that the construction phase of the Moore Square renovation be rebid, which means Holt may not be involved.
This recommendation did not come up at the work session. City Attorney Thomas McCormick said it would not be a conflict for Baldwin to be involved in the discussions, which led to a running joke about her not being allowed to speak.
"You know how hard that is for me!" Baldwin joked.
Gina Ford from Sasaki Associates was on hand to present an update on the project's design, which is nearly complete.
The redesigned park will be centered around a great lawn, and include a cafe building with restrooms. Selection of a vendor is underway at this point. Councilors raised some questions regarding the bathrooms: namely, that there were only two, a men's room and a women's room. They asked whether it would be possible to add a "family bathroom" but Ford said it was uncommon for a structure of this size (the total square footage is about 1,600).
Baldwin, despite her speaking ban, requested that the possibility of adding a family bathroom be investigated further.
Ford also discussed plans for dynamic water jets, which would provide not only a beneficial aesthetic component, but a play element for children of all ages. The park will also contain small "grove rooms" — public art designed as gathering spaces, which vary from long tables to an elongated, curved bench.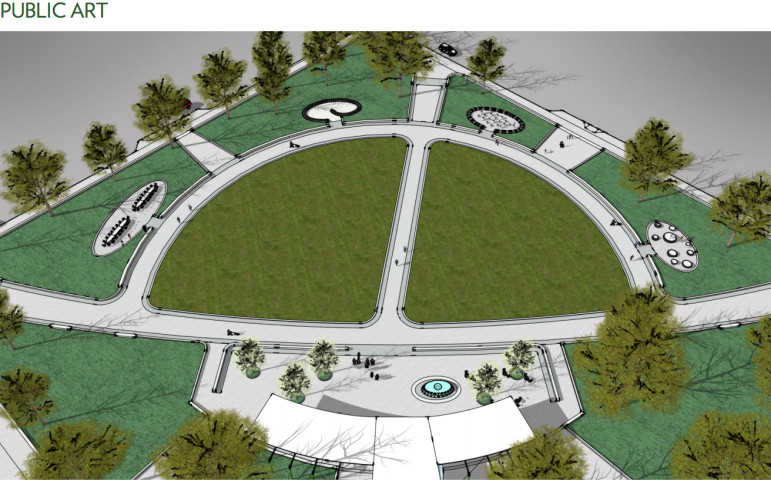 One final issue raised related to the perils of downtown dog-owners who have very limited options when it comes to finding a place for their dog to do their business. Councilors were told that park rules were currently being established, and that it may be possible to add a small designated area for this purpose. Councilor Crowder asked that this area be well-stocked with Dog Waste Bags.