A good bit of public attention has gone to the fact that Raleigh's getting a shiny new multi-modal station in the Warehouse District to replace the current train station. But over at Moore Square, the long-time hub for city buses is also getting a major facelift.
City Councilors Tuesday got a look at the schematic this week for the redesigned downtown bus station. The upgrade includes a complete facelift, new screens for real-time bus arrivals, and, planners hope, a friendlier feel for riders. All the while architects and city transit staffers say they will be able to keep the station open through construction.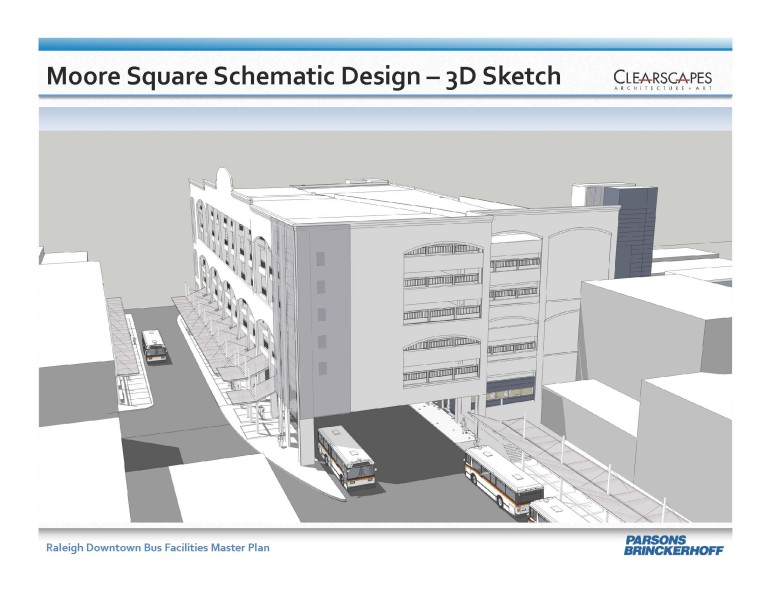 Council members have yet to award the construction contract.
Jason Horne, vice chair of the Raleigh Transit Authority, told Councilors construction could begin as soon as the spring.
The $7-million price tag will be covered by a combination of local, state and federal funding that has already been set aside for the project. Raleigh's share of the cost comes from the transportation bond approved by voters last year.
The redesigned station will include new bathrooms, a ticket booth, signage, benches, more open space and a bigger waiting area. The new design also includes screens to give riders real-time updates on when buses will arrive.
The hardest part of the design, Horne said, was to keep the station "open and running during construction."