It starts! A press release from GoRaleigh:
GoRaleigh, the City of Raleigh's transit system, is increasing bus service frequencies on 25 routes starting on Sunday, Aug. 6. Currently, Sunday connector routes and other routes do not run as frequently as Saturday services. Beginning Aug. 6, Sunday services will match Saturday services.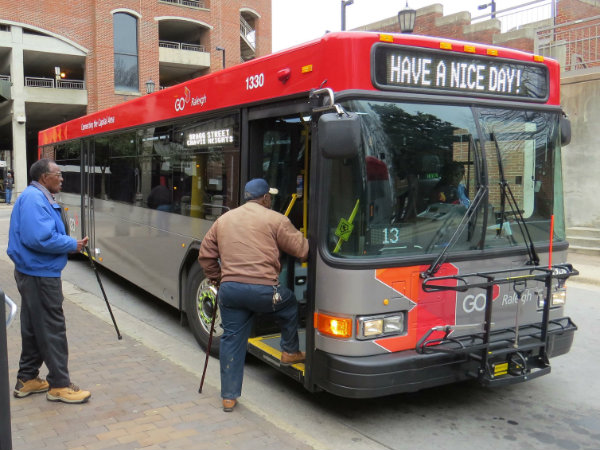 "Fiscal Year 2018 is an exciting year as it marks GoRaleigh's first improvements associated with the new funding dedicated for improved transit services and infrastructure," said David Eatman, City of Raleigh transit administrator. "GoRaleigh's first year of improvements will include new buses, improved and expanded passenger shelters and weekend and mid-day service improvements. All of these improvements ranked high on our riders list of top priorities during our rider survey in early 2016."
These changes are being funded by the one-half cent sales tax approved last November by voters in Wake County as part of the Wake Transit Plan. Taxpayers started paying the half-cent sales tax increase in April. Now, four months later, service changes are already being implemented. The Wake Transit Plan includes four "Big Moves." They encompass the goals of the plan to:
Connect the region;

Connect all Wake County communities;

Create frequent, reliable urban mobility; and

Enhance access to transit.
GoRaleigh will not only see changes in Sunday service for all routes, but increased service on Route 7, South Saunders. Monday through Friday, Route 7 will receive additional trips mid-day and operate every 15 minutes.
Route 31, New Hope Commons, a Sunday-only route, will be removed from service on Sundays. It is replaced with Sunday service on Route 3 Glascock, 10 Longview and 15L Trawick.
New route schedules have been published on the "Routes and Schedules" pages at the City of Raleigh's transit page so riders may take a look ahead of the Aug. 6 changes.  To learn more about the Wake Transit Plan, visit waketransit.com.
GoRaleigh provides bus service throughout Raleigh. Follow us on social media! Twitter, Instagram & Facebook – @GoRaleighNC.