Couture for a Cause, a fashion show to benefit local nonprofit Activate Good, expects to draw a crowd for their fourth annual fundraiser.
When: this Saturday, November 10, Doors open at 7:30
Where:  Marbles Kids Museum.
Tickets: advance tickets are $25; at-the-door tickets are $30. VIP tickets will be available for $75.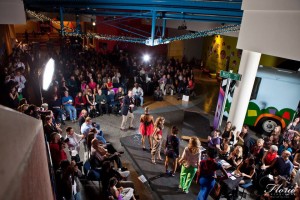 Whether you're a lover of fashion or philanthropy (or both!), this event is not to be missed! The fashion show pairs local designers with Activate Good's nonprofit partners to create looks inspired by each cause's mission. There will be 19 designers, creating a total of 38 pieces (one "ready-to-wear" and one "art-to-wear") that represent 17 Triangle-area nonprofits.
In addition to admiring the work of these designers and the causes of the various nonprofits, there will be a live and silent auction, Hollywood-style red carpet entrance, VIP lounge with cuisine provided by Zinda, cash bar and hors d'oeuvre. As a new and exciting element this year, the audience will also be asked to vote for their favorite design, and their votes will be tied into designers' scores. Jamie O'Brien of The CW22 will be emceeing and Gary Davis will be auctioneering.
As if it couldn't get any better, this event's proceeds go to Activate Good, a volunteer center that activates volunteers to help causes in Raleigh and the Triangle. Activate Good works with more than 100 nonprofits in the area to connect more than 2,000 volunteers (and growing) to causes they care about. Activate Good's signature fundraiser reflects its unique mission as a nonprofit that serves other nonprofits.
For more information about Activate Good and how you can get involved, visit www.activategood.org. For more information about Couture for a Cause and to purchase tickets for the event, visit www.activategood.org/coutureforacause.
About Activate Good
Activate Good is a Volunteer Center based in Raleigh, NC. Activate Good activates volunteers to help causes in our local community. We connect individuals, groups, and companies to volunteer needs with nonprofits around Wake County and the Triangle.