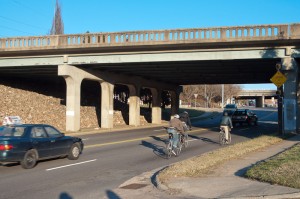 After years of planning and the review of multiple designs, the city is now down to just two options for how the new bridge will connect into the surrounding area.
Here's the schedule:
Winter 2013 – Environmental Assessment
Spring 2014 – Public Hearing
Fall 2014 – Final Environmental Document
Year 2015 – Begin Right of Way Acquisition
Year 2016 – Begin Construction
Why it matters so much
The selection of the final bridge design stands to hugely impact the development of the surrounding area. The bridge could become an important catalyst to spark a major makeover of a large swath of underdeveloped area on the northeast corner of Glenwood South.
The city prefers the "P-5" design, considered to be the most consistent with the work already done as part of the Capital Blvd Corridor Study.  A new street grid will be created to handle traffic on and off the new bridge that will open up new redevelopment lots bounded by Johnson, Harrington and Peace Streets.
The P-5 or "square loop" design will obviously cost more that the other option, which is basically to put the bridge ramps in the same configuration as they are today.
There have been numerous posts on this blog about how a better road network in this northern end of downtown can restore vitality to the area, and I'm sure most people would agree on the need to finally address the poor pedestrian and bike conditions along East Peace Street.
Review the alternative bridge designs
Jump over to the Raleigh Connoisseur for an in-depth description of the new bridge alternatives.