You're invited to come celebrate City Market's 100th birthday!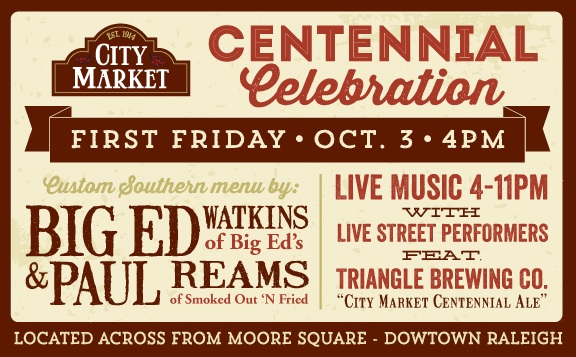 Join the Centennial Celebration this Friday!
There will be live music, southern food and guest appearances from the pioneers of City Market.
Great lineup of bands with music by local favorites: Love Canon, Jack the Radio, and Chit Nasty Band
Street performers and a special appearance from the Paper Hand Puppet Parade
Taste the newly released City Market Centennial Ale, in partnership with Triangle Brewing Company.
Southern Food cooked live and served by "Big Ed" himself
Southern menu including Slow Smoked Pulled / Chopped Barbecue, BBQ Chicken, Southern Potato Salad, Creamy N Tangy Cole Slaw, and Three Cheese Mac will be cooked live and served by Big Ed Watkins of Big Ed's Barbecue and Paul Reams of award winning Smoked Out n Fried Pit BBQ. 
What's In Store for the Future
City Market, like the other areas of Raleigh, looks ahead to a brighter future as the downtown revitalization spreads to the Moore Square neighborhood.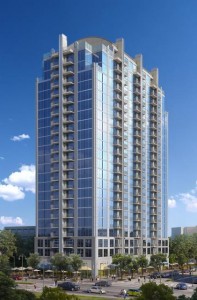 Wave of new residents
320 units – Skyhouse Apartments
224 units – Lincoln Apartments
239 units – Edison Apartments
With three large residential buildings now under construction, the  unprecedented influx of residents will have a profound impact on the entire neighborhood.  With parking so often cited as a concern, having more residents within walking distance will provide a natural bump in business.  Cameron Village merchants project a 10-15% bump in business from their current resident wave, and City Market  should also expect to see their new residents become regular customers.
A renovated park and bus station 
There are also plans underway to address the challenges associated with the adjacent Moore Square Park and bus station, which have threatened perceptions about safety in the area.  With the agreement by the City Council last year to fund a major redesign of the park, this landscape is set for a face lift.  The new design promises to accommodate a wider range of uses with tiered lawns and a granite plaza.
And the Moore Square Transit Station is getting an upgrade, with construction expected to start this spring.  Plans include wider boarding platforms, a security and ticketing office, new restrooms, plus more open, friendlier spaces.
So Come on Down!
City Market is the Grande Dame of Downtown.  She is well worth celebrating.  Come be a part of her 101st chapter that promises to be rosier than ever.