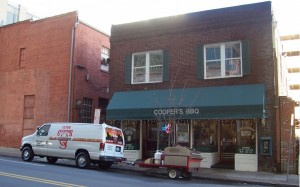 A downtown Raleigh institution is moving, but not very far.  We've known about the move for some time, but the location has been kept secret . . until now!
The new location identified in yesterday's TBJ article is 313 S. Wilmington Street, which means that Clyde Cooper's BBQ will be moving into the unfinished and never been used retail spaces that face Wilmington Street, located below the Blount Street Parking Deck.
The owners of Cooper's didn't want to leave their nearly 130 year old building, that has served as the original location of Clyde Cooper's barbecue restaurant for the past 75 years.  The owners were forced to move to make way for the development of the new Edison Apartments.
The Edison Apartments is a planned 6-story 239 unit apartment project to be located on the southern side of the block bounded by Blount, Davie and Wilmington Streets.  The Edison Apartments should not be confused with the Skyhouse Apartments, a 23 story tower of 320 apartments from the same developer, but located on the opposite side of the block along the northeast corner of Blount and Martin Street.
The owners of Cooper's plan to create an exact replica of the restaurant, at least inside.    And it's great to hear they'll be staying in the same neighborhood, in fact just a short 2 minute 500 foot walk around the corner.
The move isn't planned until November or December this year, so there's still time to reminisce and enjoy some of Cooper's famous barbecue in their historic location.