After several hiccups (and a few confusing press releases Wednesday), Raleigh's bikeshare program, Citrix Cycle is finally going to launch Saturday! They're calling it a soft launch, and you'll even see some of the bikes in the St. Patrick's Day parade.
Here is the press release from the City of Raleigh:
Citrix Cycle Bikeshare Program to Soft Launch Saturday, March 16
Raleigh's bikeshare program, Citrix Cycle, is going live! Citrix Cycle stations will begin showing up during the week of March 11, and a number of the stations will go live on Saturday, March 16. Approximately 100 bikes will be available in the downtown area as part of a soft launch. The full system launch, expected this later this spring, will include 300 bikes across 30 stations.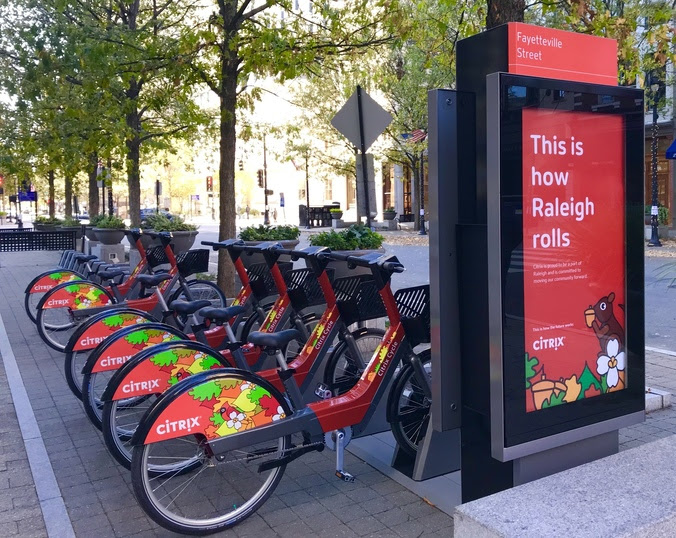 "Citrix Cycle is a much-anticipated project for the City of Raleigh, and we are excited that Citrix Cycle will soon be open to the public," said Michael Moore, Raleigh's Transportation Director. "This soft launch gives us the chance to fine tune operational details that come along with a big project like this, while we're installing the remaining stations. It's a great opportunity for everyone to learn about and try out Citrix Cycle right now."
Citrix Cycle is ideal for quick trips so the checkout time for a bike will be short to help keep the bikes in circulation. Each Citrix Cycle must be returned to a docking station at the end of the ride. Future expansion of the system will include "virtual stations" that will allow a Citrix Cycle to be picked up and dropped off at custom locations for special events.
Prospective users can rent a Citrix Cycle one of three ways: 1) go online at CitrixCycle.com, 2) download the Citrix Cycle app, or 3) access one of the 15 stations payment kiosks. Various memberships are available for every budget, including:
Single trips at $2
A daily pass at $6
A monthly membership at $20
And an annual membership at $85.
Discounts for students and low-income users are also available. Each membership includes unlimited 45-minute trips.
To celebrate the launch of the system, Citrix Cycle is offering a limited number of Founding Member subscriptions. The $95 annual membership includes unlimited 60-minute rides, a t-shirt and invitations to special events. Citrix Cycle is also offering Founding Members an additional free month to account for the limited availability of the system during the soft launch.
Each Citrix Cycle, which is supplied by Bewegen Technologies, Inc. is designed to be durable and convenient in an urban setting. Every Citrix Cycle comes with an adjustable seat, a basket, a bell, front and rear lights which automatically light up when you begin to pedal, and a dashboard allows user to track their distance, speed, and riding time. Two-thirds of the fleet will be electric-assist bikes, which will help to make Raleigh's hilly terrain easier to navigate.
The stations opening for soft launch include:
Fayetteville Street,
GoRaleigh Station,
Horne Street at Hillsborough Street,
Hillsborough Street at Ashe Avenue,
Lane Street at Bloodworth Street,
W. South Street at S. Saunders Street,
Pace Street at N. Person Street,
Duke Energy Center for the Performing Arts,
West Street at Morgan Street,
West Street at Jones Street,
Seaboard Station,
Tucker Street at Glenwood Avenue, and
Davie Street at Dawson Street
Additional locations will be made available as they are installed.
Information about the Citrix Cycle program, including membership options, active and future stations, and payment kiosk locations can be found on the Citrix Cycle website or on the Citrix Cycle app.
A ribbon-cutting to celebrate the completion of the system installation will be scheduled in May.