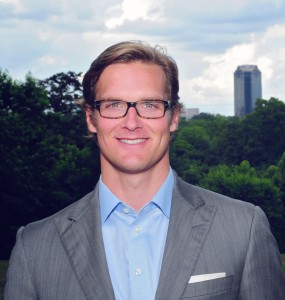 The City of Raleigh will hold elections for Mayor and City Council on October 6th.  Bonner Gaylord has served on the City Council since 2009 and is seeking re-election.
Bonner's challengers for the District E seat on the City Council are DeAnthony Collins and Edie Jeffreys.
The DLA asked Bonner a series of questions.  Here are his answers:
What factors need to be balanced in providing for downtown Raleigh's growth as a vital, sustainable, creative environment for both residents and businesses?
Raleigh is a growing, prosperous city, and to maintain that growth and prosperity, we have to balance our economic development with protecting quality of life. I don't think this has to be an oppositional balance. In fact, I think the two go hand in hand. All of the economic development initiatives in the world won't attract people if the quality of life doesn't make them want to stay. As a city councilor, I have listened to people in the public, private and educational sectors to make sure Raleigh was doing all it could to help them thrive. The revitalization of Raleigh's downtown has provided a boost to our whole city and we should keep working to make it an area where people can live, work, dine and entertain themselves.
You were one of the City Council members who recently voted against a curfew on outdoor dining and drinking.  Please share with us the factors that influenced your vote, as well your thoughts on how to respond most effectively to downtown residents' complaints about late night noise and congestion.
I voted against the curfew on outdoor dining and drinking because we shouldn't kill the goose that laid the golden egg. For years, we wanted Raleigh to have a vibrant downtown with the types of dining, nightlife and cultural experiences that are the hallmarks of any great city. Having these entertainment options is what allows Raleigh to keep attracting the best and the brightest of the new workforce. Now that we have that kind of vitality, we shouldn't punish the entrepreneurs who took a risk to bring it to us. The curfew doesn't discourage noise in our downtown, it just discourages investment in our downtown.  Much of the noise comes from car and taxi congestion, so I voted for an ordinance that bans left turns on downtown streets late at night. The left turn ban will clear congestion faster, which means less noise and fewer horns honking!
If elected, this will be your fourth term on City Council representing District E.  You mention priorities like cutting government waste and keeping taxes low, supporting alternative forms of transportation, and keeping our neighborhoods safe and vibrant.   How have your actions of the last two terms facilitated these goals?
In my fourth term on the council I am going to keep doing what I've done my first three terms – stick to my guns about doing what is right for the city Raleigh is and for the city we want Raleigh to be. Our city is growing at an explosive rate and we have to grow up, not out if we want to preserve everything we love about it. I have always pushed for Raleigh to encourage smart, sustainable growth that concentrates in urban cores connected to a more robust transportation system. Strategically concentrating our growth in denser areas preserves the character of established neighborhoods while simultaneously making our city attractive to the next generation of Raleigh residents.
In addition to voting for smart growth and sustainable infrastructure as a councilor, I have worked to make Raleigh a more modern, open and accessible city by bringing technology like SeeClickFix and the upcoming Downtown Raleigh App to the city. I have also encouraged innovation and entrepreneurship to thrive by co-founding CityCamp and helping bring Google Fiber to Raleigh.
At every step of the way, I have listened to our residents by hosting town hall meetings, collecting their opinions on my website and being accessible on social media. I believe that being a good city councilor is a by-product of being a good listener.
What three adjectives would you use to describe what you love best about downtown Raleigh, and what is needed most to further develop those aspects?
I would describe downtown Raleigh as vibrant, modern and walkable. Within a few blocks, downtown Raleigh has the kinds of living, dining and cultural offerings that make cities attractive to the next generation of workers. To take our downtown to the next level, we need to add grocery stores, retail and better public transportation options.
You talk a lot about density, walkability and better transportation infrastructure. Why is that?
I have been to other cities that were growing 20 years ago the way we are now. Many of them didn't make long-term plans and investments to manage their growth and they are paying for it now with more traffic, more sprawl and a lower quality of life. I was born in Raleigh, I grew up in Raleigh and I started a family in Raleigh. I want my children to want to do the same when they grow up. In order to be a great city, we have to be smart about planning for the Raleigh of tomorrow, not just the Raleigh of today.
Candidate's website: www.bonnergaylord.com