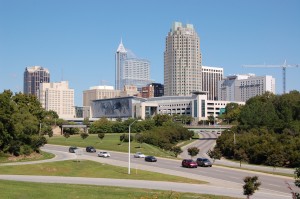 Within the next few months a group of 22 downtown stakeholders (including 3 leaders of the DLA) will begin working with a team of consultants to begin developing the key elements of a downtown plan that will create a 10-year vision including short, mid and long term improvements to downtown Raleigh.
This group is certainly not starting from a clean slate as the "vision" has been gradually coming together for many years now, with a long list of city supported 'plans' that have received lots of public input. I credit the city's Planning Department, and Mitchell Silver in particular (please don't leave us!), as being the driver of many of these plans.
Now that the core downtown is developing nicely, the focus has been shifting to the surrounding edges.
Northern edge of downtown
The Capital Blvd Study includes plans to redevelop the Devereux Meadow area into a public park, and a daylighting or opening of Pigeon House Branch Creek with new greenway connections to the north. Status: On hold
The

Peace Street Visioning Study

[download] is focused on making this area more bike and pedestrian friendly by identifying opportunities for improving the pedestrian flow and adding bicycle facilities. Status: On hold
The Capital Blvd / Peace Street Bridge replacement incorporates new road connections to Capital Blvd and Peace Street to support new development opportunities for underdeveloped areas within the northeastern edge of Glenwood South.  Pedestrian connections between Glenwood South and Capital District /Seaboard Station promise to be a big benefit for local residents and workers. Status: Bridge replacement work to start 2016, but required ramp design not yet approved.
Western edge of downtown
The relocation and redevelopment of Union Station as a multi-modal transit center is already becoming a catalyst for additional commercial and residential development within the large swaths of vacant areas in the Warehouse District, with a key example being the arrival of Citrix Headquarters. Status: Funding for Phase I mostly in place, although original scope of project in jeopardy without additional funding.
The

Wake County Transit Plan

enhances bus service and includes Commuter Rail connections between Wake (Raleigh) and Orange (Durham) Counties to attract new transit-oriented development to the area and offers new public transpiration options to relieve road traffic congestion. Status: Currently dead, as the Wake County Commissioners have not permitted a public referendum for the required funding.
Plans to convert the

Dorothea Dix Campus

into a regional destination park. Status: Mayor continuing to push Governor to make the land available. 
Eastern edge of downtown
The Moore Square Master Plan is a redesign of the park to increase public use and to encourage development in the adjacent properties. Status: Redesign completed in 2011, but construction is currently unfunded.
The recent plans for the Blount Street / Person Street Corridor is a phased approach to balance the variety of uses to create a corridor that is safe and attractive to motorists, pedestrians, cyclists and transit users. Status: Plan development is ongoing, funded as part of the recently approved transportation bond.  
The

New Bern Avenue Corridor Study

[download] targets transit improvements with increasing bus access and bike and pedestrian improvements.  Status: Partially funded by the recently approved transportation bond. 
Southern edge of downtown 
The

Southern Gateway Corridor Study

[download] develops a vision for the character of the roadways and adjacent land uses into the future, with the goal of improving pedestrian and bike mobility, and addressing retail constraints and neighborhood connections.
West Street Extension Project proposes an extension of West Street to Union Station to provide for better street connectivity for vehicle traffic and neighborhoods to the south.
As a member of the Downtown Plan Advisory Committee, an important outcome of this 10-year plan for me would be to have this process become the vehicle that links and ignites action on these existing plans, in much the same way the original 5-year Liveable Streets Plan did for the Fayetteville Street revitalization. I look forward to seeing what has taken place on paper becoming a reality that expands the modern, clean, urban vitality of Fayetteville Street to the edges in every direction.  I want people approaching the city from any direction – on rail, bike, bus or car – to feel safe, welcomed and impressed by the vision that has drawn so many of us downtown.