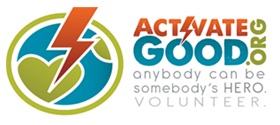 The third annual 9/11 Day of Service returns on Thursday, September 11, bringing a multitude of ways you and your friends can make an impact for over 30 charitable causes in the Triangle area.  Daytime service projects take place at various sites around the Triangle, with the evening commemoration taking place at the Red Hat Amphitheater in downtown Raleigh.
This year's 9/11 Day of Service, coordinated by Activate Good in partnership with the Downtown Raleigh Alliance and the City of Raleigh, aims to engage 2,000 citizens in acts of volunteerism and kindness. Citizens will honor those lost on 9/11 by helping out with projects like beautifying schools and community centers, packaging food for those in need, and more. More than 30 causes will benefit from volunteers' work, including but not limited to Raleigh Rescue Mission, Note in the Pocket, Urban Ministries of Wake County, Carolina Tiger Rescue, Ronald McDonald House, and Neuse Riverkeeper Foundation.
Companies and groups are invited to adopt daytime service projects, and individuals are invited to register to volunteer alongside them during the day as well. Those who can't participate in the daytime project are invited to participate in the 9/11 Day of Service Evening Commemoration and Service Projects that will conclude the day at Red Hat Amphitheater. The Evening Commemoration will kick off at 6:00 PM on Thursday, September 11.
Learn how you can help.  Visit http://activategood.org/911dayofservice2014, or contact  volunteer@activategood.org