What do you think of when you think of NEIGHBORHOOD? Driveways intersecting sidewalks like markings on a ruler? Lawns manicured and uniform? Two story houses with shuttered windows and automatic garage doors?
It occurred to me last Thursday as the crowd gathered on Tucker Street to see the Gravy Boys at Shop Local Raleigh's Glenwood Live concert series, that I was looking at a new concept of neighborhood. Here young families picnicked on blankets spread across the grass, while 20 somethings sat on the curbs with dogs at their feet, and elderly people – some in wheel chairs – ventured out into the street from Glenwood Towers (public housing for seniors). There was craft beer, synchronized head bobbing and a diverse community joined by the shared enjoyment of answering the call of rhythms softly knocking at their apartment and condo windows.
Glenwood South is a neighborhood of small business owners, apartment renters and condo owners, who create – day by day – a picture of inclusivity, compromise and above all, possibility.
So how would we define neighborhood?
We'd say that small living spaces work. It keeps us streamlined, and aligns with our idea that sharing resources is the way to go. Sharing cars, taking public transportation, and even congregating in communal living and office areas feels energizing and allows for people of like minds to collaborate.
We'd say that we value knowing that as needs pop up, we'll meet them together. A few weeks ago, the Glenwood South Neighborhood Collaborative met to consider how we could create green spaces in our neighborhood, and promote ideas that could be immediately incorporated into the long range plan for Raleigh. We want to see our Pigeon Creek uncovered and to be able to walk in a park setting that extends from Peace Street along West Street, and we want to be able to dip into a small, urban sized grocery store so we don't have to get into cars to drive to Harris Teeter for milk.
We love the relationships that have developed between business owners and residents. Hampton Inn has become our neighborhood living room. Whether it's hosting our neighborhood meetings, or having art receptions for local BEST artists, or even sharing their pool and gym with residents from 510 Glenwood, it's like Cheers. They know us by name.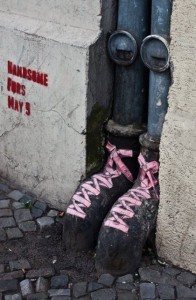 And of course, there's public art. Last winter, one hundred fifty tree sweaters started a dialogue that has just continued with the chalkboard poetry wall (at the former Clark Art building at 300 Glenwood Ave), where every few weeks a new collection of favorite quotes and poetry from the neighborhood are highlighted. This fall we'll be banding together again to create whimsical, miniature urban art that will transform water spouts, sidewalk cracks and the occasional fence post.
We're proud of what we've accomplished through our collaboration: especially developing a noise ordinance that promotes communication and cooperation between business owners and residents; prompting improved street lighting and repaired sidewalks through working with the city; and partnering with organizations like the DLA, DRA and Shop Local Raleigh to maximize the impact of our ideas and efforts.
But most of all, it just feels good to walk down the street and greet people, who like me, see these familiar sidewalks, restaurants and shops as our front yard. The sometimes hum of outdoor music reminds me of being a child in my darkened bedroom, reassured by the sounds of my parents still awake down in the kitchen. I like seeing the construction going on that promises more new apartments, businesses and restaurants. There's a feeling that this is just the beginning, but the framework has been established. We're creating a new definition of neighborhood that will morph as we do, honoring our diversity, our quirks and our passion for living downtown.
Written by Donna Belt